Havurat Shalom Records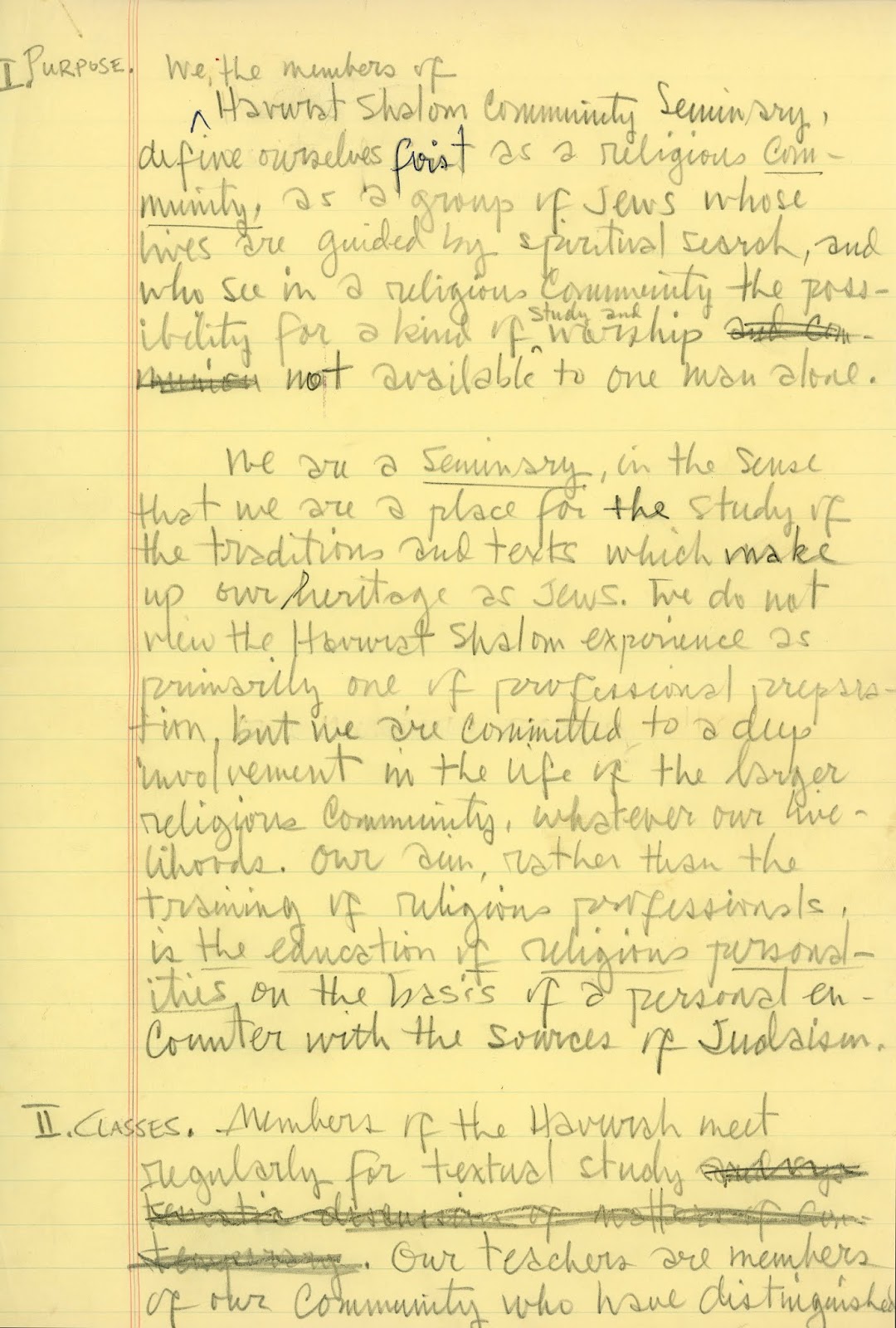 In the fall of 1968, Havurat Shalom Community Seminary, a center for new forms of Jewish worship and religious study, was born in Cambridge, Massachusetts. Its mission was to be "a still small voice," and bring new energy to Jewish spiritual and communal life. Brandeis University's Archives and Special Collections department now holds the Havurat Shalom records collection, which contains materials, created between 1968 and 1976, documenting the founding and early years of this groundbreaking institution.
Havurat Shalom was to be more than just an educational institution. While providing intensive courses in Jewish theology and Judaic studies, the Havurah also fostered a social community, merging intellectual and communal life. The belief was that such a fusion would nurture a deeper kind of spirituality not possible in other Jewish religious settings. Several community members even lived together.
Out of this rich community came the best-selling and influential Jewish Catalog (in Brandeis's Library collection). Authored by members of Havurat Shalom and Brandeis alums, this do-it-yourself manual for Judaism was modelled on the counterculture bible The Whole Earth Catalog and dedicated as follows: "to an old rambling yellow house in Somerville, MA…to Havurat Shalom."
The materials in the Havurat Shalom collection at Brandeis demonstrate the articulation of the Havurah's founding values. Included are drafts of Havurat Shalom's founding covenant, minuted future planning discussions and promotional brochures. These documents underscore the extent to which the founding members believed in the Havurah's extraordinary potential to revitalize Jewish life, to connect the traditions of Judaism and the needs of the present.
The collection also includes documents which demonstrate Havurat Shalom's functions as a center of religious education. Course lists highlight the founders' desire to ensure a diverse curriculum; class topics ranged from scripture and theology to Jewish culture and philosophy. Courses were offered not only to official students of the seminary but to members of the wider community as well, through Havurat Shalom's House of Study for Adults.
Brandeis University and Havurat Shalom were linked from the Havurah's embryonic stages. The Havurah's primary founder, Rabbi Art Green, earned his BA ('61) and PhD ('75) from Brandeis University. In addition, Rabbi Albert Axelrad — a longtime director of Brandeis Hillel — was intensely involved in the early efforts. Rabbi Axelrad communicated plans for Havurat Shalom to other Jewish institutions, helped seek the participation of scholars and theologians for its advisory committee, took part in fundraising efforts and corresponded with potential students. As well, Brandeis alumni became some of the Havurah's first members, and many Brandeis students spread the word, telling their friends at other universities of the Havurah's impending creation, and helping to expand interest in the project.
The Havurat Shalom records collection sheds light on an important moment in American Jewish life, a pioneering moment of experimentation with new forms of worship and spirituality. It demonstrates the energy and enthusiasm that accompanied this experiment, as a younger generation of Jews strove to rethink religiosity in the context of the late 1960s. It is a significant addition to Brandeis's Archives and Special Collections and complements a growing set of collections documenting modern Jewish life, including the Arthur Green papers, also housed here.