Jack J. and Therese G. Katz Collection of Chinese Snuff Bottles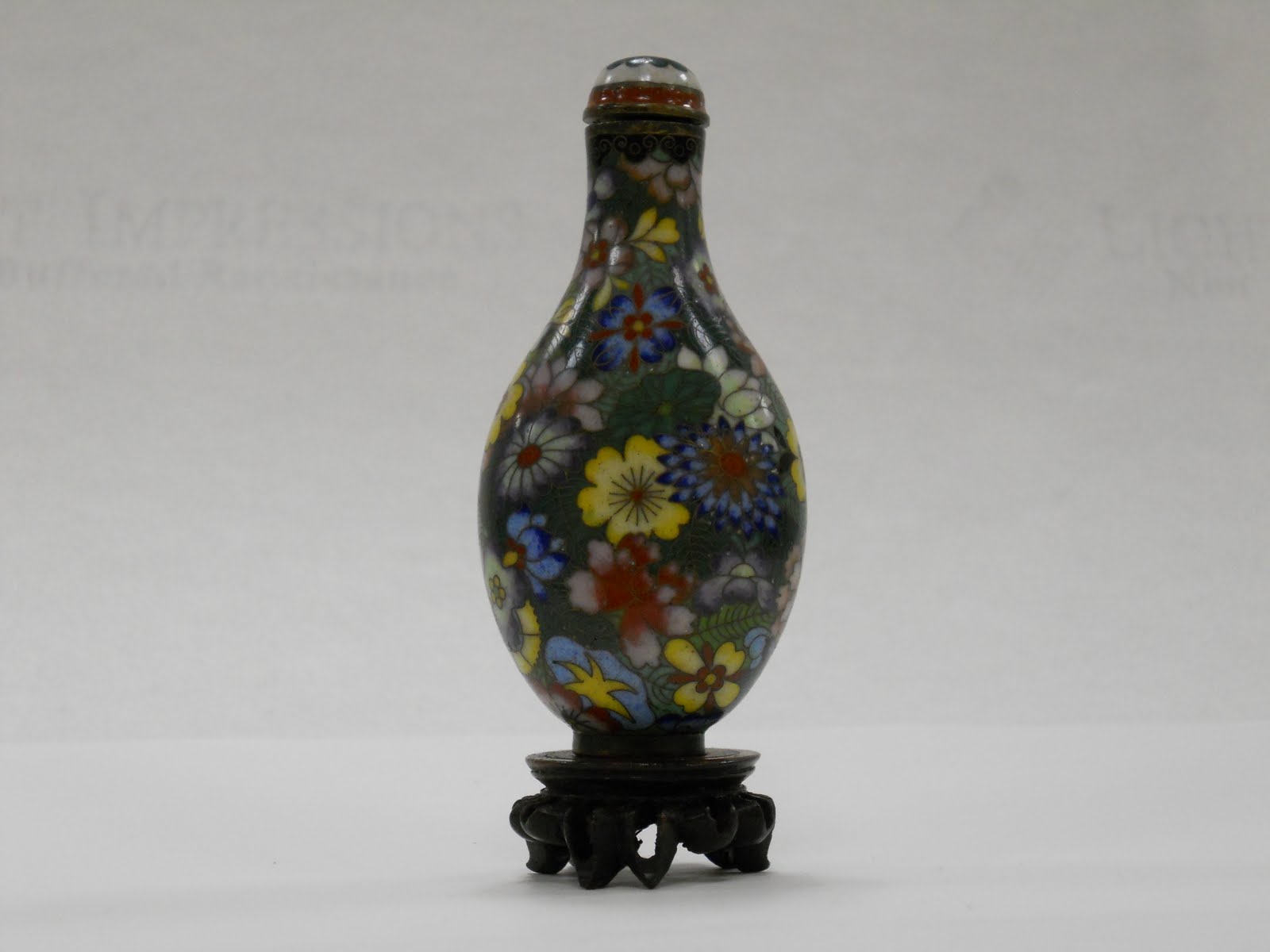 The Robert D. Farber University Archives and Special Collections Department at Brandeis houses 47 Chinese snuff bottles from the eighteenth and nineteenth centuries. Brandeis acquired this collection from Jack J. and Therese G. Katz in December of 1964. Snuff bottles became popular in China after the introduction of tobacco by Europeans in 1537. The Chinese used snuff as a form of medication and often converted old medicine bottles into snuff carriers. The production of snuff bottles in China flourished between 1622 and 1795, and the bottles became a luxury item and a common gift. Most snuff bottles were small—between 2 and 3 inches high—and designed to be carried on the person in a small silk pouch. They came in various shapes and were made from several different types of material, including glass, ivory, jade, metal, porcelain, quartz and various types of coral. Most included a tight stopper and a small spoon used to withdraw snuff from the bottle. The beautiful designs and ornate decorations painted on and carved into the snuff bottles partly accounts for their popularity and collectability.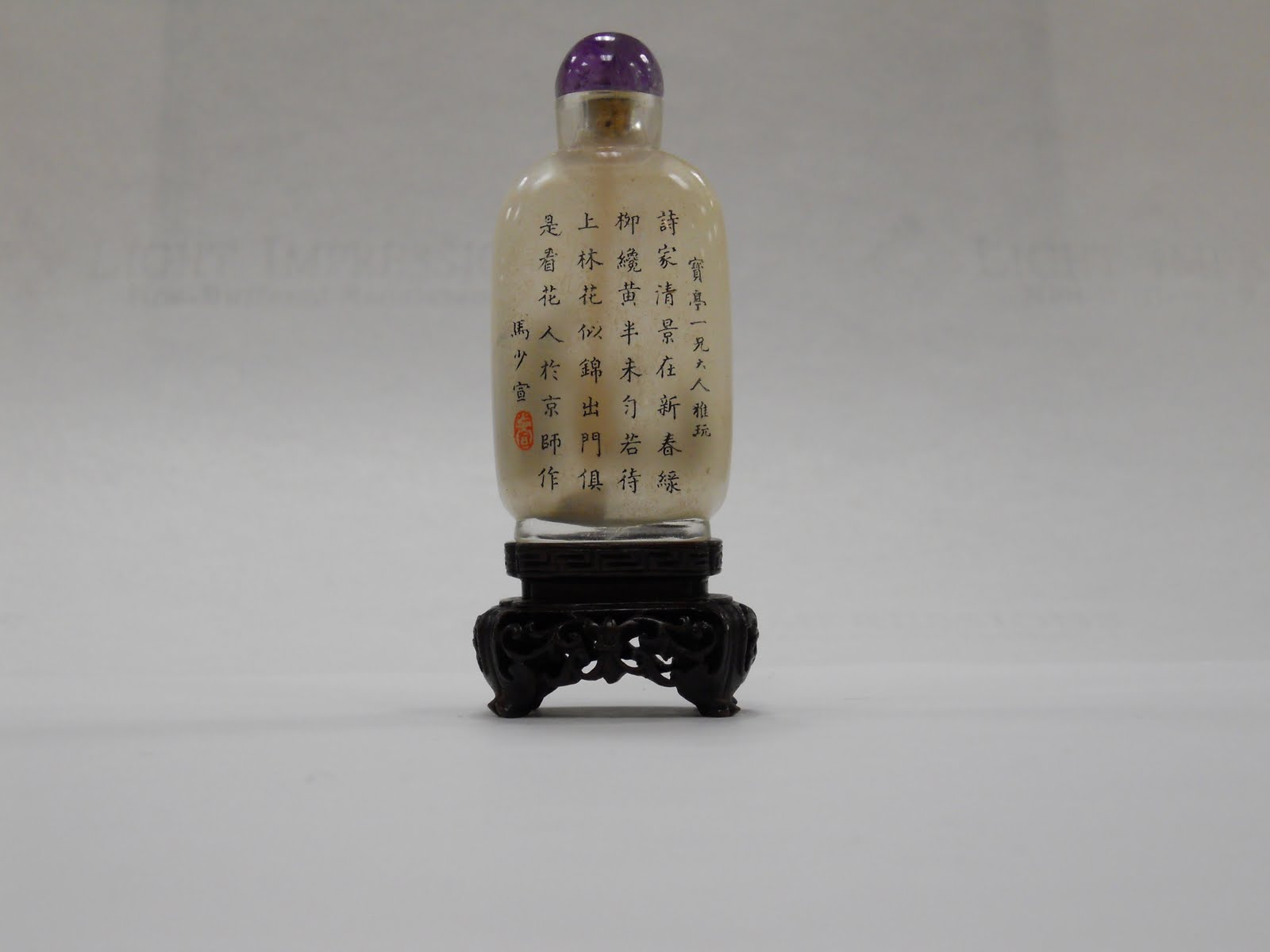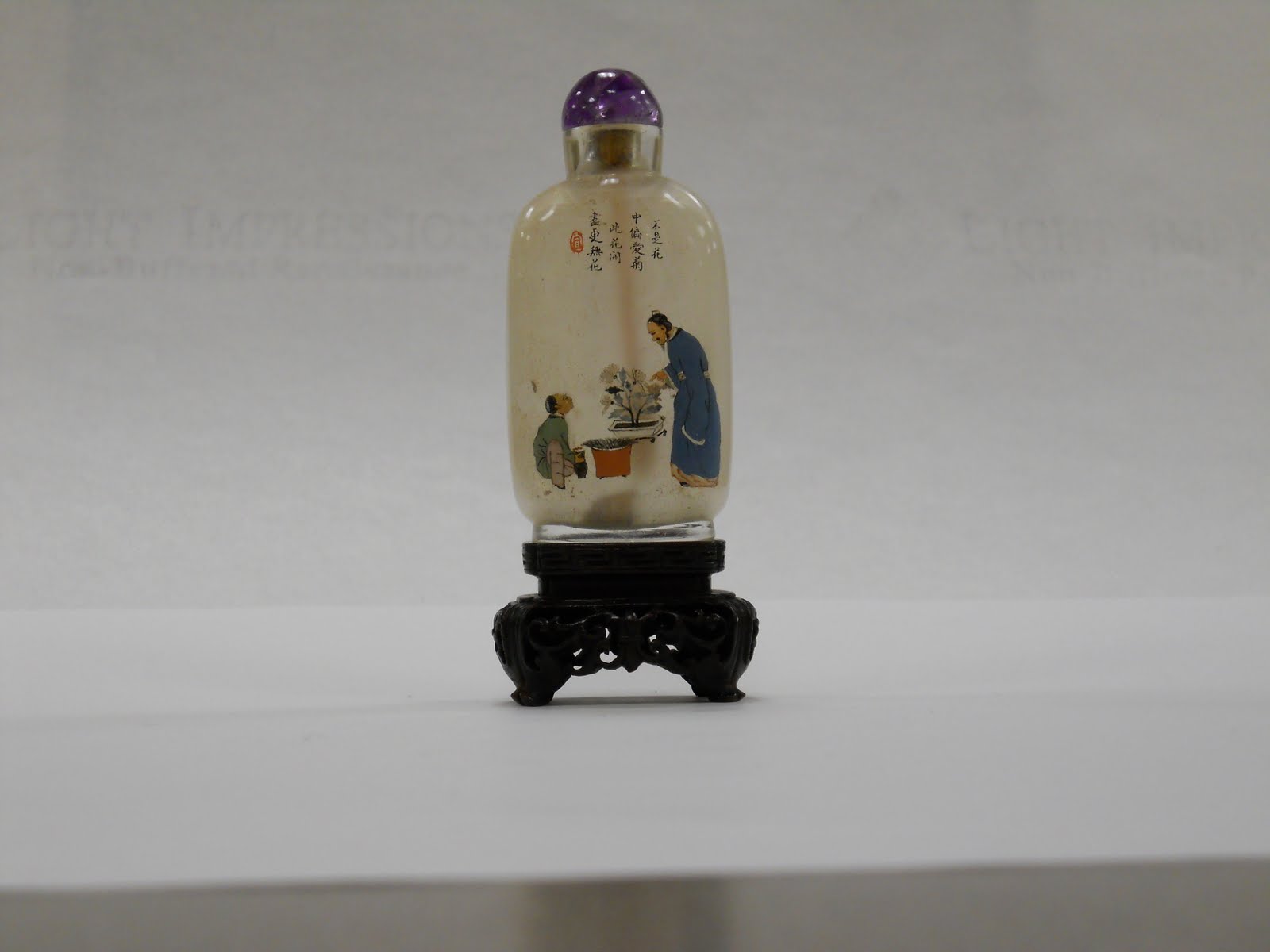 After 1882, a highly-skilled technique called "inside painting" became popular. The nearby images of a crystal inside-painted snuff bottle show, on one side, a scholar in a blue robe admiring a chrysanthemum spray in bloom below a short poem. On the other side, the artist, Ma Shao-Hsuan, included a longer poem, which reads:
It is not so that I love the chrysanthemum more than the other flowers;
But I believe that there will be no more flowers after this one has bloomed.

Poets' ease it is to write nature poems in the spring,
But if they look for a brocade-like flower garden in the fall
When willow's green is half-turned to gold;
All they will be are ill-successful flower seekers.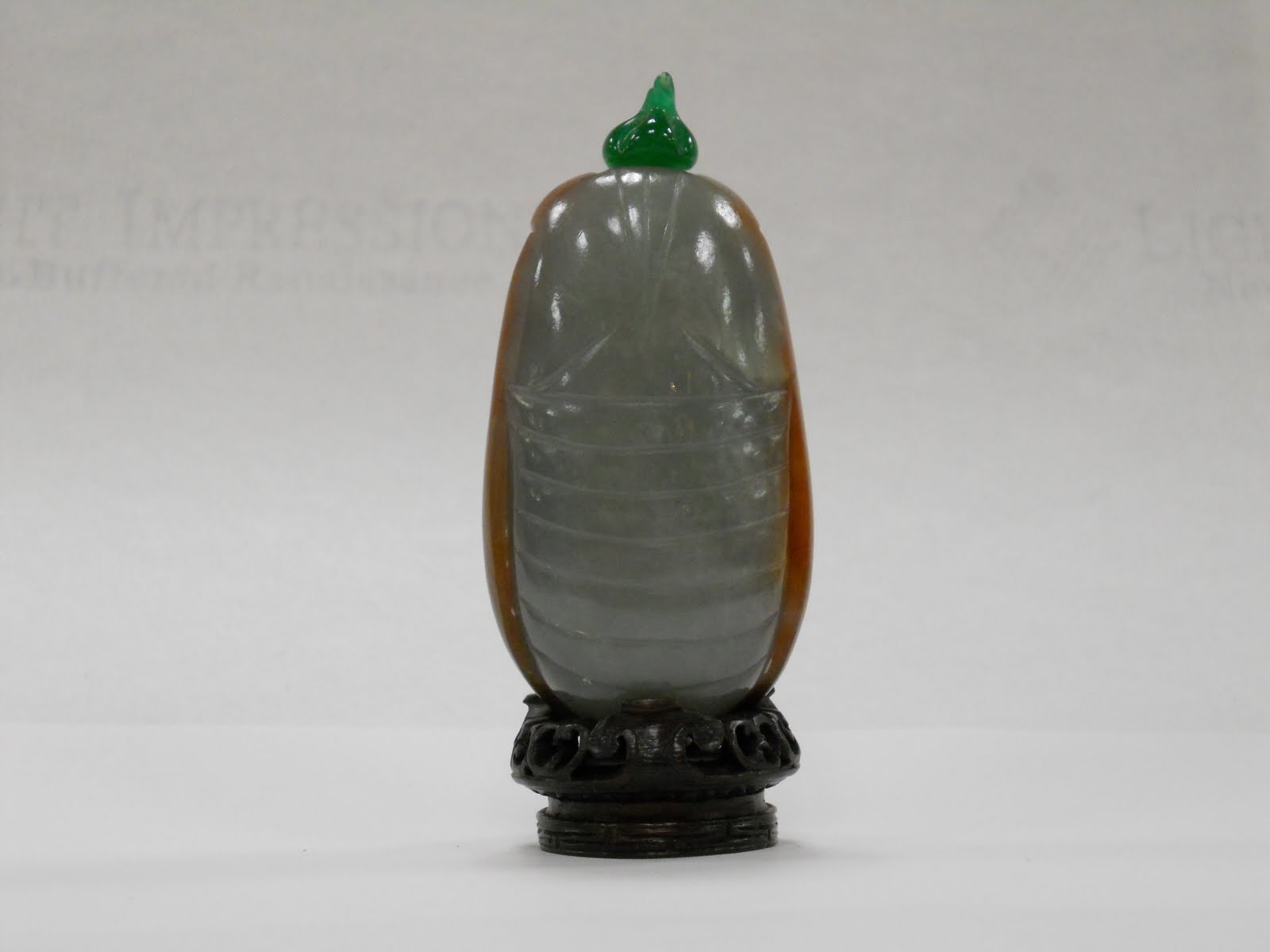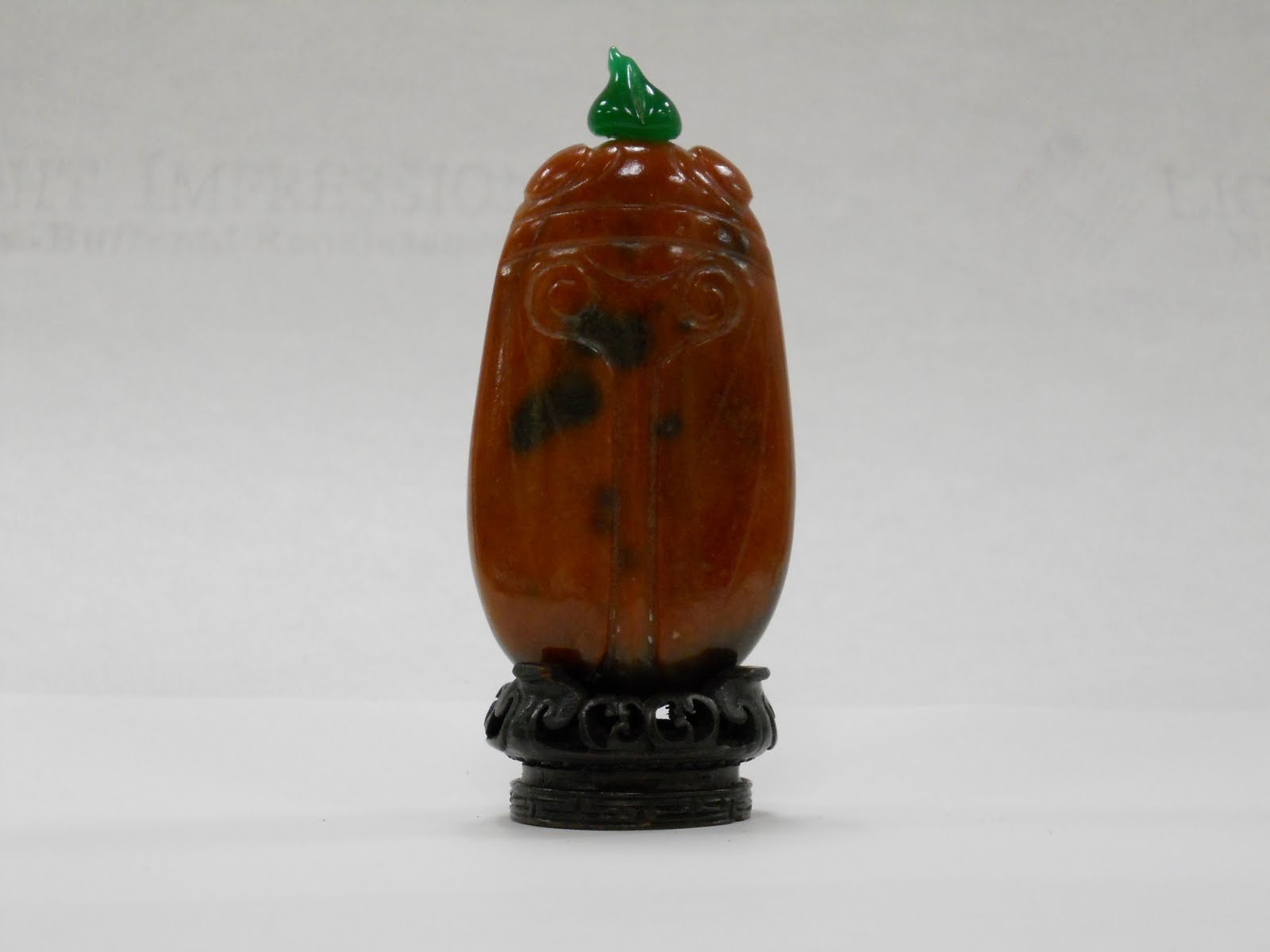 Also in the collection is a jade snuff bottle in the shape of a large cicada, or locust, with a greenish stomach, reddish-brown wings, and a head with black spots. The creature symbolized reincarnation. Jade, or "yu," means "gem supreme" and was a favorite stone of China and used in many decorative arts. The jade in this bottle dates back to the Sung period (960-1279 C.E.) Glass represents one of the more common materials of Chinese snuff bottles; glass bottles appear in several forms, including monochrome, painted, cameo, mottled or glass imitations of other stones.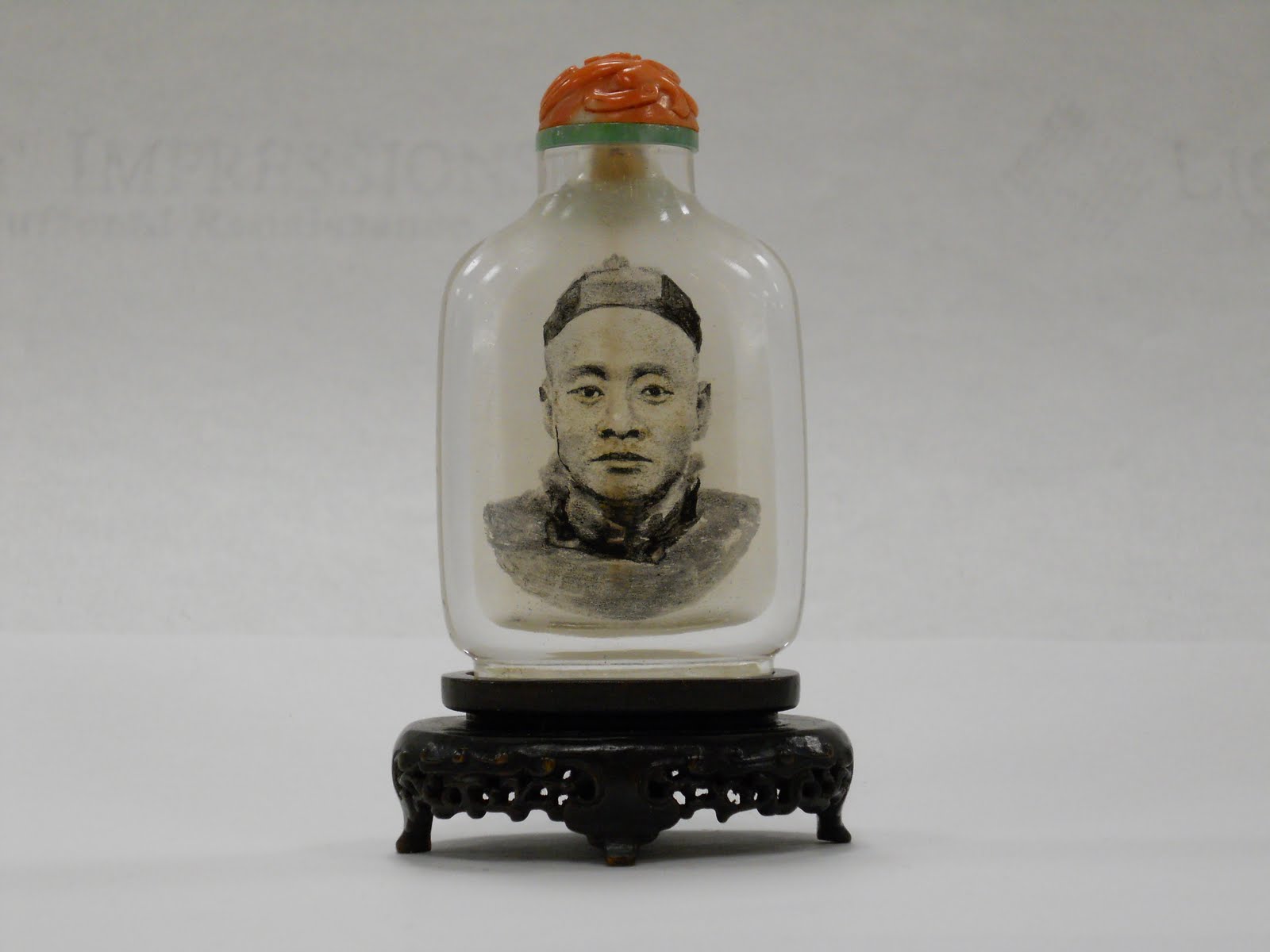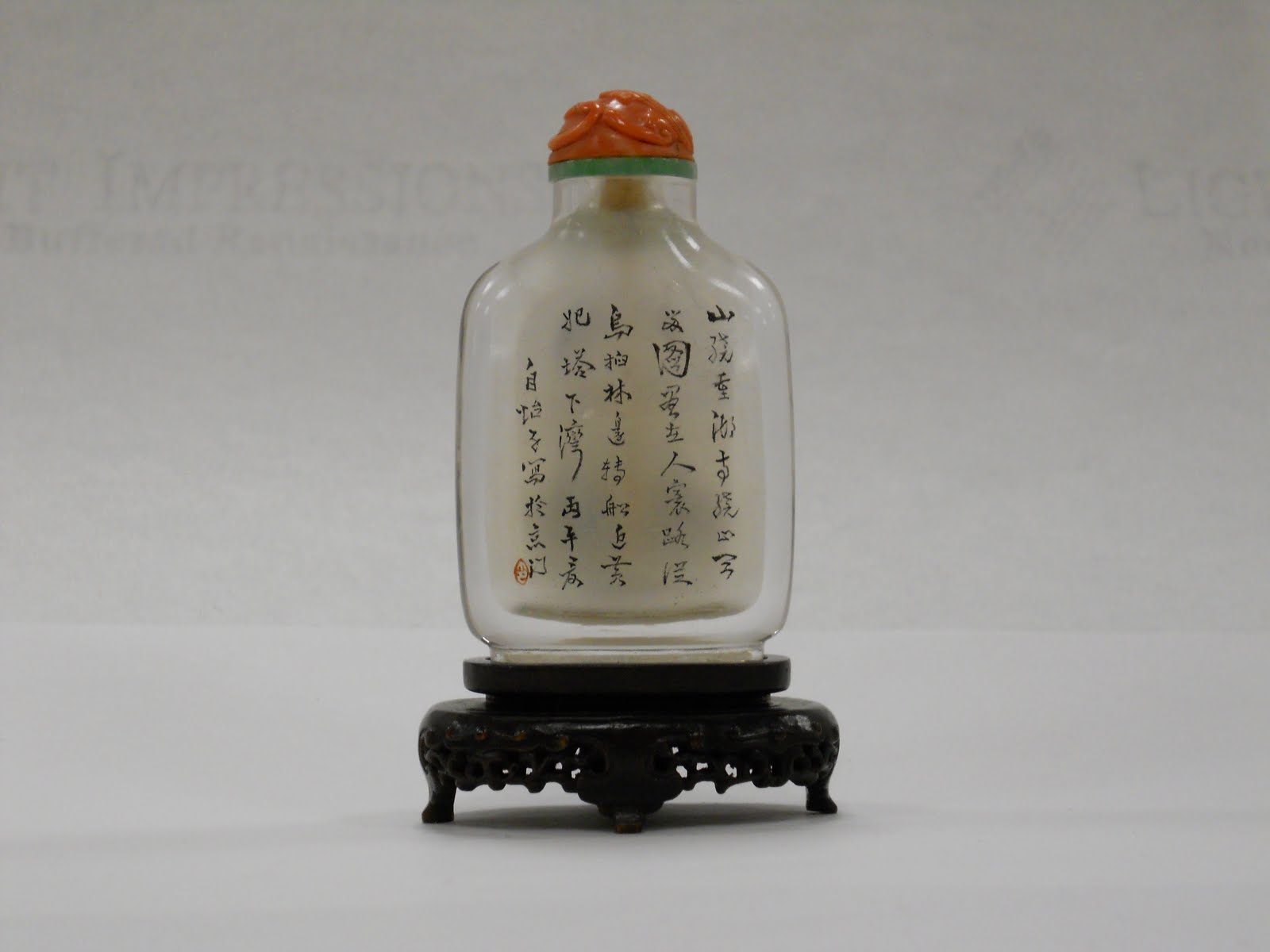 The nearby image of a glass snuff bottle with interior painting shows a portrait of a Manchu man wearing a winter coat and round hat.
Other materials used to make snuff bottles include turquoise, mother of pearl, ivory and lacquer. While most bottles were created in flattened, oval and tubular shapes, some, like the one pictured nearby, resembled human figures.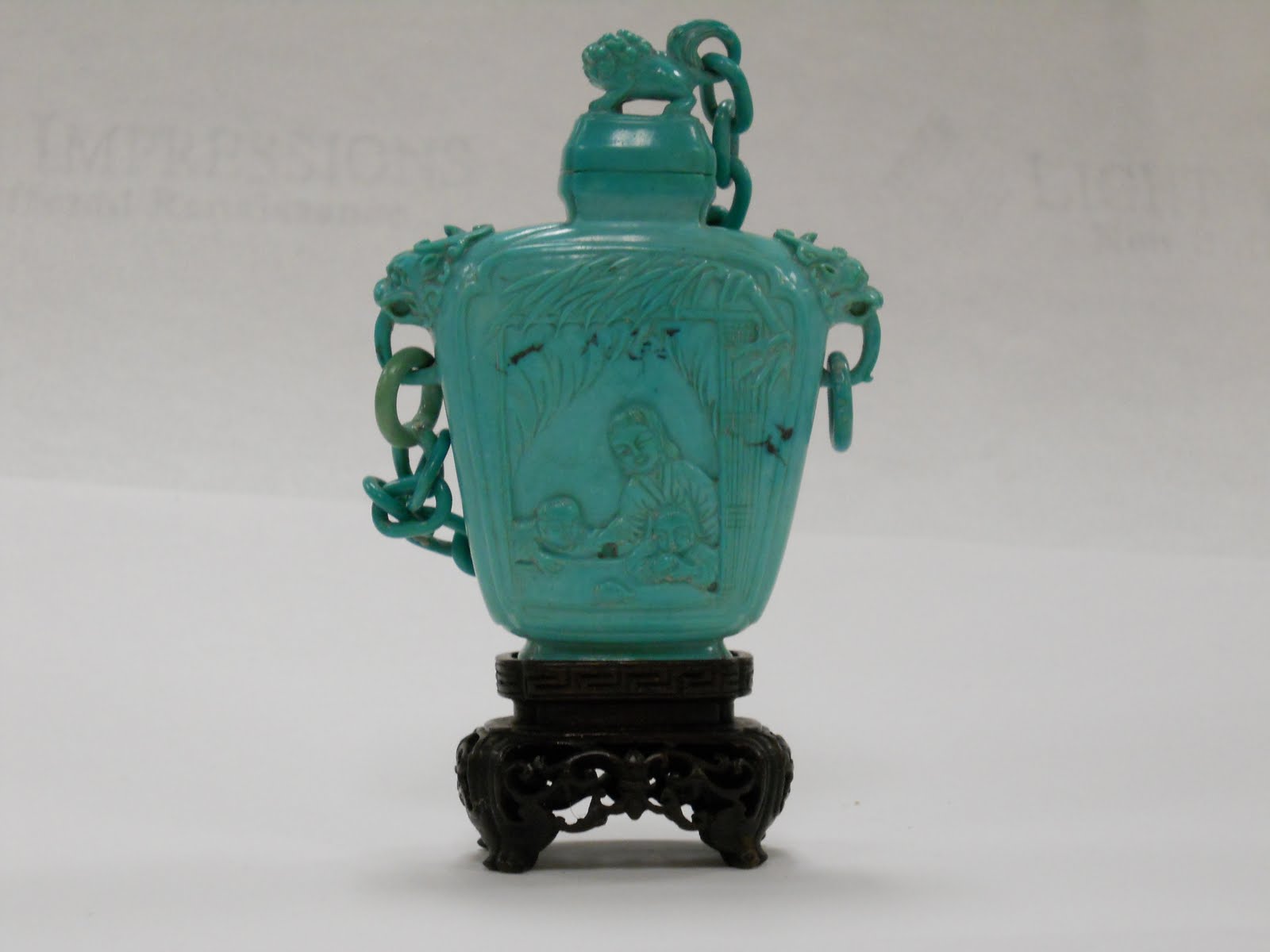 In addition to the 47 snuff bottles, the collection also contains several hand-carved wooden stands. One example is a carved turquoise snuff bottle with a chained cover; carved dragon-head handles adorn this bottle with a chain of links connected to a Fu lion. Additionally, the bottle shows a mother and her two small children at a table before a window. Another example is a rare gold lacquer and pietra dura bottle made with amber lacquer, with a tessellated gold ground depicting a scene of three small boys picking peaches.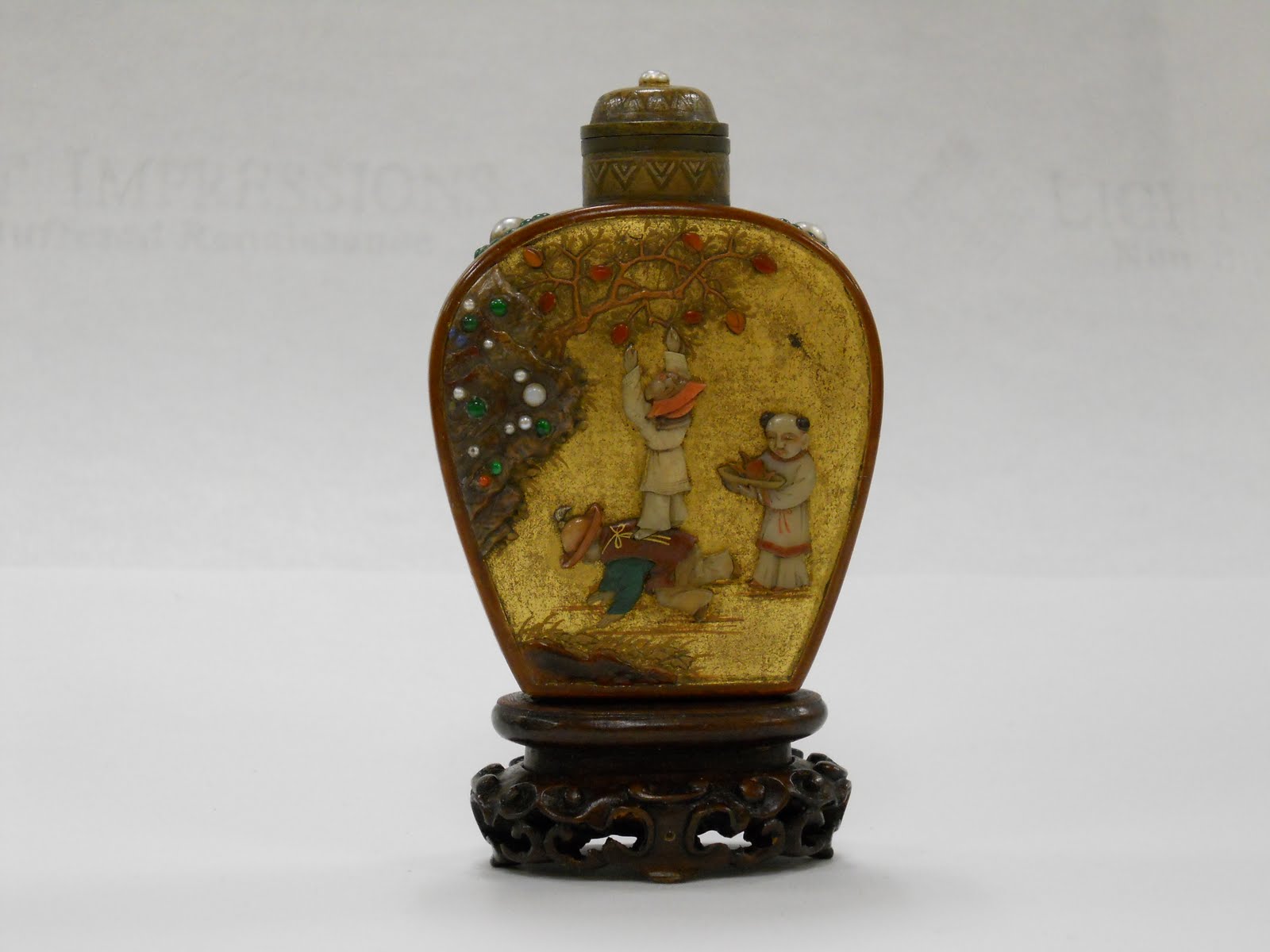 For more information about the Jack J. and Therese G. Katz Chinese Snuff Bottle collection, please see the finding aid.
Sources
Lilla S. Perry, Chinese Snuff Bottles: The Adventures & Studies of a Collector (Rutland, VT: Charles E. Tuttle Company Publishers, 1960).
Jessica Rawson, et. al., "China, §XIII, 25: Snuff bottles," Grove Art Online. Accessed June 23, 2011.