Native American Watercolors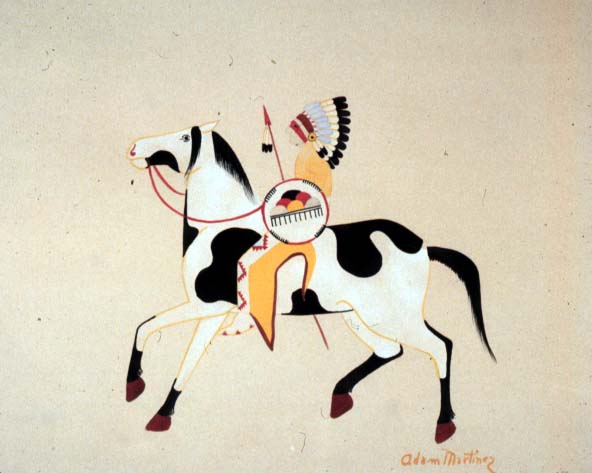 The Robert D. Farber University Archives and Special Collections Department at Brandeis houses 38 original watercolor paintings by several well-known Native American artists from the San Ildefonso Pueblo just north of Santa Fe, New Mexico. Brandeis acquired these paintings, along with other unique Tibetan and Indian artworks, in June 1971 when the Riverside Museum of New York City closed. The museum, which opened in 1922 on Riverside Drive, concentrated on ethnographic and contemporary art and served as a "pioneer in the cultural life of New York."[1] It held yearly exhibitions of women's work, featured poetry readings, music concerts and lectures, and sponsored drama scholarships for young students. The growth of larger art museums in the area and waning neighborhood participation led to the trustees' decision to close the museum in 1971.[2]

In looking for a new home for its collections, Riverside Museum trustees believed Brandeis University to be ideally suited because of its "academic excellence, adventurous spirit and the added advantage of the facility and staff of the Rose Art Museum."[3] About ten years ago, the Rose Art Museum transferred the watercolor paintings to Special Collections.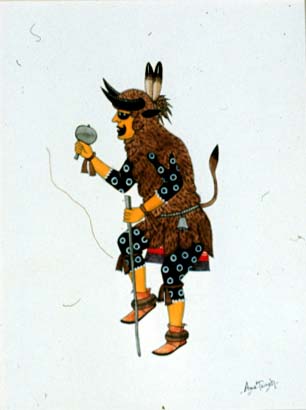 Many of the paintings in the collection reflect the themes encouraged by Euro-American patrons who invested resources to uncover artifacts and preserve Pueblo culture in the early decades of the 20th century. As such, several of the watercolors depict festivals, scenes of everyday life and ceremonial dances, including "Winter Animal Dance," by Julian Martinez (1897-1943) and "Basket Dance," by Romando Vigil (1902-1978). In addition to his watercolors, Martinez is well known for his pottery decorations. After a 1908 excavation of San Ildefonso uncovered several pieces of ancient pottery, Martinez (who also goes by the name Pacano) and his wife, Maria, used polychrome and experimented with different firing techniques to reproduce the original vessels. The result of their efforts produced the black-on-black pottery for which San Ildefonso is famous.[4]
In addition to several paintings by Martinez, the collection also includes works by other successful Pueblo artists, including Alfonso Roybal (1898-1955), Abel Sanchez (1899-1971) and Romando Vigil (1902-1978). Roybal, who signs his paintings "Awa Tsireh," began his career decorating pottery before developing his talent in watercolor. After seeing some of Roybal's work, Dr. Edgar Hewitt, the anthropologist in charge of the early-20th-century San Ildefonso excavation, hired him to paint at the Museum of New Mexico, which led to the inclusion of his work in several other Indian art exhibitions around the country.[5]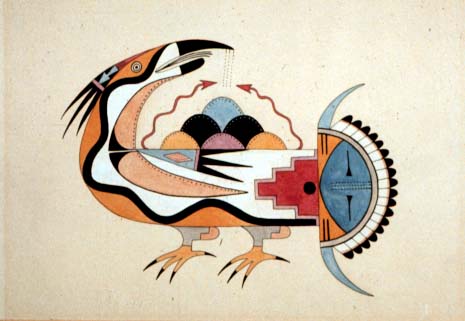 Abel Sanchez, also known as "Oqwa Pi," which means "Red Cloud," developed one of the two distinctive artistic styles associated with the San Ildefonso School. In his paintings of native ceremonies and festivals, Sanchez used bright and vibrant colors, which other San Ildefonso artists later adopted. In addition to a long and successful artistic career, Sanchez enjoyed success in public office, serving six terms as governor of the San Ildefonso Pueblo.[6]
Romando Vigil similarly contributed to the development of the San Ildefonso School of art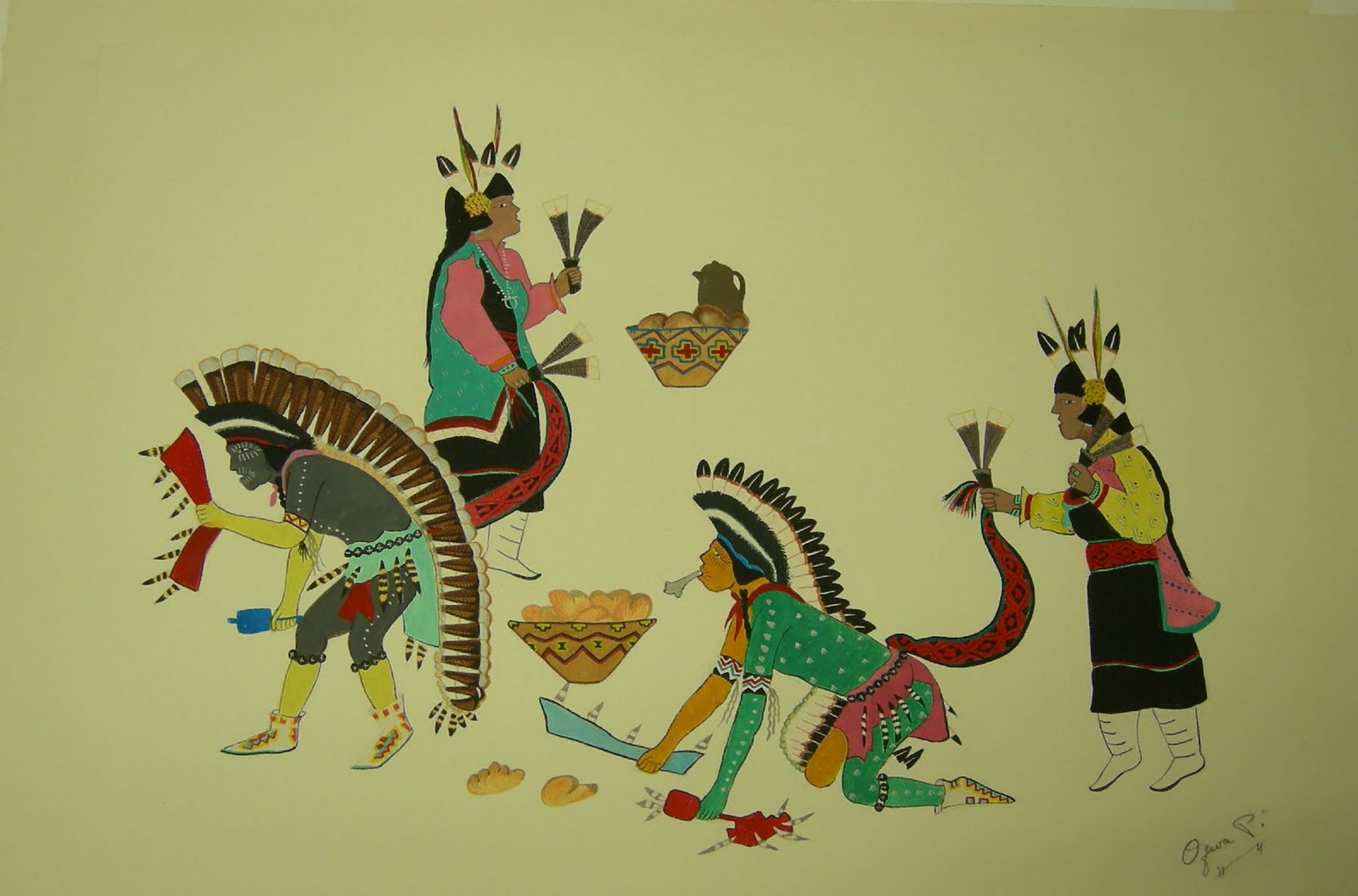 by combining the decorative style of painters like Sanchez and Martinez with one that emphasized realism. As a result, Vigil's paintings are both abstract and descriptive of Pueblo culture. In 1933, the Corcoran Gallery in Washington, D.C. hired Vigil, who is also known as "Tse Ye Mu," along with several other San Ildefonso artists to paint murals for the Exposition of Indian Tribal Arts. Later in his life, Vigil worked for Walt Disney Studios in California.[7]

The 36 paintings in the Native American watercolor collection range in size from 6 x 7 to 24 x 36 inches. Several are matted and framed. For more information about the collection, please visit the finding aid, where digital images of the watercolors are available.
Notes
 "Brandeis Acquires Entire New York Museum Collection," Brandeis University Bulletin 40:2 (June 1971), 2.
 LouAnn Faris Culley, "Martínez, Julián," in Carole A. Barnett, et al., eds., American Indian Biographies (Pasadena, CA: Salem Press, 2005), 303-304.
 "Oqwa Pi." St. James Guide to Native North American Artists. Gale, 1998. Web. Gale Biography in Context. Accessed February 25, 2011.