Roger Tory Peterson Photographs
"We are tinkering with the ecosystems of the world, and do not yet know enough about these natural systems to know how much tinkering they will stand, and whether we can retreat safely if we suddenly find ourselves overextended." — Roger Tory Peterson (1)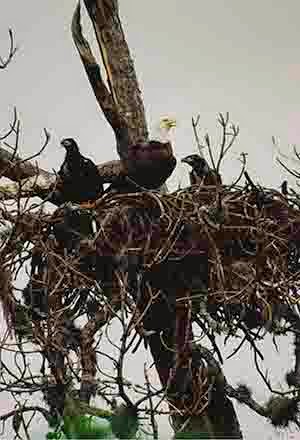 The striking beauty of nature is a major theme running through the Roger Tory Peterson Photographs collection. Peterson (1908-1996) was an American naturalist and ornithologist who is largely credited with making birdwatching accessible to non-experts with his seminal 1934 publication "A Field Guide to the Birds: A Completely New Guide to All the Birds of Eastern and Central North America" (2). The Guide's remarkable influence and success was due in large part to Peterson's original system of species identification as well as his more than 500 painstaking species drawings and descriptions. Peterson went on to publish more field guides, expanding to birds of other regions and to different organisms. The Peterson Photographs collection housed in Special Collections was donated to Brandeis by Arlan Ettinger in April 2014 and exhibits Peterson's love of travel and wildlife. Its  50 one-of-a-kind photographs of wildlife around the world show each subject in its natural setting. While birds of all types, from penguins to pelicans, are the subject of most of the photos in the collection, other organisms — including butterflies, seals, and even a capybara — are pictured as well.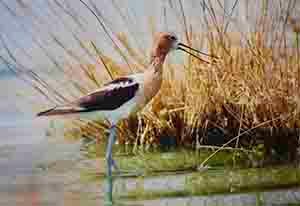 Peterson was greatly concerned with the preservation of wildlife and though some of his early studies were based on bird study skins, he soon began to speak of photography as the ideal means of "capturing" a bird. He felt that, more than merely capturing an image, photography allowed one to engage with a bird in its environment without hunting or harming it. A talented painter, Peterson included his drawings and paintings throughout his field guides, but wildlife photography was his true passion. Through photography, science and art could become one.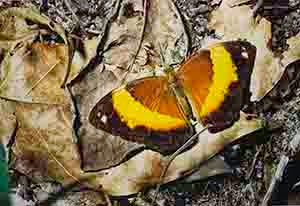 Peterson's lifelong championing of wildlife preservation and conservation went beyond the realm of photography. Along with Rachel Carson he was a vocal critic of the use of DDT — first cautioning against the use of the poison in 1948 after conducting a study with fellow scientists. Peterson noted that though DDT did not seem to harm birds in the study, it was dangerous to use such a chemical without knowing more about its wider effects. He was proved to be right; in 1957, Peterson observed the loss of young osprey in the population near his home in Old Lyme, Connecticut, and began experimenting to find the cause, eventually linking the decrease to DDT in eggs. By 1962, with the completion of his study and the publication of Carson's "Silent Spring," Peterson was fully convinced of the harmful effects of DDT, and started to fight for conservation in earnest. He appeared in front of government committees and even the Department of Agriculture, and would continue to monitor the osprey population for years after DDT was outlawed in 1972. During this time, he also broadened his conservation interests from birds and pesticides to include larger issues in wildlife conservation. For his environmentalist efforts, he won a Presidential Medal of Freedom in 1980 and was nominated for two Nobel Prizes.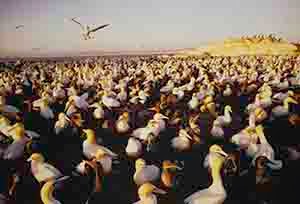 Peterson's love of photography and nature comes through in his vibrant photographs. From sweeping landscapes to close-ups to lively group shots, the personalities and behavior of his subjects are made clear through Peterson's lens. To create each shot, Peterson aligned himself with the environment of these creatures — and his photographs bring the un-staged natural world together with beautifully composed art. The Peterson photographs provide a glimpse into how Peterson himself saw nature, and how we wanted it to be seen. In viewing these photographs, one feels the wonder and awe Peterson must have felt toward his subjects, and one shares his appreciation of wildlife's vivid and natural beauty.
Notes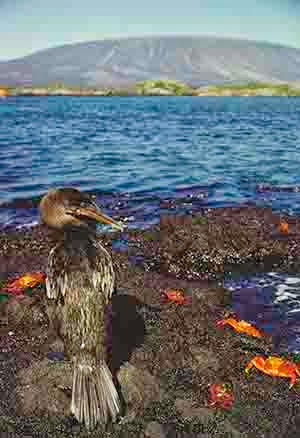 Peterson, Roger Tory. "Addressing the Needs of All Our Wildlife." New York Times, June 15, 1986. General OneFile. web, accessed February 11, 2015.
For more information
Carlson, Douglas. "Roger Tory Peterson: A Biography." Austin: University of Texas Press, 2007. Online access via Onesearch