19th Century Playbooks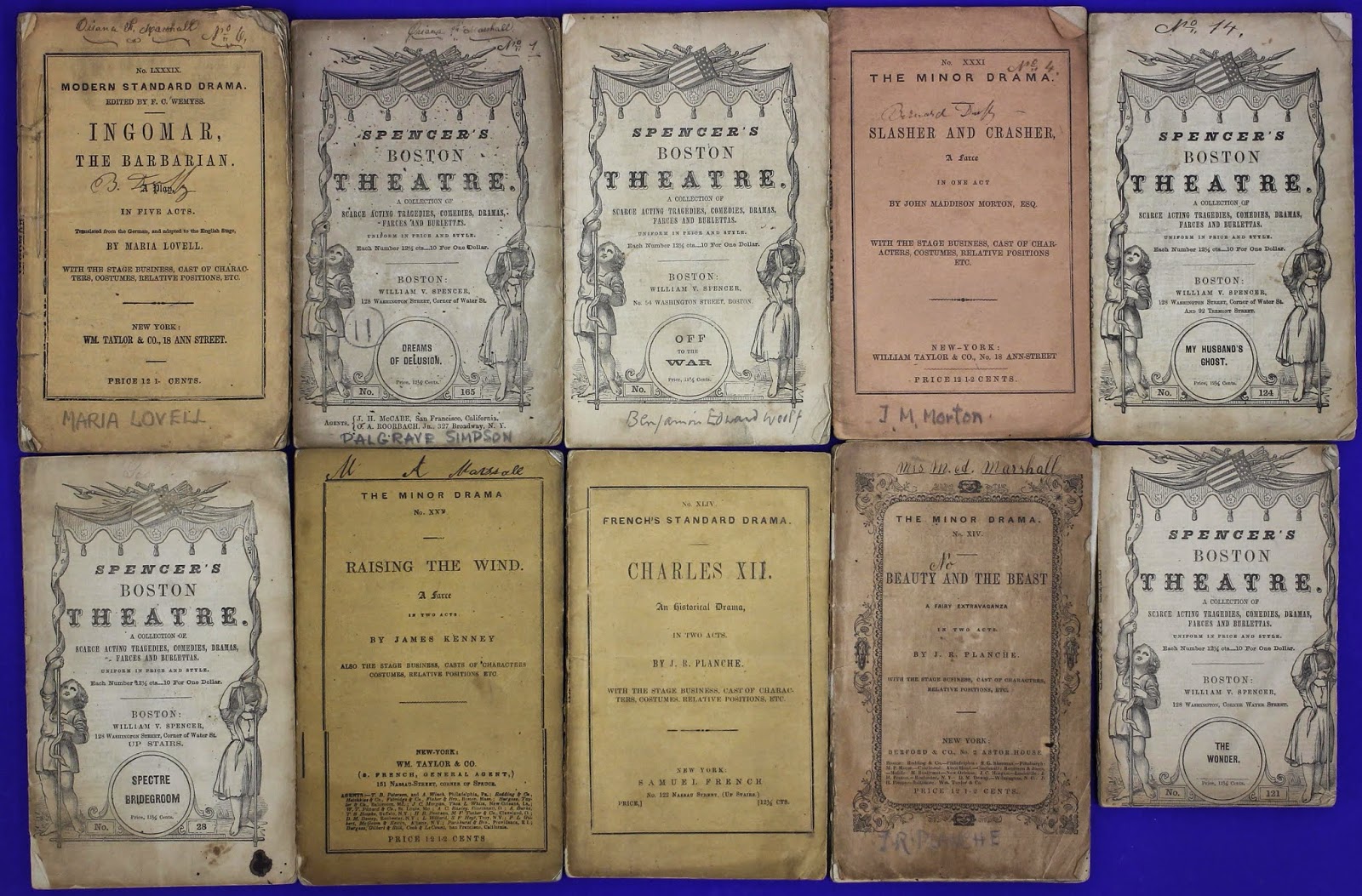 Brandeis Special Collections is home to a captivating collection of playbooks published in the latter half of the 19th century. With over 80 separate plays, the collection covers a full range of genres, from farces and comedies to dramas and tragedies and includes a popular adaptation of William Shakespeare's "Taming of the Shrew," entitled "Katharine and Petruchio." The playbooks were personally acquired by Victor Berch (Brandeis's former and first Special Collections Librarian), who donated them to Brandeis early in 2013.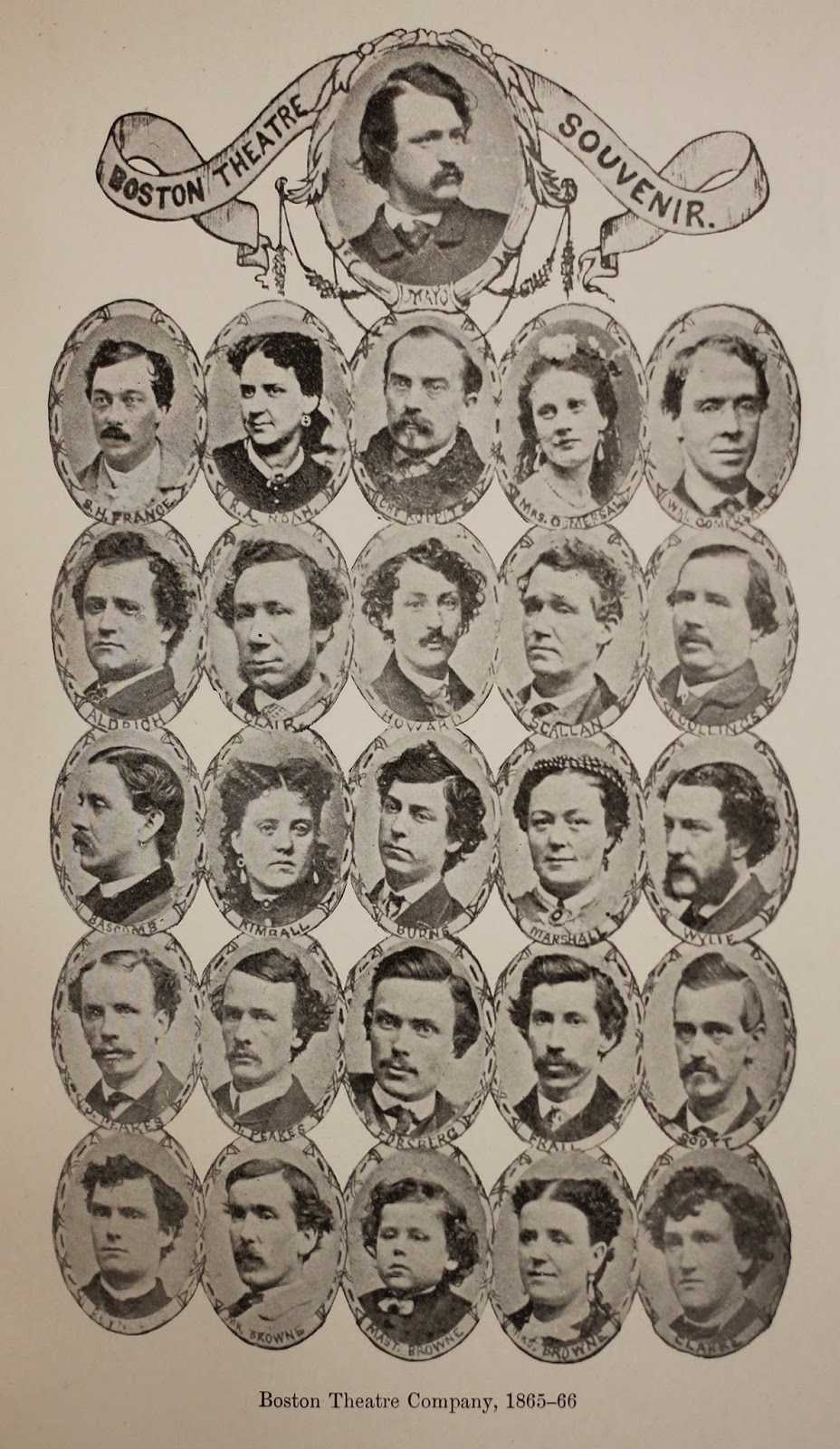 Roughly half of the plays in this collection were published by William V. Spencer (May 3, 1821 - May 26, 1870). Spencer opened shop in Boston in 1852, at a time when the legal system surrounding publishing was somewhat more relaxed than it is today. Most importantly—especially for publishers like Spencer, who mainly published British works (only a quarter of Spencer's publications were written by Americans)—British copyrights were not honored in the United States and British works could be published without any authorization or payment of royalties. Interestingly, even among the American works he published, Spencer copyrighted very few, in order to allow their playwrights to retain production privileges [1]. Despite its relatively short life span, Spencer's business had considerable influence in American play publishing, and a number of these plays are still published—using Spencer's plates and format—by major publishing houses, such as Samuel French in New York [2].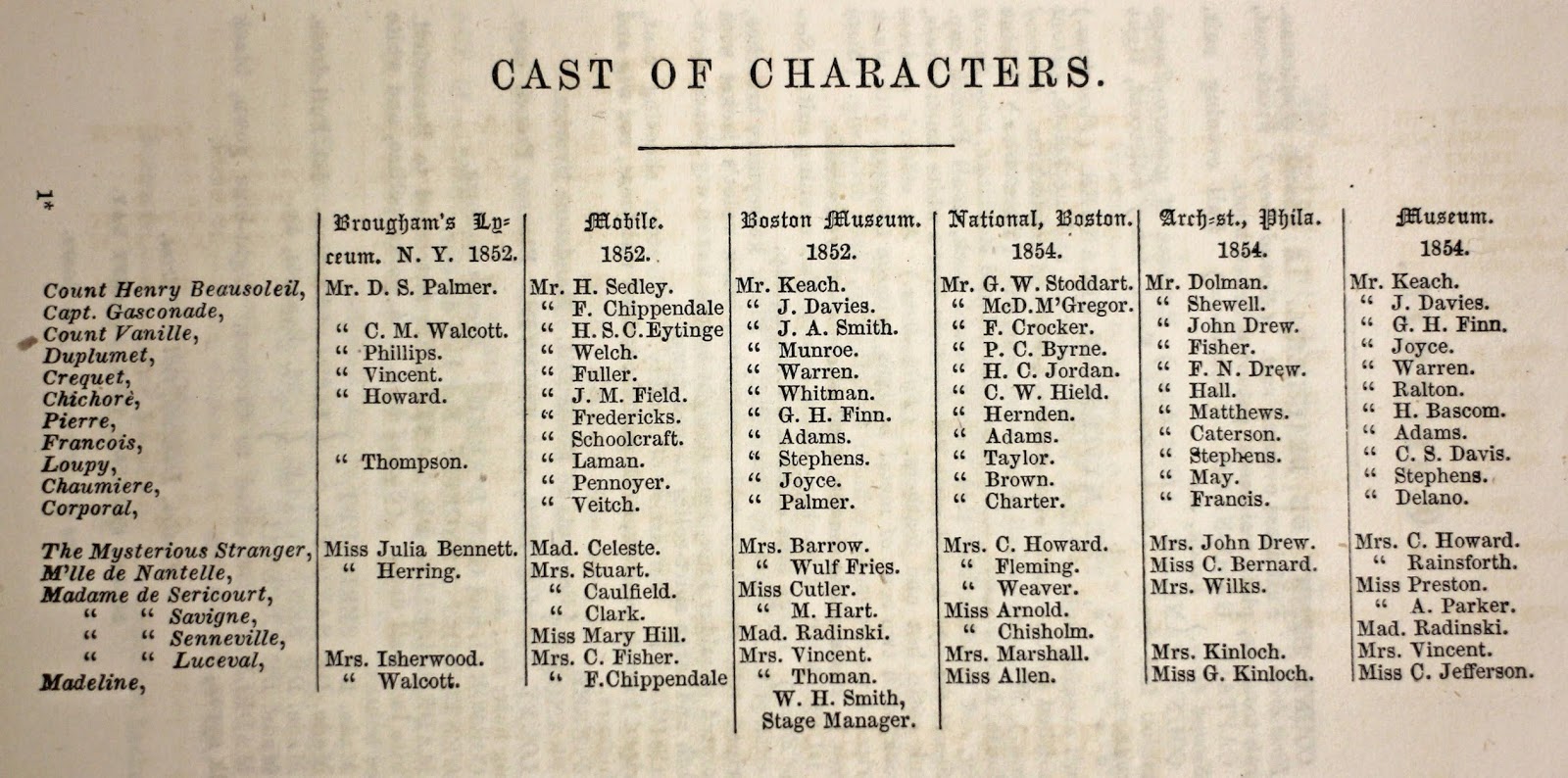 The Spencer plays in this collection contain an unusual research tool which allows for greater understanding and study of many lesser known plays. They were published under "Spencer's Boston Theater," a series which ran from 1855 to 1862 and had 216 titles published under its heading. In addition to standard notes on properties, costume and set design, each "Spencer's Boston Theater" play includes notes on the play's production history, right up to the point of publication: all the theaters and companies that staged the work, the year in which the production opened, and the actors and actresses who portrayed each role. Spencer's decision to include this information provides modern readers with access to rare details of theater history.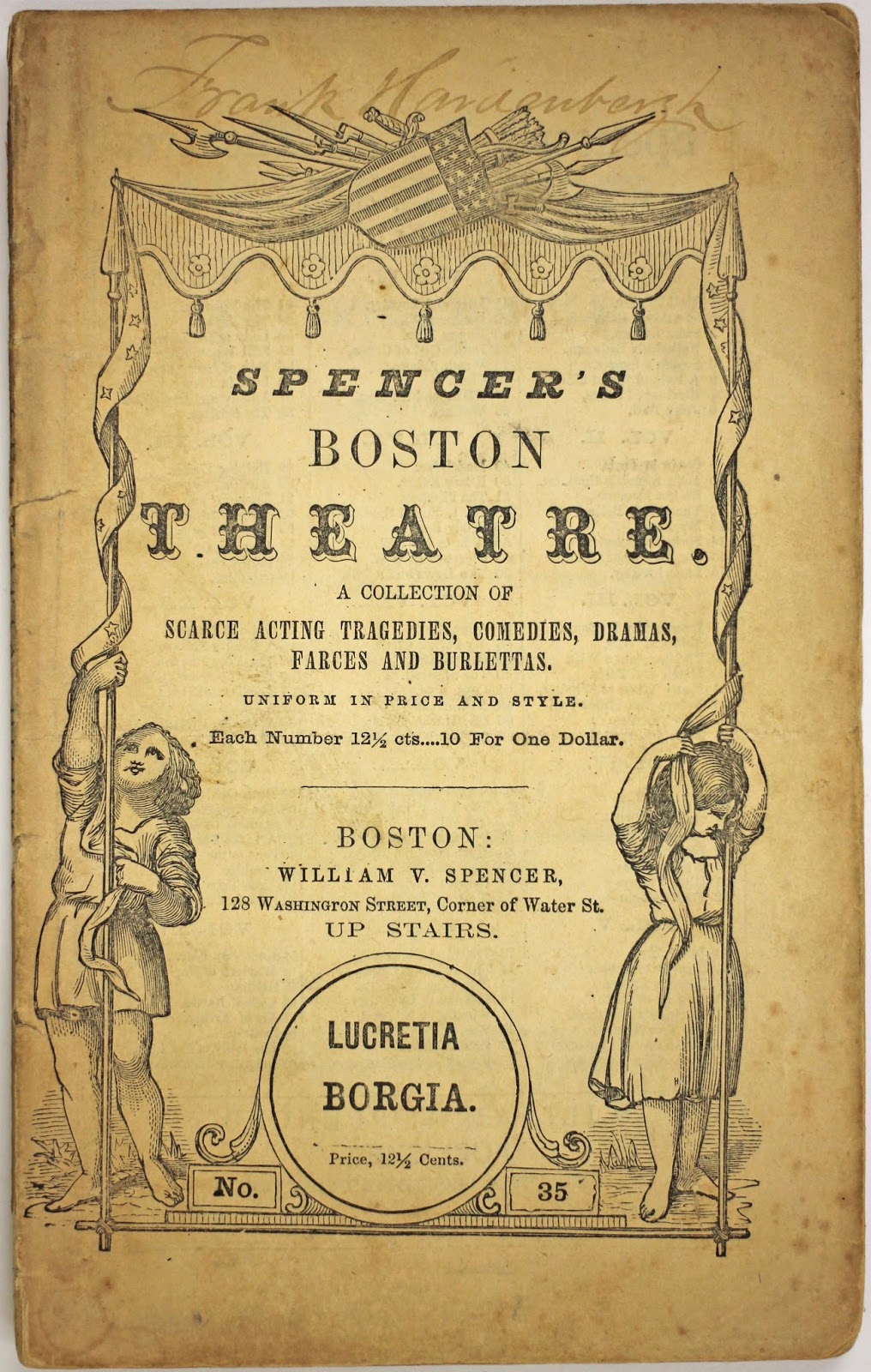 Several of the Spencer-published plays are translations or adaptations of earlier works, and several were themselves later adapted. "Satan in Paris or, The Mysterious Stranger" exemplifies popular culture's omnipresent fascination with Faustian bargains. The play is Charles Selby's translation and alteration of Clairville and Damarin's "Satan; ou, Le Diable à Paris." Comedian J.M. Weston's translation of Victor Hugo's "Lucrezia Borgia" tells the history of the titular daughter of the influential Renaissance family and "Still Water Runs Deep," by Tom Taylor, was later turned into a silent crime film directed by Fred Paul in 1916.
Among the playwrights represented in this collection is the prolific John Baldwin Buckstone (September 14, 1802 – October 31, 1879). Buckstone, an actor, writer and comedian, published some 150 plays by the time of his death, appearing in and producing countless besides. It is said that his ghost haunts the wings of the West End's Haymarket Theater, appearing when he is particularly pleased with a performance. Sightings of Buckstone's specter have been reported throughout the decades, including a recent sighting by Sir Patrick Stewart during his 2009 performance in "Waiting for Godot" [3].
The remaining plays in the collection come from a variety of American publishing houses, including a number from Samuel French. The aforementioned "Katharine and Petruchio" is a French publication and is a unique take on Shakespeare's "The Taming of the Shrew." Adapted and altered by David Garrick, "Katharine and Petruchio" cuts "Taming" to three acts concentrated on the titular characters, and removes any plot surrounding the romance of Hortensio and Bianca. An editor's note indicates that the play had enjoyed considerable popularity since its initial publication a century prior, and that over the course of the 18th century "Katharine and Petruchio" had been performed more often than Shakespeare's original "Taming."
Perhaps the most fascinating aspect of this collection lies in its provenance: these playbooks seemed to have all been originally collected by a single family. A number of the playbooks bear the names of one of three actors or actresses who were using them as performance scripts. The handwritten names of Franklin (Frank) Hardenbergh, Oriana Hardenbergh (née Marshall), and Margaret Marshall all appear regularly. Some cursory research reveals that Frank, his young wife Oriana, and [we think] her sister Margaret, were sometime members of the Boston Theater Company in the 1860s. It was with this company that the three performed in numerous productions, including undoubtedly many represented in this collection. It was also in this company that Frank and Oriana met, engaged and were married. Sadly, the marriage was not long lived, and neither was Oriana. It appears she died at the age of 17 or 18 in 1862 [4]. One hundred fifty years after her death, her family's collection of playbooks have found their way to Brandeis University's Special Collections.
For Further Reading
Notes:
 Stoddard, Roger E. "A Guide to 'Spencer's Boston Theater' 1855-1862," Worcester, MA: The Society, 1969.
 Hampson, Nora. "A Visit from John Baldwin Buckstone." Finding Shakespeare, posted March 28, 2014.
 Stebbens, Oliver, "The Oldest Theater Now in Boston," The Bostonian 1 no. 2 (1894), pp. 113-130.  The Boston Morning Journal, Nov 22, 1862.