Punch's Pocket Book, 1844-1881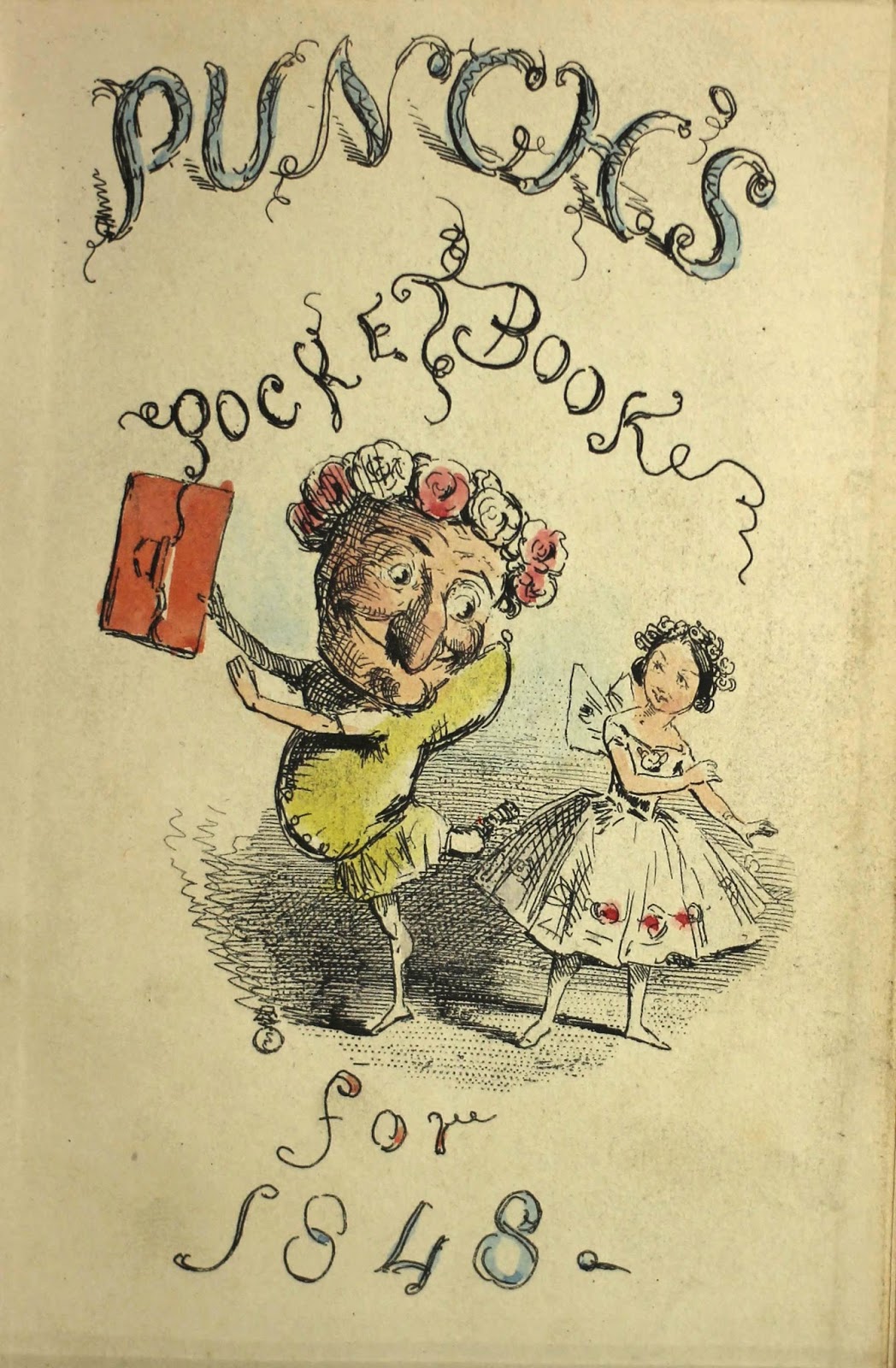 An offspring of the famed British satirical magazine Punch, "Punch's Pocket Book" was an annual publication containing an almanac, cash account log, daily diary pages and a variety of useful business information as well as short stories, poetry and cartoons. Brandeis University's Special Collections holds an uninterrupted sequence of these books (38 volumes), published between 1844 and 1881. These small books (3.5" x 5") are housed in their own custom-made bookshelves which pide the collection into four series: 1844-1853, 1854-1863, 1864-1872 and 1873-1881. Each volume is bound with a brightly colored wallet-style closure at the front cover, and begins with a folding illustrated frontispiece.
Punch, the weekly magazine, had its first edition on July 17, 1841. Its creation was inspired by the satirical French paper Le Charivari, leading to the first edition's subtitle The London Charivari. Privately funded by its creators, Punch was founded with a capital of £25. Not surprisingly, the magazine quickly faced financial difficulties until editor Mark Lemon decided to publish a large annual edition, "Punch's Almanack," which sold an unprecedented 90,000 copies. The popularity of "Punch's Almanack," as well as the purchase of Punch by the publishing house Bradbury & Evans, secured the magazine's future. It was during this period of newfound success that the third addition to the Punch franchise, "Punch's Pocket Book," was created.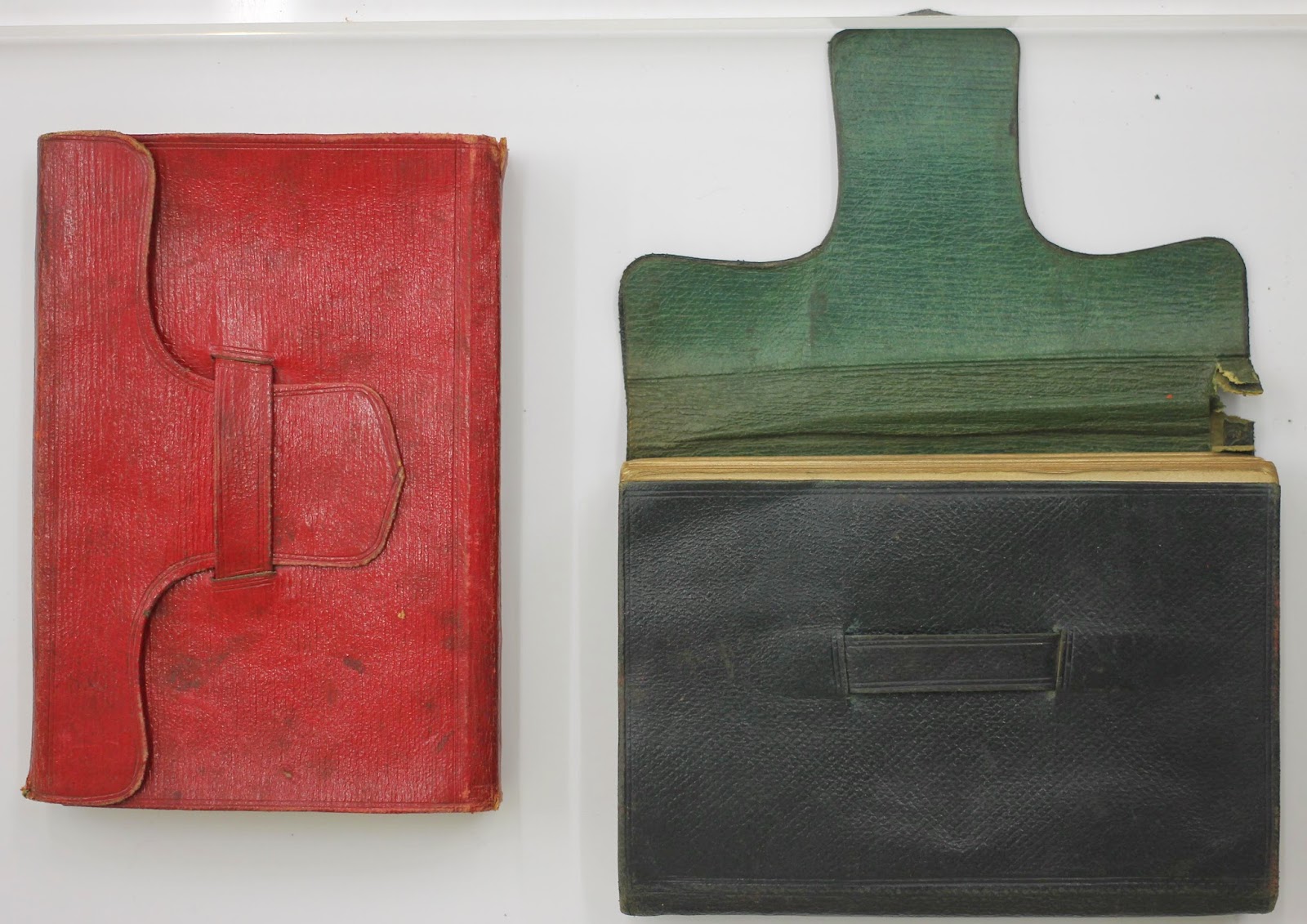 "Punch's Pocket Book" was designed as a compact version of its predecessors. Significantly smaller in size, it contained a condensed version of the information found in "Punch's Almanack" as well as a small selection of stories and cartoons similar to those found in Punch.  This travel-sized addition to the Punch line of publications allowed readers to enjoy the wit of their favorite Punch contributors while having easy access to the most important business information of the day, all within one conveniently sized volume.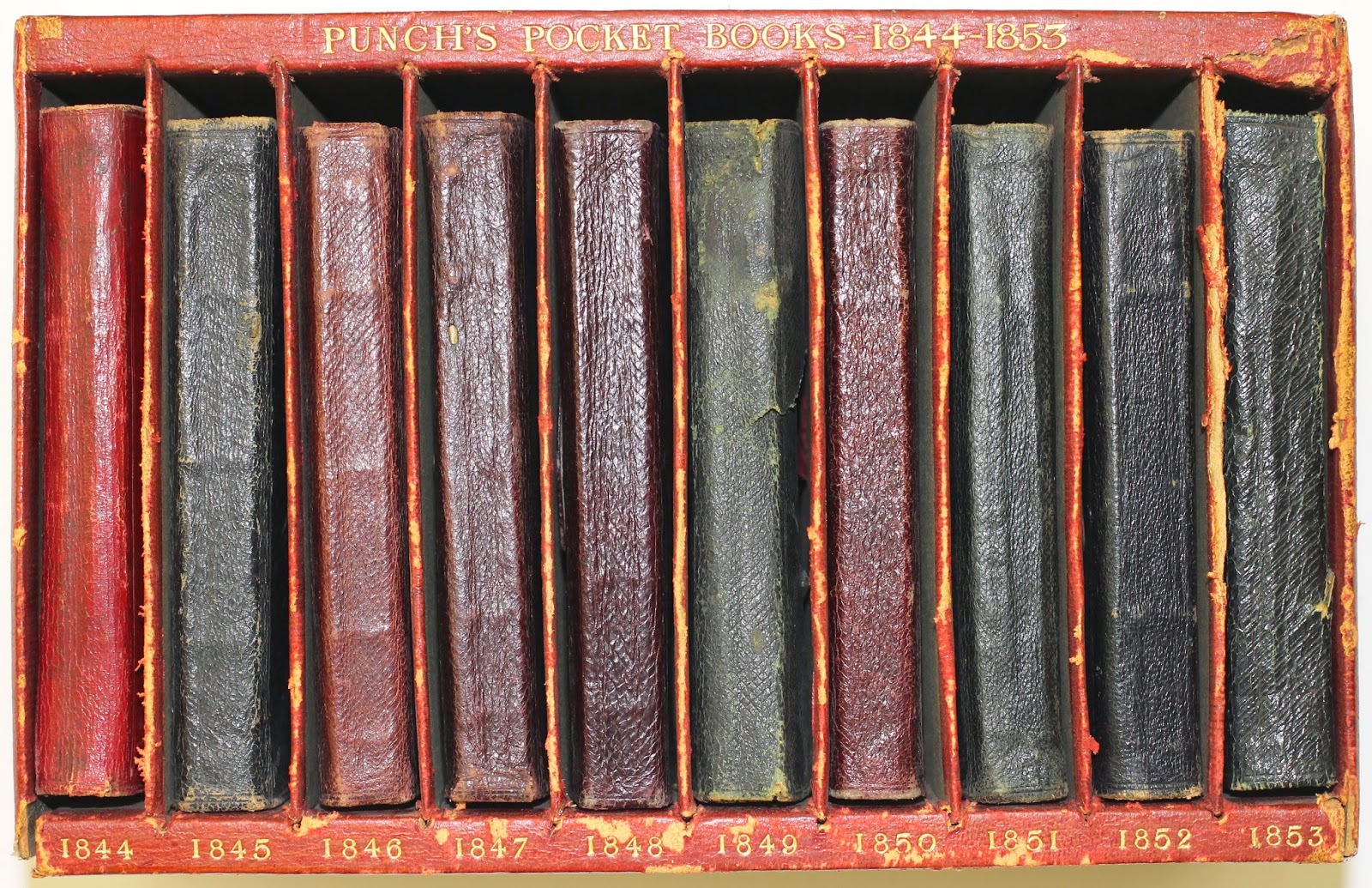 The various publications within the Punch franchise contained illustrations by many prominent English illustrators. "Punch's Pocket Books" are no exception, with notable contributions from John Leech and John Tenniel. Leech (1817-1864) first became associated with Punch in 1841, but is best known as the illustrator of Charles Dickens' Christmas books, most famously for his work in "A Christmas Carol "(1843). From 1844 until his death, Leech was responsible for creating many illustrations throughout "Punch's Pocket Book," most particularly the ones on the frontispiece. These frontispieces are considered to be "among his most charming works" [1].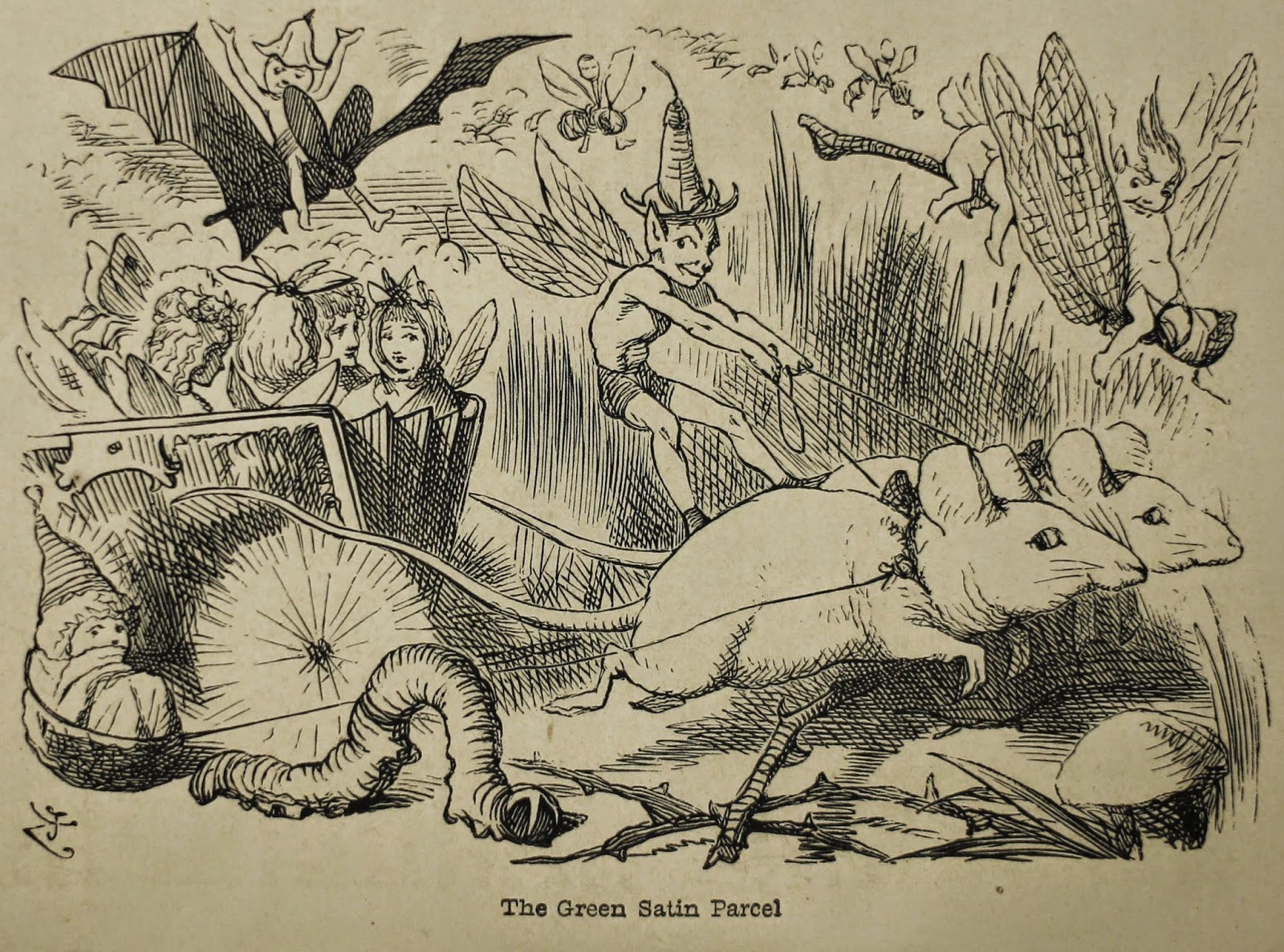 John Tenniel (1820-1914) first joined Punch in 1850, and was responsible for drawing initials and titles as well as creating small woodcuts. By 1861 he had risen to the status of junior partner to Leech. Following Leech's sudden death in 1864, Tenniel stepped into the vacant position and maintained illustrative leadership of the Punch franchise until his retirement in 1900. Aside from his prominent career with Punch, Tenniel is best known as the illustrator of Lewis Carroll's classic works "Alice's Adventures in Wonderland" (1865) and "Through the Looking-glass and What Alice Found There" (1872) [2]. Characteristics of Tenniel's designs for "Wonderland" occasionally appear in his illustrations for "Punch's Pocket Book". See, for example, "The Green Satin Parcel." This mouse-drawn carriage could just have easily been found within the pages of Carroll's adventures.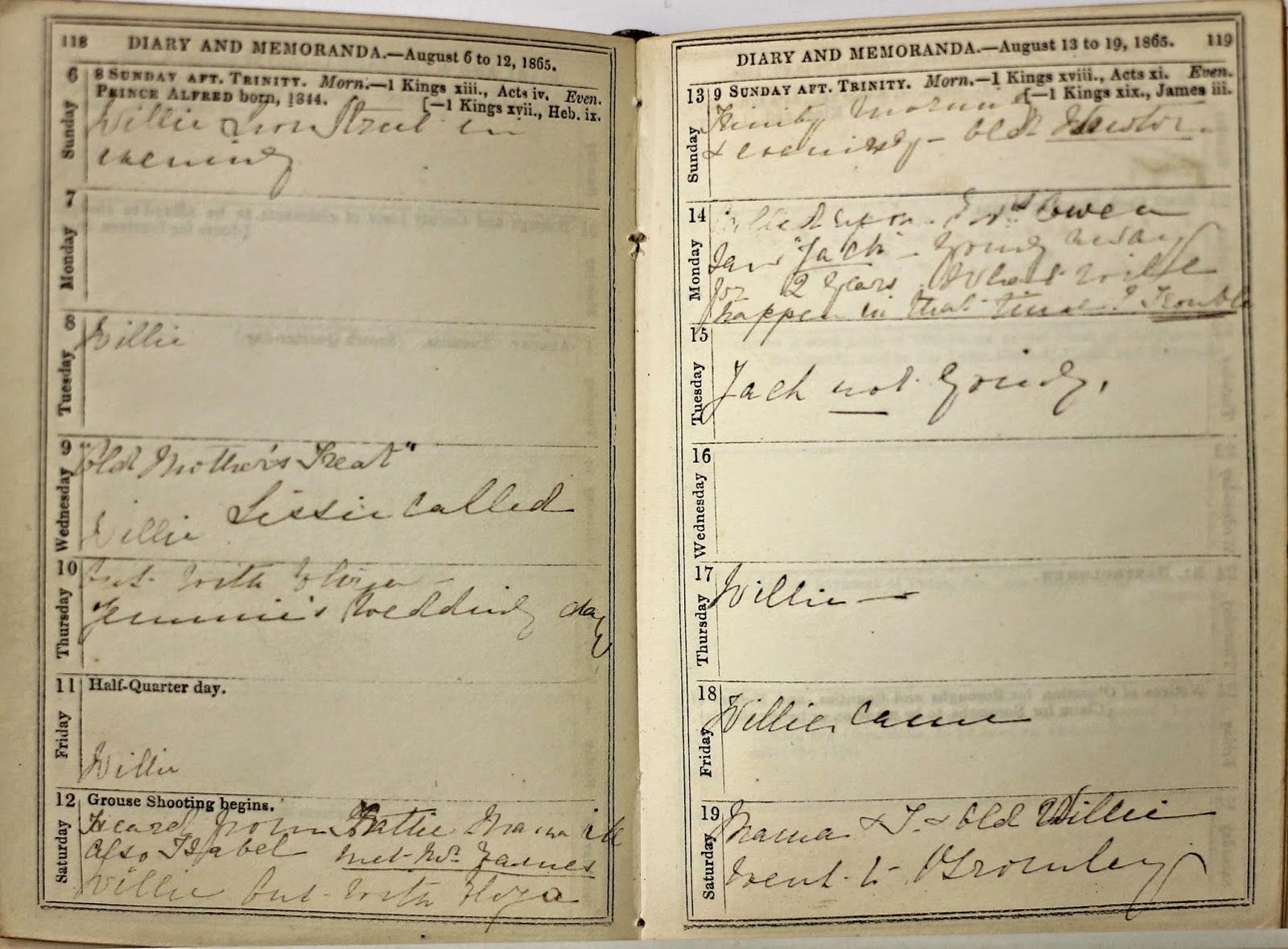 Simultaneously a ledger, diary, almanac and entertainment, "Punch's Pocket Book" was a unique publication with wide appeal. Sir Francis Cowley Burnand, Punch editor from 1880-1906, describes it as "a decidedly welcome Christmas present" [3] The charming publication was short-lived, however, due to the high cost of publication combined with insufficient sales. Too expensive to be competitive with other pocket-sized books containing similar information (but lacking Punch's characteristic wit), "Punch's Pocket Book" was eventually absorbed into "Punch's Almanack." In that larger volume, both the basic useful information as well as the satirical content of "Punch's Pocket Book" continued to reach eager readers [4]. 
Notes:
 Simon Houfe, 'Leech, John (1817–1864)', Oxford Dictionary of National Biography, Oxford University Press, 2004; online edn, Jan 2014 [accessed 15 Sept 2014].
 L. Perry Curtis Jr., 'Tenniel, Sir John (1820–1914)', Oxford Dictionary of National Biography, Oxford University Press, 2004; online edn, Sept 2013 [accessed 15 Sept 2014].
 Sir Francis Cowley Burnand, Records and Reminiscences: Personal and General (London: Methuen & Co., 1905), 371.