Leonard Baskin and the Gehenna Press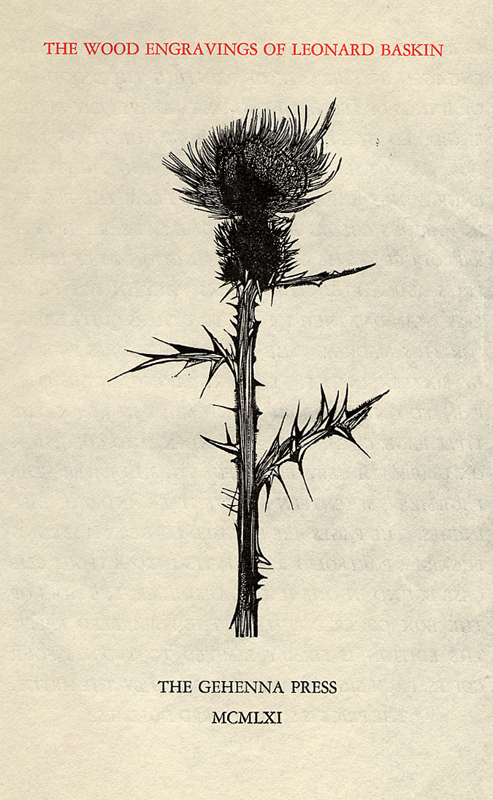 This web exhibit was created in conjunction with the exhibit, Leonard Baskin and The Gehenna Press, 1951-1971, held by the Robert D. Farber University Archives and Special Collections Department during the Spring-Summer 2004. While many items are included in both exhibits, several are not. Some items in the physical exhibit were too large to be scanned and included in the web exhibit. Similiarly, some items in the web exhibit were not included in the physical exhibit due to size constraints of our exhibit area.
The exhibit highlights the collection of early Gehenna Press books and ephemera that were donated to the library by Maurice and Edith Shulman in 1972. The Gehenna Press, founded by Leonard Baskin (1922-2000) in 1942, was located in Northampton, Massachusetts, and was one of the premier 20th-century fine presses in America. Leonard Baskin, a noted sculptor and illustrator, created many of the books' etchings himself. This collection covers the years 1951-1971, roughly the first two decades of sustained productivity of the Gehenna Press. The exhibit traces Baskin's progress from learning and experimentation to mastery of the craft of printing and design.
The web exhibit was made possible by the gracious permission of Lisa Unger Baskin. The copyright to the Gehenna Press books remains with the Baskin family and should be honored accordingly.