1990-1991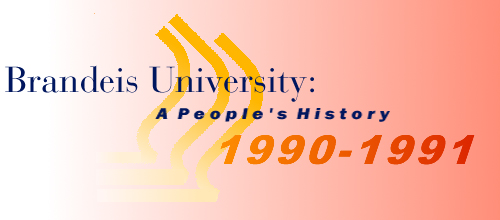 Festival of the Arts Begins Anew
The original annual Creative Arts Festival, established in 1952 but allowed to fade away after several successful years, was reborn as the "Festival of the Arts." A combined effort of the Provost Office and several other departments, this celebration featured the Lydian String Quartet, artist Bob Maedam, poetry, music and the premiere of the Spingold production of "Much Ado About Nothing." The Festival continues to the present day with support from the School of Creative Arts and the Office of the Dean of Arts and Sciences.
Undergraduate Concentration in Neuroscience Established
To meet students' growing interest in the brain, the University established a program and undergraduate concentration in Neuroscience. The program is interdisciplinary, drawing on faculty expertise from Biology, Biochemistry, Chemistry, Computer Science, Physics and Psychology. In 1991, six students received BAs in Neuroscience. Now approximately 20+ students graduate with degrees in Neuroscience each year. After Brandeis these students attend graduate school, medical school, as well as obtain immediate employment.
Inspiring Guests
Spring 1990 saw Brandeis students invite renowned pianist Michel Block for a Holocaust Memorial concert. Mr. Block, who is the sole winner of the special Arthur Rubinstein Award, played an all Chopin programme. The event was organized jointly by two student organizations: Hillel and Friendship Through Art. Most interesting were Mr. Block's own memories of a war-time Europe where he spent his childhood.
Another visitor to the campus was Maxine Hong Kingston, who inspired a number of Brandeisians to follow a career as a novelist, much to the dismay of our parents who still continue to support us economically. Ms. Kingston's lectures also highlighted the non-Jewish aspect of Brandeis life and community.