1995-1996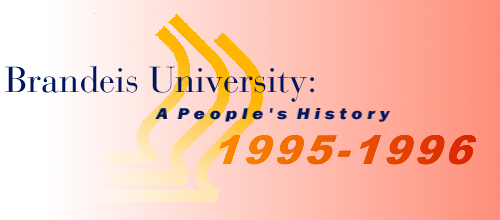 Brandeis Scholarships: A Gift from an Honoree
Brandeis honorary degree recipient and philanthropist-publisher Walter H. Annenberg and his wife Lee established a new scholarship in 1996. The Walter H. and Lee Annenberg Scholarship honors incoming students who demonstrate academic excellence and personal initiative, often in the face of adversity. The award is renewable annually.
A Brandeis Rhodes Scholar
On December 5, 1995, Brandeis Senior Laura Nell Hodo, '96, became one of 32 American students to be awarded the prestigious Rhodes Scholarship. While the news altered Hodo's plans of attending medical school in Fall 1996, it was a happy turn of events. Hodo had also been awarded the Maggie Cooks Junior Award as a tribute to her commitment to diversity.
The Rabin Assassination
Following the devastating assassination of Israeli Prime Minister and Nobel Peace Prize winner Yitzhak Rabin, students involved in Brandies Hillel and the Brandeis Zionist Alliance hastily organized a moving and inspiring rally to promote peace in the Middle East and to commemorate Rabin's murder.
The Rabin Assassination: A Student Remembers
I was in my first year in the Hornstein Program, and I was living on Highland Avenue across from the Deaconess Hospital in Waltham. It was a cold Saturday afternoon in November, when one of my Hornstein friends called me and said very abruptly on the phone, "Turn on CNN — Rabin has been shot!" Being a very poor grad student, I did not have cable TV, so I turned on NPR and the local TV stations, but none of the networks was discussing the incident. I quickly remembered that Usdan has a big screen TV with cable, so I drove up to Usdan hoping I would find cable TV and a community to help me deal with this news.
In the Usdan lounge I found a myriad of students, Brandeis employees and Hornstein friends. We sat for a few hours as the news of the assassination came in. Regardless of our political opinions and ideas about the Middle East Peace Process, we all sat listening, trying to comprehend the assassination. When the news came in in Hebrew, those of us who spoke Hebrew translated for the non-Hebrew speakers.
A scholar in the room gave us an impromtu summary of this assassination in the scheme of Jewish history. Some people in the room were crying, others were sullen and in disbelief. Myself — I was scared and confused because I was just beginning to plan a May 1996 trip to Israel as part of my Hornstein degree. As I sat listening to the news and international commentary, I realized how lucky I was to be sitting in Usdan at Brandeis, amongst community who truly understood the depth of this tragedy.