1996-1997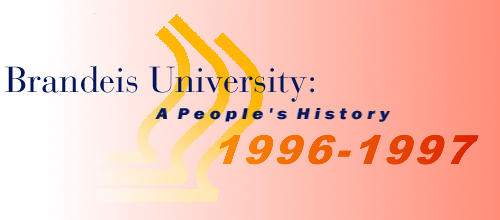 Women's Committee Brings Library Collection to One Million
A major fund raising campaign by the National Women's Committee brought to one million the number of books in the libraries' collections, placing the Brandeis libraries among the fastest growing private university collections in the country. The Women's Committee presented the millionth book to the libraries, a rare first edition set of The Law of God by Isaac Leeser, the first English Bible published for the American Jewish community, along with more than $500,000 raised to establish an endowment for the American Judaica collection.
Great Moments in Comedy
April 12, 1997 marked a historic day in Brandeis' comedic history. That night, Boris' Kitchen, Brandeis' first and only original sketch comedy troupe, celebrated its 10th anniversary with a four-hour extravaganza of the troupe's greatest sketches. Even though the show was held on the same night as the Junior-Senior formal, Boris' Kitchen still managed to sell out Nathan Seifer Auditorium to a standing-room only crowd. Since that show, Boris' Kitchen has continued to provide Brandeis with cutting-edge original sketch comedy.