1948-1949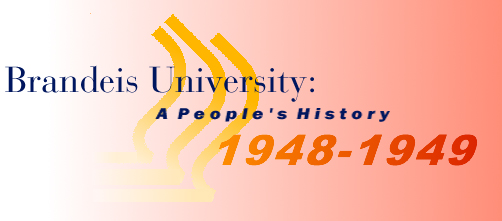 On Their Shoulders …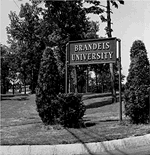 One hundred and seven freshmen arrived on campus in the fall of 1948 with a clear mission and no very certain means to accomplish it; their job was nothing less than the invention of a university. Their peers at other colleges and universities enjoyed the benefit of well-established traditions, communicated to them by seasoned upper classmen. But at Brandeis in 1948, there were no upper classes; among them, these freshmen created the institutions that other freshmen inherit. Not least among their lasting accomplishments count Brandeis's tradition of an energetic student government and, of course, the venerable student newspaper The Justice, named in honor of the university's Supreme Court namesake.
Freshman Carl Werner captured the sense of anxious responsibility resting with the class of '52 in a column he wrote for the first issue of The Justice:
"Brandeis University is depending on its teachers, but even more so it is depending on its students. If you fail, you are hurting the chances of its survival."
Joining the Academic Community
Before the close of the academic year Brandeis had demonstrated its commitment to supporting world-class scholarship by hosting its first scholarly conference, honoring the German poet Goethe upon the bicentennial of his birth. On this occasion Professor Ludwig Lewisohn donated the manuscript of his recently published Goethe: The Story of a Man to the library; it was the first published work by a member of the Brandeis faculty, inaugurating a tradition of excellence in research that remains one of the university's strengths.
Supporting the Libraries
Founding of the NWC
By the time Brandeis opened its first library in a converted horse stable, an inspired group of eight women had already organized a small army of volunteers to raise funds for its operation. Membership in the Brandeis University National Women's Committee, now one of the largest "friends-of-a-library" groups in the world, swelled overnight with women from coast to coast anxious to make the country's first Jewish-sponsored nonsectarian university a success and its library first-rate. In the university's first year, the library collection expanded from an initial base of 2,500 to over 10,000 volumes.