1951-1952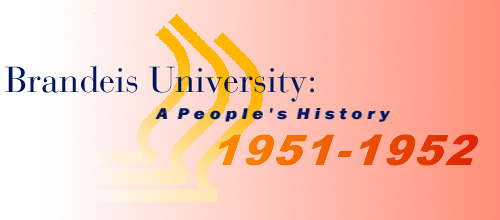 The Varsity Judges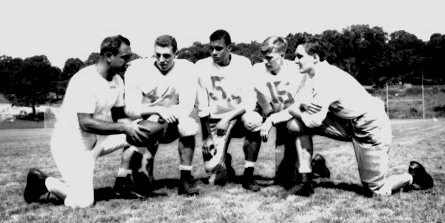 The first varsity football team, under the leadership of Coach Benny Friedman, took to the gridiron in the fall of '51, despite increasing questions from some students as to whether Brandeis should have an intercollegiate football team at all. The Judges opened their first season with a home game against the University of New Hampshire. They gave the UNH Wildcats a scare when they took a 20-13 lead in the third quarter, but ultimately lost the first game 33-20. The Judges went on to a four-and-four first season.
General Education F
One of the most innovative new programs launched at Brandeis had its test flight in the Spring semester. General Education F (later General Education S), a required course for seniors, was structured as a visiting lecture series designed "to help the student bridge the gap between college and the outside world." Lecturers invited to speak to the first class of Brandeis seniors included philosopher Sidney Hook, publisher Alfred Knopf and anthropologist Margaret Mead. Leonard Bernstein, who had been serving as advisor to the department of music and would speak at the Institute for Adult Education's night program, also appeared for a Gen Ed F lecture.
Commencement '52
Celebrations and a conversation
The first Brandeis University graduation inspired an all-out party, a Creative Arts Festival under the direction of Professor Irving Fine showcasing the new Ullman Amphitheater. The festival featured the world premieres of Leonard Bernstein's opera Trouble in Tahiti and Marc Blitzstein's adaptation of Kurt Weill's Three Penny Opera, complete with the late Weill's former wife Lotte Lenya singing a leading role. Also on hand was William Carlos Williams, who gave a reading of his poetry.
The graduation ceremony itself gave rise to one of the lasting moments in Brandeis history, the "conversation between the generations." Appearing for the younger generation was Class of '52 President Gustav Ranis, for the elder the principal speaker of the ceremony, Eleanor Roosevelt, who had agreed to appear at the last minute when the originally scheduled speaker canceled. Professor Max Lerner described the event in his regular New York Post column.
"The speech of the class president was a good one, but it was (I suppose) keyed to the prevailing student mood. He said he and his fellows didn't expect much of life, that they had no illusions any of them would set the world on fire, that it was a pretty bleak world anyway. It was the Generation Without Illusions talking."
After listening to Gus' remarks, Mrs. Roosevelt discarded her prepared text. Taking the podium, she spoke from the heart.
"One of the things that made this country great was that we were ready to adventure, to try new things of mind and spirit ... You say you will not set the world on fire. Perhaps not. But how does any of you know that it may not be exactly he who does not set at least your corner of the world on fire? …

Have the courage to be free. Believe me, it takes courage. It is often easier to accept the offer of security than to adventure ... People who achieve things are rarely secure. Adventure is always more interesting."