1953-1954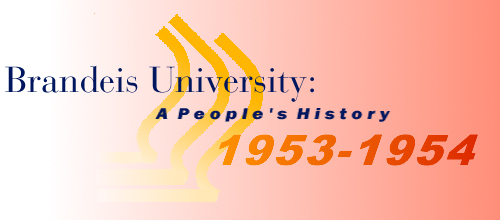 Brandeis Accredited
The New England Association of Colleges and Secondary Schools granted Brandeis full accreditation in the first year of its eligibility. Tufts President Nils Wessel warmly welcomed the university as a member of the New England Association.
From Graduating Students to Graduate Students
No sooner had the class of '52 gone off into the world with the first Brandeis University diplomas in their hands than the university began to look for ways to keep them around a little longer. Under the chairmanship of Professor Max Lerner, the Graduate School of Arts and Sciences went into operation offering advanced degrees in four areas of study: Chemistry, Near Eastern and Judaic Studies, Music Composition, and Psychology. Forty-two new students enrolled for GSAS programs in its first year.
Playing Dress-Up
With the opening of the new Student Center and cafeteria, the administration set a meal-time dress code: for daily dinners and all weekend and holiday meals, women were to wear dresses or skirts, and men jackets (preferably with ties) — and at no time were tee shirts, sweatshirts or "dungarees" permissible. Brandeis administrators soon learned an unanticipated lesson about the kind of student who chooses to be a pioneer.
While the administration had envisioned a Brandeis that would grow to emulate the standard of "gracious living" typical of the established colleges and universities, many students had come here precisely because Brandeis offered something distinctly different. A poll conducted by The Justice found that students opposed the dress code by a three-to-one margin; for them, the 1950's stodginess characteristic of many other schools simply held no appeal. "I am not an upper-middle class, anglo saxon professional," one wrote, "I can be courteous without wearing a jacket." Students elsewhere might be content to have the institution stand in loco parentis, but not at Brandeis. After meeting with student leaders, administrators agreed not to require that men wear jackets and women dresses or skirts. The prohibitions against the more offensive types of casual wear, however, remained.
Commencement '54
In addition to awarding 159 baccalaureate diplomas, Brandeis handed out its first advanced degrees in 1954: Lawrence Berman received the Master of Arts degree in Jewish studies, and Masters of Arts degrees in music composition went to David Epstein and Halim El-Dabh. The six honorary degree recipients were Dr. Buel G. Gallagher, president of the City College of New York; Senator Herbert Lehman, honorary chairman of the Brandeis Fellows and a stalwart opponent of Joe McCarthy in the United States Senate; Alvin S. Johnson, founder of the New School for Social Research; Eleanor Roosevelt and Morris Shapiro, Brandeis University Trustees; and Dr. Selman A. Waksman, discoverer of streptomycin.
From Tufts University President Nils Wessel's Welcome to Brandeis
"The membership of the New England Association conferred on Brandeis University is an acknowledgement of the tremendous strides the University has made up to this day as well as an expression of confidence in the future which lies ahead of it. Membership in the New England Association is not lightly bestowed. Over the years more institutions have been denied membership than have been awarded membership. I hope that Brandeis University will continue to be a prophet with honor in its own community. I know of no instance in American higher education in which an educational need was clearly recognized and so effectively answered.
… [T]he achievements made at Brandeis University in its short history represent a phenomenon deserving of a special chapter in the history of mid-20th century American higher education."