1955-1956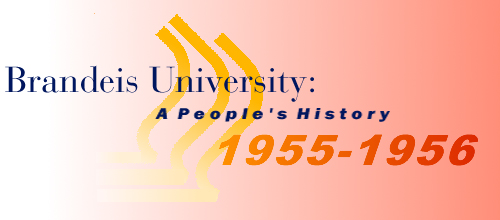 Dedicating the Three Chapels
Three years ago, the announcement of plans to build a Jewish chapel on campus sparked a storm of student protest. Now, overseeing the dedication of the Three Chapels, President Sachar found that as the unique resolution to a unique problem, they gave a distinctive shape to the Brandeis mission.
"For here, without degrading nuances of forbearing or tolerance or obsequiousness, a tradition of understanding and mutual regard will be built, which will draw from the experience of religious faith its most precious quality … Each of the great faiths has its own building; its symbols and traditions are not turned on and off. They all stand as neighbors, however, in an aesthetic grouping to emphasize the common quest."
—Staff
Commencement '56
Honoring Louis Brandeis
The university's fifth commencement marked the beginning of on-campus celebrations of its namesake, Justice Louis Dembitz Brandeis, in the 100th anniversary year of his birth. Former Secretary of State Dean Acheson and Supreme Court Justice Felix Frankfurter were among the prominent figures with ties to Justice Brandeis who accepted honorary degrees at the commencement.