1956-1957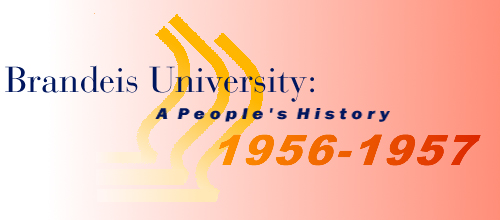 Louis Brandeis Centennial
The university's tribute to Justice Brandeis continued into the fall, with a November ceremony marking the 100th anniversary of his birth. At the ceremony the university officially unveiled sculptor Robert Berks's nine-foot tall statue of Brandeis, portraying him in mid-stride with his judicial robes billowing in a strong wind. Chief Justice Earl Warren was on hand to receive an honorary degree and to offer his own thoughts on the man who "did as much to change the thought of the nation and the outlook of government concerning American life as any person of his time."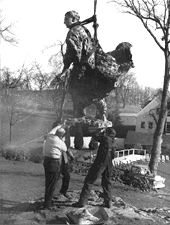 Slosberg Dedication Concert
To inaugurate the opening of the Jacob and Bessie Slosberg Music Center, the department of music held a concert of new music featuring the Juilliard String Quartet augmented by several other performers, including pianist and composer Martin Boykan, now a member of the music department faculty. The program included works by Anton von Webern, Igor Stravinsky, Elliott Carter and William Schuman, as well as compositions by Brandeis faculty members Arthur Berger and Irving Fine, Berger's "Duo for Clarinet and Piano" and Fine's "Fantasia for String Trio."
Faculty Study Groups Aid NWC
Brandeis faculty linked Women's Committee members nationwide to Brandeis by creating study group materials for use in chapters throughout the country. Thousands of members met in small groups in homes, public libraries and community centers to study everything from Shakespeare to American Jewish humor, using over 100 syllabi and discussion guides written by the faculty.
Commencement '57
Luminaries present and absent
Former President Harry S. Truman appeared as the principal speaker for the sixth commencement, as the culmination of a project to establish an endowed chair in his name. President Sachar records that Truman was touched by the honor, the first such he received from any American university. Having made the offer, President Sachar lost no time in enlisting prominent Democrats as fund raisers for the endowment, including Sam Rayburn, Lyndon Johnson and Averell Harriman, as well as Brandeis Trustees Eleanor Roosevelt and Herbert Lehman.
In his address, Truman joked that his daughter, Margaret, complained of the injustice that while she had had to slave to earn her degree, her father, who had never even gone to college, now held a doctorate. He went on to pay tribute to his advisor, the late David Niles, the founding Trustee who had first proposed inviting Abram Sachar to serve as university president.
Composer Aaron Copland also received an honorary degree from the university that year. In conjunction with his participation in the commencement, Copland appeared in the annual Brandeis Creative Arts Festival, conducting performances of his own "Appalachian Spring," "Music for the Theatre" and a concert version of his opera "The Tender Land."
Invited but not on the podium that spring was the famed Spanish cellist Pablo Casals. His cordial note declining President Sachar's invitation was reprinted, at the president's request, in The Justice. U.S. support for Franco's government, Casals wrote, made it impossible to for him to attend: "It would be a fault on my part to accept honors from any country that has recognized the dictatorial regime in my country."
The Sixth Annual Commencement marked the awarding of Brandeis's first Doctor of Philosophy. The degree went to Norbett Lawrence Mintz, who had completed his graduate work in the Department of Psychology.