1983-1984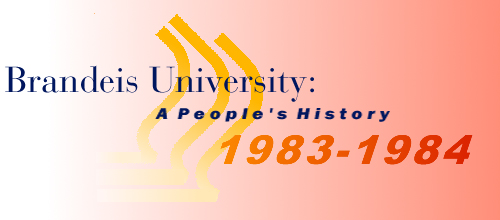 Evelyn Handler Inaugurated as 5th President
A festive ceremony at Boston's Symphony Hall officially installed Evelyn Handler as Brandeis University President. In her address to the Brandeis community, she said,
"The dream that was given expression in this same hall with the inauguration of the founding president, Abram Sachar, has become, not just a reality, but a unique triumph in the history of American higher education."
Electing the Other President
During primary season, most of the Democratic candidates seeking the opportunity to unseat President Ronald Reagan made appearances on the Brandeis campus. Among those appearing were Senators Gary Hart, Alan Cranston, John Glenn, George McGovern and Ernest Hollings.
Hiatt Institute Closes; Hiatt Center Opens
After 22 successful years, the university decided to close the Jacob Hiatt Institute in Israel. When it was founded in 1961, the Hiatt Institute offered a unique opportunity for students from all over the U.S. to study in Israel; by the time the program was closed, it claimed more the 600 alumni from 150 American colleges and universities. Now that programs offering year abroad options in Israel had proliferated, the Hiatt Institute no longer served a unique purpose. Jacob Hiatt's generosity to Brandeis, however, continued; later that year, the university opened a new placement and counseling service with his support. The Hiatt Career Center remains one university's most valued student services.
NWC Gifts to Libraries Tops $20 Million: Library Also Receives Warren Oral History, Shakespeare Collection
Founded by eight determined women 35 years ago, the Brandeis University National Women's Committee grew to a membership of more than 50,000 enthusiastic Brandeis supporters, less than five percent of whom were alumnae. Its 110 chapters raised $20 million over those 35 years through used book sales, book and author luncheons, theater parties, luncheons, galas and individual gifts, filling the shelves of four libraries.
In addition to the continuing efforts of BUNWC, the library also received two major donations to its collection. In memory of Benjamin F. Swig, a friend of Chief Justice Earl Warren, Swig's family donated 53 volumes of oral history, including interviews with Justice Warren and his friends and family. Later that year the library also acquired 4,600 volumes of rare items relating to the works of William Shakespeare.