1986-1987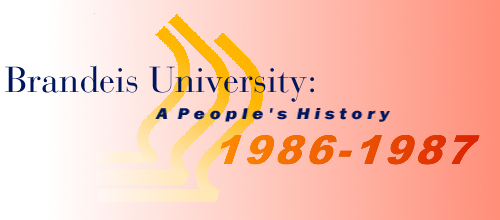 Action on South Africa
After eight years of student activism and expressions of faculty concern, the movement to divest university holdings in firms doing business in South Africa reached new heights this year. At the end of a year packed with protests, the Board of Trustees saw its way clear to adopt the students' position.
In 1979, Brandeis students had been among the first to press the moral necessity of divesting from apartheid South Africa. In response to their concerns, then-President Bernstein had established an Advisory Committee on Shareholder Responsibility, which reviewed the policies of companies doing business in South Africa in which the university held stock. This committee made recommendations to the Board of Trustees, which ultimately determined whether to retain or sell the stock.
For members of the student Divestment Committee, the university's stated policy of selective divestment and use of shareholder pressure to bring about social change in South Africa was inadequate. They demanded full and immediate divestment, and eventually the ACSR also took this position. Still, the Board of Trustees continued to favor a more moderate policy.
This year, the pressure for full divestment took on renewed intensity, especially after the Board of Trustees voted against it at its December meeting. Students constructed "shanty towns" on campus, and invited a string of prominent advocates for the liberation of black South Africans to speak on campus, including Maki Mandela, daughter of Nelson Mandela; Coretta Scott King; Edward Garwe, Zimbabwe's Ambassador to the United States; and Congressman Harold Wolpe, chair of the House Subcommittee on African Affairs. Students occupied the Bernstein-Marcus administrative complex and the library. The University chaplains, Rabbi Albert Axelrad, Father Maurice Loiselle and Rev. Diane Moore joined in a two-week hunger strike to focus attention on the immorality of earning profit from businesses that buttressed the existing system.
During the Spring semester, Trustees met with students in two open forums, allowing both sides to exchange views on their respective positions. At the May meeting of the Board, the student position finally prevailed, and the Trustees voted for a complete sell-off of all South Africa related holdings.
Honoring the Founders
To "recognize the people who built the university," Brandeis organized its first annual Founders' Day. The celebrations included a "Freedom of Information Symposium," moderated by former President of CBS News Fred Friendly, with panelists Tom Friedman, '75, New York Times Jerusalem Bureau Chief; Leon Wieseltier, literary editor of The New Republic; and Professors Stephen Whitfield and Saul Touster of the Department of American Studies and Professor Sissela Bok of the Department of Philosophy. Senator Howard Metzenbaum appeared to deliver a special convocation address. Also in attendance were all four previous presidents of the University, who joined President Hander for a group photo.