1966-1967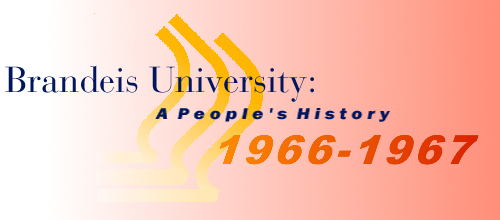 Vietnam Protests Continue
In early February, the Brandeis community participated in a nationwide fast to protest the war. The Ad Hoc Committee for Victims of Vietnam oversaw on-campus organization of the fast, which began with ceremonial observances beside the Three Chapels pond. (Chaplain Father Joseph Walsh served on the Ad Hoc Committee and acted as its spokesman.) The committee collected money saved by the fasting students, donating it to the Committee of Responsibility, a national organization dedicated to ending the war and supporting its victims. Dean Charles Schottland, Heller School, and Professor I. Milton Sacks were members of the Committee of Responsibility.
Later this spring, President Johnson's announced plans to suspend education draft deferments brought the war considerably closer to Brandeis students. The Student Council established a Draft Counseling Service, and The Justice ran articles on the alternatives to military service, including an interview with an imprisoned resistor. Several dozen students signed a "We Won't Go" statement: "We have examined the history and nature of this war, and have reached the conclusion that our participation in it would be contrary to the dictates of our conscience. We therefore declare our determination to refuse military service while the United States is fighting in Vietnam." Sixty-eight members of the faculty responded in kind, signing a statement declaring their support for those who "as a matter of conscience, feel obliged to make a strong protest against this War."
Events close to home also fed student dissatisfaction this year. With the growth in student population at Brandeis, the intimate classes of the early days had given way to persistent over-crowding. In protest, leaders of the Student Union called a one-day boycott of classes. Afterward, The Justice estimated that 80% of undergraduates had honored the boycott, but by the end of the semester it was unclear what result the one-day walkout had really had.
K.C. Jones Makes History as Head Coach
In 1966, Brandeis recruited former Boston Celtics star K.C. Jones to coach the Varsity Basketball Team. With his appointment, Brandeis became the first college in the country to appoint an African-American head coach of a major sport team. Jones brought to the school his own exceptional abilities and attracted many talented athletes to the program. When he moved on to a position at the University of California, K.C. Jones left with Brandeis the legacy of having made national history.
Hillel Initiative Evolves into Waltham Group
As a part of its ongoing commitment to Social Service projects, students from Brandeis Hillel began a Big Brother/Big Sister Tutoring project with Waltham residents. When word of the new group spread, students joined en mass. Within two years the group had outgrown its creator and became an independent organization called "The Waltham Group."