Past Presidents of Brandeis University
The President of the University is appointed by the Board of Trustees. The University Bylaws state: "The President of the University is the Chief Executive Officer of the University, charged with the responsibility for all academic, administrative, financial, and other activities and with the execution of all policies established by the Board of Trustees."
Abram Leon Sachar (1899–1993)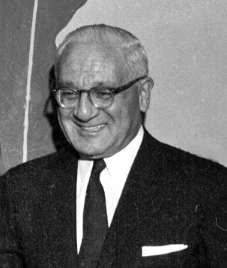 President of Brandeis, 1948–1968
Born in New York City, Abram "Abe" Sachar moved with his family to St. Louis in 1906. He received his BA from Harvard College, his MA from Washington University, and his PhD from Cambridge University in 1923.
Sachar was a professor of history at the University of Illinois from 1923 to 1948. At the same time, he was a key organizer and leader of the B'nai B'rith Hillel Foundation, helping to establish Hillel Houses for Jewish students on the campuses of many American universities.
In 1948, Sachar was appointed the inaugural president of Brandeis University, the first Jewish-sponsored, non-sectarian university in the United States. He served in that position for twenty years, the longest tenure of any Brandeis president to date. After his retirement, Sachar became university chancellor, then chancellor emeritus.
During his long career, Sachar served on numerous committees and boards and was the recipient of many honors, including thirty honorary degrees. He and his wife had three sons: Howard, Edward, and David.
Sachar's published works include: "A History of the Jews" (1938); "Sufferance is the Badge" (1939); "The Course of Our Times" (1972), which became a public television series of the same name; "A Host at Last" (1976), about the founding of Brandeis University; and "The Redemption of the Unwanted" (1984).
Morris B. Abram (1918–2000)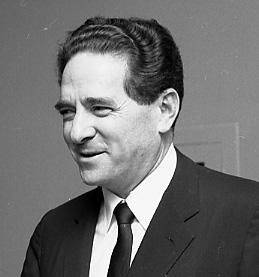 President of Brandeis, 1968–1970
Abram was born in Fitzgerald, Georgia, a small city in the south central part of the state. He received a BA from the University of Georgia (1938) and a JD from the University of Chicago Law School (1940). A Rhodes Scholar, Abram was thwarted from attending Oxford during World War II and completed his studies there during the post-war period.
Abram was an attorney with a practice in Atlanta. He ran for the U.S. Congress in 1953 and was defeated, even though he garnered the majority of votes. At the time, rural areas were weighted more heavily than the predominantly African-American district of Fulton County, Atlanta. Abram brought this electoral irregularity to the notice of then Attorney General Robert F. Kennedy, who argued and won the case before the U.S. Supreme Court in 1963. Abram was active in many organizations: president of the American Jewish Committee; U.S. representative to the United Nations Commission on Human Rights; president of the Field Foundation; chairman of the United Negro College Fund; chairman of the Moreland Act Commission on Nursing Homes (New York); and a board member of the 20th Century Fund.
Abram's tenure at Brandeis was marked by controversy, exemplified by the student takeover of Ford Hall in January 1969. Of that time he later remarked, "students ask, 'with the world on fire, why should I spend four years in books and laboratories?' To that I answer, I was a counsel at the Nuremberg Trials. The question is not whether a qualified man should devote himself to attacking the ills and outrages of the world, but when." After Brandeis, Abram returned to his law practice. He and his first wife had five children: Ruth, Ann, Morris Jr., Adam, and Joshua.
Charles Irwin Schottland (1906–1995)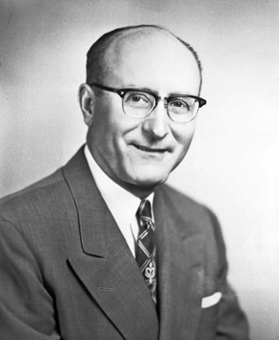 Acting President of Brandeis, 1970–1972
Schottland was born in Chicago and grew up in California. He attended the University of California at Los Angeles and did graduate work at the New York School of Social Work (now part of Columbia University) and the UCLA School of Law.
Schottland was an expert on social welfare programs; during the 1930s he served as director of a number of social welfare organizations in California, including the Modern Social Center in Los Angeles, the California Relief Administration, and the Federation of Jewish Welfare Organizations. After World War II, Schottland served in the Civil Affairs Division of the U.S. Army under Gen. Dwight D. Eisenhower, where he coordinated the relocation of 5.5 million displaced persons. After the war he practiced law in Los Angeles. From 1950–1954 Schottland was director of the California State Department of Social Welfare. President Eisenhower then appointed Schottland Social Security Commissioner; he served in that administration until 1958.
In 1959 Schottland became the founding dean of the Florence Heller Graduate School for Advanced Studies in Social Welfare at Brandeis University. He served as dean until 1970 when he was appointed university president. In 1972 Schottland returned to the Heller School as a faculty member, becoming the dean again from 1976 to 1977. He retired to Arizona in 1979 and two years later headed the Arizona delegation at the White House Conference on Aging. In addition to publishing numerous articles, Schottland authored two books: "The Social Security Program in the United States" (1970) and "The Welfare State: Selected Essays" (ed., 1967). He and his wife, Edna, were married 61 years; they had two children, Mary Elizabeth and Richard.
Marver H. Bernstein (1919–1990)
President of Brandeis, 1972–1983
Bernstein was born in Mankato, Minnesota; he received his BA and MA from the University of Wisconsin and his PhD in political science from Princeton University in 1948. From 1942–1946, Bernstein was a budget examiner for the U.S. Bureau of the Budget.
Bernstein taught at Princeton for 26 years and was the founding dean of Princeton's Woodrow Wilson School of Public and International Affairs from 1964–1969. In 1972 Bernstein became Brandeis's fourth president and served in that position for eleven years. After Brandeis he became a professor of politics and philosophy at Georgetown University's School of Foreign Service where he taught until his death. Bernstein served on the boards of the B'nai B'rith Hillel Foundation, the National Federation for Jewish Culture, American Professors for Peace in the Middle East, and numerous civic groups. He was an advisor to local, state, and federal agencies and in 1967 brokered a deadlock over the reapportionment of New Jersey's legislative districts.
Bernstein's books include: "American Democracy in Theory and Practice" (co-author, 1951); "Regulating Business by Independent Commission" (1955); "The Politics of Israel: The First Decade of Statehood" (1957); "The Job of the Federal Executive" (1958); and "The Government as Regulator" (ed., 1972).
Bernstein and his wife, Sheva, died tragically in a fire at a hotel near Cairo, Egypt in March of 1990.
Evelyn E. Handler (1933–2011)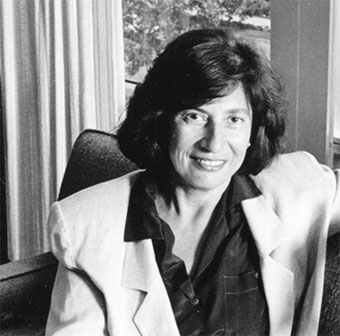 President of Brandeis, 1983–1991
Born in Budapest, Hungary, Handler immigrated to the United States with her family in 1940. She was educated in the New York public schools and received her BA from Hunter College, her MA and PhD from New York University, and her JD from Franklin Pierce Law Center. A research scientist, Handler's field of study was blood cell formation in the leukemic state.
Handler has spent her professional career in higher education. She taught biological sciences at Hunter College from 1962 and was named full professor in 1975; in 1980 she became dean of the Division of Sciences and Mathematics. From 1980 through 1983 Handler was the president of the University of New Hampshire and in September of 1983 she became the president of Brandeis, the first and only woman ever to hold that position.
At Brandeis, Handler sought to enhance student diversity. Toward that end, she introduced pork and shellfish to the cafeteria—foods that are forbidden under Jewish law. This move proved controversial and sparked debate among members and supporters of the Brandeis community.
Handler has been a research fellow and associate at the Graduate School of Education at Harvard and a senior fellow at the Carnegie Foundation for the Advancement of Teaching. From 1994–1997 she held the position of executive director and CEO of the California Academy of Sciences and later served as a director at the Student Loan Corporation. She died in a pedestrian accident at the age of 78.
Handler and her first husband have two sons, Jeffrey and Bradley Varsa.
Stuart H. Altman (1936–)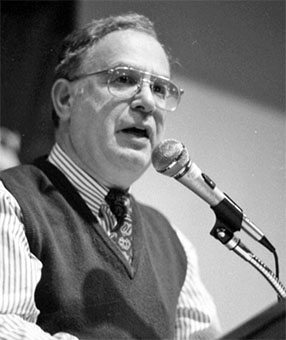 Interim President of Brandeis, 1990-1991
Altman was born in New York and educated in the New York public schools. A graduate of CUNY (City College of New York), he received his MA and PhD in economics from UCLA. Altman taught at Brown University and the Graduate School of Public Policy at the University of California at Berkeley, arriving at Brandeis's Heller School in 1976. He was appointed dean of the Heller School in 1977 and served as interim president of the University when Handler stepped down in 1990 (before officially resigning in 1991). Altman returned to the Heller School in 1991 and currently serves as the Sol C. Chaikin Professor of National Health Policy.
Altman is an economist whose research interests are primarily in the area of federal and state health policy. He has served on numerous boards and task forces focused on health-care issues including the Robert Wood Johnson Foundation's Clinical Scholars Program and its Council on the Economic Impact of Health System Change. In 1997 Altman was appointed by President Clinton to the National Bipartisan Commission on the Future of Medicare.
Altman has written widely on the topic of health care policy. Examples of works include: "Federal Health Care Programs: Problems and Prospects" (coed., 1981); "Competition and Compassion: Conflicting Roles for Public Hospitals" (coed., 1989); "Strategic Choices for a Changing Health Care System" (coed., 1996); and "Policies for an Aging Society" (coed., 2002).
Altman and his wife have three daughters: Beth, Renee, and Heather.
For more information on Stuart Altman see the Heller School website.
Samuel O. Thier (1937–)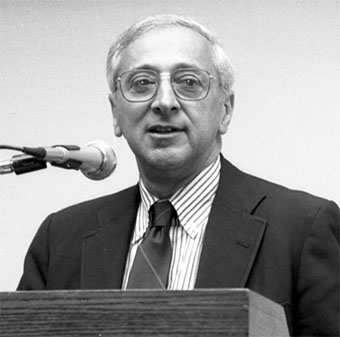 President of Brandeis, 1991–1994
Thier was born in Brooklyn, New York and educated in the New York public schools. He attended Cornell University and the State University of New York at Syracuse, Upstate Medical School, where he received his MD.
Thier did his internship and residency in renal health at Massachusetts General Hospital. After working at the University of Pennsylvania Hospital, he became chairman of the Department of Internal Medicine at Yale University School of Medicine in 1975. Thier became an authority on internal medicine and kidney disease as well as national health policy, medical education, and biomedical research.
Over time, Thier achieved a reputation for fixing institutions that had lost their focus and momentum. He was known for his excellent listening and mediation skills and his time at Brandeis was marked by a bringing together of students and faculty. In 1994 Thier left Brandeis to become president of Massachusetts General Hospital and Partners HealthCare System, Inc. He is now a professor of medicine and health care policy at Harvard Medical School.
Thier has served on numerous medical, policy, and editorial boards, has received sixteen honorary degrees, and is a past president of the Institute of Medicine. He and his wife, Paula, have three daughters: Audrey, Stephanie, and Sara.
Jehuda Reinharz (1944–)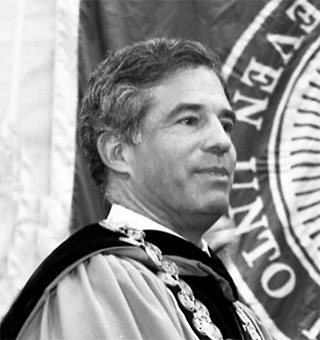 President of Brandeis, 1994–2010
Jehuda Reinharz was born in Haifa, Israel, in 1944. He received his high school education in Germany and immigrated to the United States as a teenager in 1961. Reinharz earned concurrent bachelors degrees from Columbia University and the Jewish Theological Seminary. He earned a master's degree in medieval Jewish history from Harvard University in 1968, and a doctorate in modern Jewish history from Brandeis University in 1972. Reinharz was the first professor of Jewish history at the University of Michigan, from 1972 to 1982, where he established the program in Judaic Studies.
In 1982, Reinharz came to Brandeis where he became the Richard Koret Professor of Modern Jewish History in the Department of Near Eastern and Judaic Studies. He has been director of the Tauber Institute for the Study of European Jewry and the Jacob and of the Libby Goodman Institute for the Study of Zionism and Israel, which he founded. From 1991 to 1994, Dr. Reinharz served as provost and senior vice president for academic affairs. In 1994, he was named the seventh president of Brandeis University.
Dr. Reinharz is the author of some 100 articles and twenty books in various languages. His book Jew in the Modern World (3rd edition, 2009) is one of the most widely adopted college texts in modern Jewish history. Reinharz is the recipient of honorary doctorates from Hebrew Union College, the Jewish Theological Seminary, Fairfield University, Ben Gurion University and the Weizmann Institute of Science. He is also a member of the following honorary societies: Royal Historical Society (1992); American Academy of Arts and Sciences (1995); and the Council on Foreign Relations (1999). In addition, he serves on a large number of boards and advisory committees.
Reinharz and his wife, Shulamit Reinharz, a professor of sociology and director of the Women's Studies Research Center and the Hadassah-Brandeis Institute at Brandeis have two daughters, Yael and Naomi.
Frederick M. Lawrence (1955-)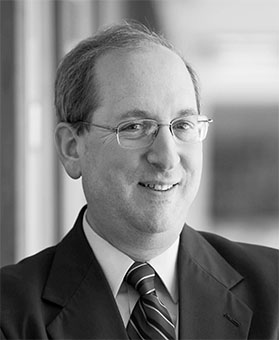 President of Brandeis, 2011-2015
Lawrence was born in 1955 in Port Washington, New York. He received his BA from Williams College in 1977 and a law degree from Yale Law School 1980. Prior to serving as President of Brandeis he served as assistant U.S. Attorney for the Southern District of New York, where he became chief of the Civil Rights Unit. He was dean and Robert Kramer Research Professor of Law from 2005 to 2010. He has served on the faculty of the Boston University School of Law and as a trustee of Williams College, WGBH, and the Board of Directors of the Anti-Defamation League.
Lawrence is a noted scholar on civil rights crimes. His book Punishing Hate: Bias Crimes Under American Law (Harvard University Press, 1999) examines bias-motivated violence and the laws governing how such violence is punished in the United States. He is also a noted writer, lecturer, and teacher on constitutional law.
In 2015, Lawrence left Brandeis to become a distinguished research scholar at Yale Law School. Lawrence is married to Kathy Lawrence, an academic who specializes in 19th-century American literature. They have two children, Miriam and Noah.
Lisa M. Lynch (1956-)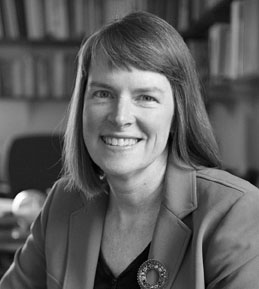 Interim President of Brandeis, July 1, 2015-June 30, 2016
Lynch was born in 1956 in Waterbury, Connecticut. She received her BA in Economics and Political Science from Wellesley College and her MS and PhD in Economics from the London School of Economics.
An internationally recognized labor economist, Lynch has held multiple scholarly and leadership positions at the highest levels of both academia and government. The U.S. Department of Labor, the Federal Reserve Bank of Boston, the Conference of Chairmen of the Federal Reserve System, and the Labor and Employment Relations Association have all benefited from Lynch's leadership and expertise. As well, Lynch has held faculty positions at Tufts University, Massachusetts Institute of Technology, The Ohio State University, University of Bristol, and Brandeis. Before taking on the role as Provost of Brandeis, Lynch served for six years as Dean of the Heller School for Social Policy and Management. She is currently a research associate at the National Bureau of Economic Research and the Economic Policy Institute, and a research fellow at IZA (Institute for Labor Economics, Germany).
With the appointment of Ronald D. Liebowitz as President of Brandeis, Lynch, the Maurice B. Hexter Professor of Social and Economic Policy, returned to her role as Provost and Chief Academic Officer, from which she stepped down take on the interim presidency. Lynch and her husband Fabio Schiantarelli, professor of economics at Boston College, have a daughter named Julia.
For more information on Lisa Lynch, see the Heller School website.