Yesterdays Tomorrow (Labels)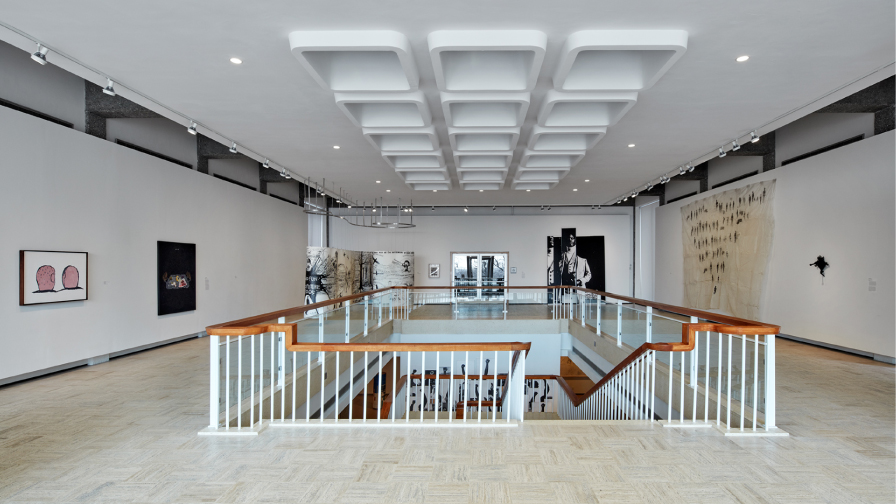 Despite language used to describe it, the past is rarely stilled within the fixed frame of retrospective distance. Instead, defying attempts at neat chronology, the past resurfaces and evolves in the expanding now. Images and narratives echo at the edges of the present and shade visions of the future. Interwoven with and twisted by current events and shifting perspectives, individual and collective understandings of history are forever in flux.
This presentation from the collection brings together works by artists who wrestle with, and create room for, such circuitous trajectories. Reckoning with complexities, atrocities, and losses both recent and removed, these artists confront the challenge of giving shape to subjects which resist direct representation, and locating their own place within the imprint of broad and tangled influences. Eschewing the inflexible formats of traditional monumentality, the objects in this exhibition open onto layered narratives, making room for history's multiplicities and giving space to the subjective and intimate sway of memory. In doing so, they mirror the slippery footing with which we navigate our standing both in relation to an envisioned yesterday and an imagined tomorrow.
Yesterdays Tomorrow Exhibition Labels
Expand All
Philip Guston
Born 1913 in Montreal, Canada; died 1980 in Woodstock, NY
Untitled, 1969
Acrylic on panel
Bequest of Musa Guston, 1992.80
William Villalongo
Born 1975 in Hollywood, FL
Vanitas, 2017 Acrylic, paper collage, and velvet flocking on wood panel
Mortimer and Sara Hays Acquisition Fund, 2018.5
Against a dusky ground of velvet flocking, Vanitas' central figure emerges in a swirl of leaves and branches that cohere to suggest a dark and fleeting body. Painted hands grip the handles of an ornate tray, extending its contents into light: scattered, half-eaten fruits and, at the fore, a mugshot of murderer and white supremacist, Dylann Roof, taken by police after his arrest. On June 17, 2015, Roof killed nine worshippers at Charleston, South Carolina's Emanuel African Methodist Episcopal Church, one of the oldest Black congregations in the United States.
Presenting Roof's image on a silver platter, as if proffered to a waiting viewer, William Villalongo points to the white supremacism sewn into the pocket of Western art history, as well as the white supremacist wellspring of racially-motivated violence and domestic terrorism. As the artist explains:
"I was thinking about late seventeenth and eighteenth century European paintings, which depicted black servant boys presenting their masters with ornate trays of fruit. . . . What image could express white freedom more than these? Historical painting genres such as "vanitas" or "memento mori" were also popular as ways to speak to such arrogance by the invocation of the certainty of death. For me, Dylann Roof's crime immediately recalled the 16th Street Baptist Church bombing of 1963. Though I am much younger, my childhood was filled with stories that marked the civil rights movement in this country. There was a collapse of time that felt palpable. Roof shows us how far we have come since 1964 and we can talk about progress in policy, but justice, in theory and practice, is an incomplete justice. It is the image of Roof and those like him that is the mirror we need to confront, not an image of the slain."
Dominic McGill
Born 1963 in Yorkshire, England
Project for a New American Century, 2004
Graphite on paper
Gift of Michael Black and Melody Douros, 2007.11.38
Nicole Eisenman
Born 1965 in Verdun, France
Misery Index, 1993
India ink on paper
Gift of Peter Norton, 2014.32
"How do you hold on to your uniqueness and still be in the flow of history? It's about collapsing time and seeing time for what it is, and history for what it is. It is a narrative, and the narrative is in the present tense because we are looking at it." 
—Nicole Eisenman
Adam Pendleton
Born 1984 in Richmond, VA
Larry Hinton (white), 2012
Silk screen ink on Formica panel
Mortimer and Sara Hays Acquisition Fund, 2018.10.a-d
"I want to create a situation where we're inclined to rethink notions of the past and the future, as well as our ability to understand them enough to make reductive statements." — Adam Pendleton
Adam Pendleton's reuse of a 1970s headshot imbues the image with new monumentality and sculptural weight. Enlarged and transferred via silk-screen to four, adjoining panels, a photograph of actor Lawrence Hilton-Jacobs sits in slight misalignment, with one section hanging a register higher than the rest. Spliced and reassembled, with an echo in repetition at the work's left edge, the image only fully coheres within the space of a viewer's own visual reconciliation.

Pendleton's incorporation and re-presentation of found materials is informed by his self-created strategy and conceptual framework: Black Dada. "Black Dada is a way to talk about the future while talking about the past," explains Pendleton, "It is our present moment." Drawing from a wide range of sources, the juxtapositions engineered by Pendleton open up new meaning through collage. Linking European Dadaist texts of the early twentieth century to writings by central figures of the Black Power and Black Arts movements in the United States, including Amiri Baraka's 1964 poem "Black Dada Nihilism," Pendleton underscores the shared trauma to which these divergent authors responded: driven first by the horrors of World War I, and, later, the racism and violence of the 1960s. Destabilizing established chronologies, Pendleton presents the possibility for the construction of new cultural and political futures.
Kiki Smith
Born 1964 in West Germany
Lucy's Daughters, 1992
Ink on paper with string
Mortimer and Sara Hays Acquisition Fund, 1992.82
Ross Bleckner
Born 1949 in Brooklyn, NY
Untitled, 1995
Oil on canvas
Gift of Michael Black and Melody Douros, 2007.11.32
Melvin Edwards
Born 1937 in Houston, TX
Nigerian Diamond, 1978
Welded steel
Rose Art Special Fund, 2014.23
"A lynching is a murder, a group murder. You take all of the energy of a lynching, all the hate and all the fear, and pile it on one human being. You tie that person to a tree and you slowly or fastly kill him. The Lynch Fragment series is a series of sculpture ideas. What I'm doing is taking the fragments of the intensity of a lynching, turning it around, changing it into an object, and making that object something creative and positive. So the thing itself is not to look like it's been lynched, but to have that scale of intensity, and that kind of power." — Melvin Edwards
Melvin Edwards began his ongoing Lynch Fragments series in the early 1960s. Made from found steel objects, such as tools and chains, his welded constructions draw upon the metaphorical significance of these items as instruments of oppression, and demonstrates how they might be transformed. Hung on the wall at the height of the artist's head, Edwards's Lynch Fragments take shape as elegant, wall-mounted abstractions that nonetheless serve as powerful reminders of the enduring presence and reverberating effects of violence and injustice.
André Masson
Born 1896 in Balagny-sur-Thérain, France; died 1987 in Paris, France
Grasshoppers and Flowers (Le Conciliable), ca. 1933
Oil on canvas
Gift of Mr. and Mrs. Edwin E. Hokin, Highland Park, Illinois, 1965.76
Katherine Porter
Born 1941 in Cedar Rapids, IA
Grey Square, 1975
Oil on canvas
Gift of David and Renee McKee, New York, NY, 1987.43
"My paintings are about chaos, constant changes, opposites, clashes, big movements in nature. . . . History, natural things, short wars. I try to put everything into a picture. What you see is what you come up against in the world." —Katherine Porter
Though working in distinctly different decades, contexts, and styles, both André Masson and Katherine Porter reckon with the impossibility of finding a visual language through which to represent the upheavals of lived experience. Masson embeds the violence and psychological traumas of his World War I combat in the near hallucinatory, coiled menace of anthropomorphic insects; Porter, in an effort to express her anger at world events, harnesses the tension and emotion of the abstract, gestural mark.
Samira Yamin
Born 1983 in Evanston, IL
(Geometries) Fire X, 2018
Hand-cut TIME magazine pages
Sam Hunter Emerging Artist Fund and Rose Endowed Art Purchase Fund, 2019.1.4
"After 9/11, I began clipping and collecting war photography without knowing why. In retrospect, I think I was trying to know something more—however complicated, convoluted and, ultimately, flawed that representation is—about the place and history that politicized me, but which I could only ever know through family stories or a book or a history class. The reality is, however, that all I find in these sources is dissatisfaction, which in turn leads to distrust. This is largely why my work refuses to reward looking. Instead, I've turned to questioning the possibility of knowing in the first place, the desire to know, and the motivations behind, and ways in which, we try to structure and order an otherwise seemingly chaotic world." —Samira Yamin
Following the design of Islamic sacred geometry—interpreted by some to be visual representations of Allah's greatness—Samira Yamin hand cuts intricate patterns into TIME magazine coverage of wars in the Middle East. Her interventions both structure and veil the original printed photos. As the artist explains, these patterns, like the magazine, represent a system of understanding: a way of seeing, coding, and making sense of the world.
Patti Smith
Born 1946 in Chicago, IL
Peace Flag, 2002
Gelatin silver print
Gift of Diego Cortez in honor of Raphaela Platow, 2004.12.2
Lorraine O'Grady
Born 1934 in Boston, MA
Miscegenated Family Album (Progress of Queens), L: Devonia, age 36; R: Nefertiti, age 36,1980/1984
Cibachrome prints
Gift of Carey Schwartz, 2008.2.5
"Looking back, I can see that the diaspora experience, however arduous, has been critical for my life and work. Not so much in the mixed details of my background as in the constant process of reconciling them. Wherever I stand, I find I have to build a bridge to some other place." —Lorraine O'Grady
Kay Rosen
Born 1943 in Corpus Christi, TX
Eye Level, 1990
Enamel sign paint on canvas
Gift of Barbara Krakow, 2019.13.2
"The storage of so much residue in words does make them impure, but that can be a benefit. The cipher-like ability of art to be filled up with viewers' associations and memories activates it and enriches it. As language becomes sparse and less circumscribed, it offers more space for the viewers to insert themselves and negotiate meaning." —Kay Rosen
Mary Miss
Born 1944 in New York
Stake Fence, 1970
Wood
Rose Endowed Art Purchase Fund, 1995.27
"It's not about the monument for me." —Mary Miss
Speaking of the early influences on her practice, Mary Miss links a fascination with the physical boundaries of landscapes—corrals, stakes, and fences—to her interest in the more ambiguous, shifting borders of perception and remembered experience. Although it impedes movement across the gallery, Stake Fence is a barrier that is more negotiable than definitive: a permeable and tenuous barricade secured only through the balance of its own weight. Buttressed by uneven crosses that evoke the staking of land as much as the pickets of protest, it is open to the subjectivities of individual perception and personal approach.
Annette Lemieux
Born 1957 in Norfolk, VA
Left Right Left Right, 1995
Thirty photolithographs on museum board, wood poles, and screws
Mortimer and Sara Hays Acquisition Fund, 1996.33
"I don't see time or going back in time when using images from the past. I see rather a situation in the images that is current and present in our time. We haven't changed that much, maybe the clothes and hairdos, but we remain the same, in the same situations and struggles." —Annette Lemieux
Annette Lemieux's Left Right Left Right comprises news images from the 1930s to the 1970s, which have been cropped to isolate and focus on the raised fists of such figures as Martin Luther King Jr., Jane Fonda, Richard Nixon, and Miss America. Affixed to sign boards and collectively presented, these repurposed images gain an urgency that they might not have individually possessed. Lemieux highlights a traditional gesture of protest, yet ultimately posits a more complex picture of mass demonstration, in which both power and political identity are ambiguously defined.
Joy Episalla
Born 1957 in Bronxville, NY
pillow 2, 1999
Chromogenic color print on Plexiglas
Gift of Barbara and Lenny Kaban, 2019.15.2
Joy Episalla's image of softly coupled pillows stretches across multiple panels. For the artist, the iterative framing of her triptych evokes the feeling of film, and the overlapping pictures of its advancing frames. As the artist explains: "If you're looking at old film, sometimes it spurs together, and things run into each other, and—that, to me, was about memory." Memory is elusive, hard to contain within a single image and, like the borders of Episalla's pillows—which, up close, yield to the green-blue of her background—it frays at the edges. Episalla underscores this feeling of tender incompleteness. Registered in triplicate, the creases and stains of her stacked pillows emphasize the absence of bodies responsible for their wear.
Ellen Lesperance
Born 1971 in Minneapolis, MI
The Path of Feminye, 2018
Gouache and graphite on tea stained paper
Mortimer and Sara Hays Acquisition Fund and Rose Endowed Art Purchase Fund, 2018.17
"A large component of my work is the act of resuscitating narratives that may have been forgotten or overlooked. . . . My mode of storytelling is very idiosyncratic. It relies on a mix of fact-based research and fiction making that I equate to a type of magical realism." —Ellen Lesperance
Studying archival images of women-led marches, Ellen Lesperance translates articles of clothing worn by protestors into compositions built on the visual vocabulary of American Symbolcraft, a shorthand form of knitting instruction. The Path of Feminye is based on a photograph taken at Greenham Common Women's Peace Camp in Berkshire, England, where women protestors occupied the grounds of a United States Air Force base, the site of Europe's largest stockpile of nuclear cruise missiles. The camp disbanded in 2000, following a nearly twenty-year occupation and the abandonment of the base by the US Air Force.
Because many of the photographs she refers to are black-and-white, Lesperance transcribes the pictured garments into gridded color spectrums through a self-invented system. The Path of Feminye is based on a sweater that Lesperance discerned was made from variegated yarn, and her composition follows a pattern that she—herself a knitter—derived from tests of knitted swatches. Imposing a layer of imagination atop research, Lesperance's paintings allow her to slip into garments worn in protests past, bringing the potential of their radical energy into the space of the present.
Ulrich Horndash
Born 1951 in Nuremberg, Germany
Intrigue, 1984
Silk screen on silk
Gift of The Foundation To-Life, Inc. Arthur and Carol Kaufman Goldberg, 2019.4.1
Rachel Lachowicz
Born 1964 in San Francisco, CA
Perpetuation and Stagnation, 1990
Lipstick
Gift of Peter Norton, 2014.45
Manfred Pernice
Born 1963 in Hildesheim, Germany
Untitled column, ca. 2000
Mixed media
Gift of Michael Black and Melody Douros, 2016.84
Manfred Pernice's cylindrical sculpture is part of his ongoing series of dosen (cans), which he considers tools of a working process. Set atop wheels, the cans are made from simple building materials and support texts and found photographs that allude to historical events and political turmoil. As Pernice explains: "Since the cans are movable and can be linked to any set of found documents, they offer many possibilities for seeing how events react upon one another. . . . In a way, the cans work like Bert Hellinger's Aufstellungen (Presentations), a therapy developed in Germany to help individuals deal with their pasts by having other people act out the roles of their family members, whether deceased or living. I tried to use the space to create the possibility for these confrontations, though they are related to collective rather than individual family history."
Jack Whitten
Born 1939 in Bessemer, AL; died 2018 in New York
Black Monolith VIII (For Maya Angelou), 2015
Acrylic and mixed media on canvas
Mortimer and Sara Hays Acquisition Fund and Rose Art Special Fund, 2016.6
Kara Walker
Born 1969 in Stockton, CA
Kind of a Study of My Staged Suicide, 1998
Graphite on paper
Gift of Peter Norton, 2014.62
"I'm fascinated with the stories that we tell. Real histories become fantasies and fairy tales, morality tales and fables. There's something interesting and funny and perverse about the way fairytale sometimes passes for history, for truth. There's this permeable membrane between experience and terror and violence and its retelling and misinterpretations of its retelling." —Kara Walker
Shirin Neshat
Born 1957 in Qazvin, Iran
Sayed, 2013
Ghada, 2013
Digital pigment prints
Gift of the Robert Rauschenberg Foundation, 2016.1-.2
Myra Greene
Born 1975 in New York
Untitled (Ref. #34) from the series Character Recognition, 2006–2007
Black glass ambrotypes
Sam Hunter Emerging Artist Fund and Rose Endowed Art Purchase Fund, 2019.1.1
Myra Greene made this self-portrait using wet-plate collodion, a photographic process that produces single, unique images. A plate of glass is coated with collodion, sensitized in a silver bath and, while still wet, exposed using a large format camera. The plate is then developed and fixed, all within the span of about fifteen minutes.
Wet-plate collodion dates to the nineteenth century and is linked to practices of ethnographic classification. As Greene explains: "When I applied this old process to my interest in the Black body and self, the imagery described my body in a way never imagined. Tainted with the visual history of American slavery, these images point directly to the features of race. Thick lips and nose, and dark skinned; these contemporary studies link the view to a complicated historical past. The lessons learned are haunting and frightening in these modern times."
Like other artists in these galleries—and, nearby, Shirin Neshat and Kara Walker—Greene highlights how individual identity in the present is shaped by the weight of external forces, including legacies of colonialism, slavery, and pseudoscientific ideas of race.