Me and My Soul: a live performance by Raida Adon
Program
April 13, 2022, 7 p.m.
Wasserman Cinematheque at Brandeis University
Raida Adon presents a one-night-only live performance, Me and My Soul, choreographed in conjunction with Displaced: Raida Adon's Strangeness, her solo exhibition on view at the Rose. The artist will perform against and interact with a backdrop of her animated drawings, with which she will interact. The performance offers a poetic response to experiences of war, trauma, and human fragility, as well as resilience and hope. Following her performance, which is about twenty minutes in length, the artist will be joined in dialogue with Gannit Ankori, the Rose Art Museum's Henry and Lois Foster Director and Chief Curator, and Professor of Fine Arts and Women's, Gender, and Sexuality Studies.
WATCH THE PROGRAM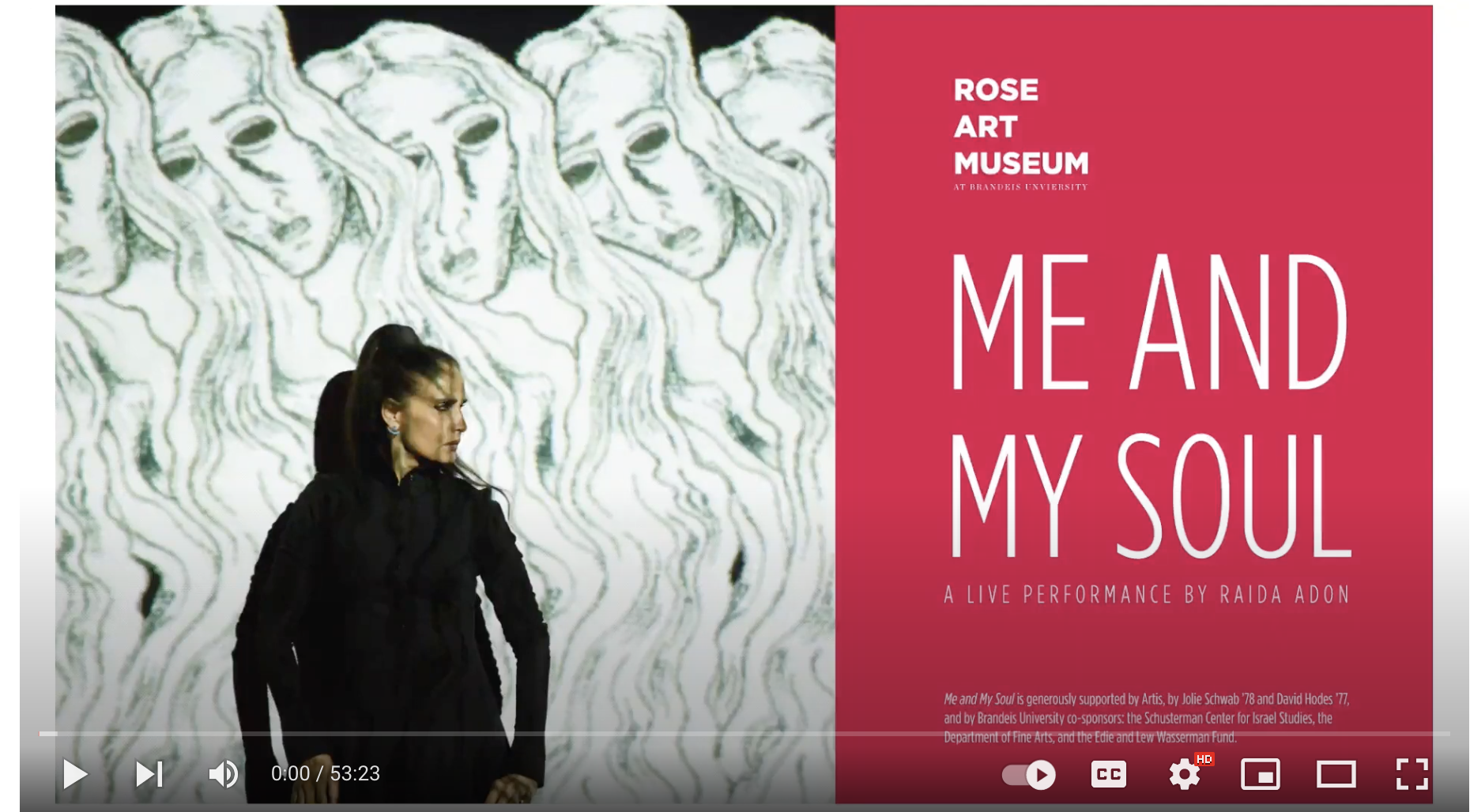 ABOUT THE ARTIST
Raida Adon (b. Acre, Israel, 1972) is an Israeli-born Palestinian multi-media artist whose artworks emerge from her complex biography, addressing conflicted nations and the relationship between interrelated societies. Adon is also an acclaimed television and film actress, currently starring in The Girl from Oslo (2022) on Netflix. Several international galleries and museums have featured Adon's artwork, including The Israel Museum (Jerusalem, Israel), Tel Aviv Museum of Art (Tel Aviv, Israel), Mana Contemporary (Jersey City, New Jersey), Tokyo Metropolitan Art Museum (Tokyo, Japan), and Philip Van Rosen Gallery (Cologne, Germany). Adon is a graduate of the Bezalel Academy of Arts and Design in Jerusalem. She lives and works in Tel Aviv-Jaffa.
Adon's exhibition and performance are generously supported by Artis, by Jolie Schwab '78 and David Hodes '77, and by Brandeis University co-sponsors: the Schusterman Center for Israel Studies, the Department of Fine Arts, and the Edie and Lew Wasserman Fund.