About Skyline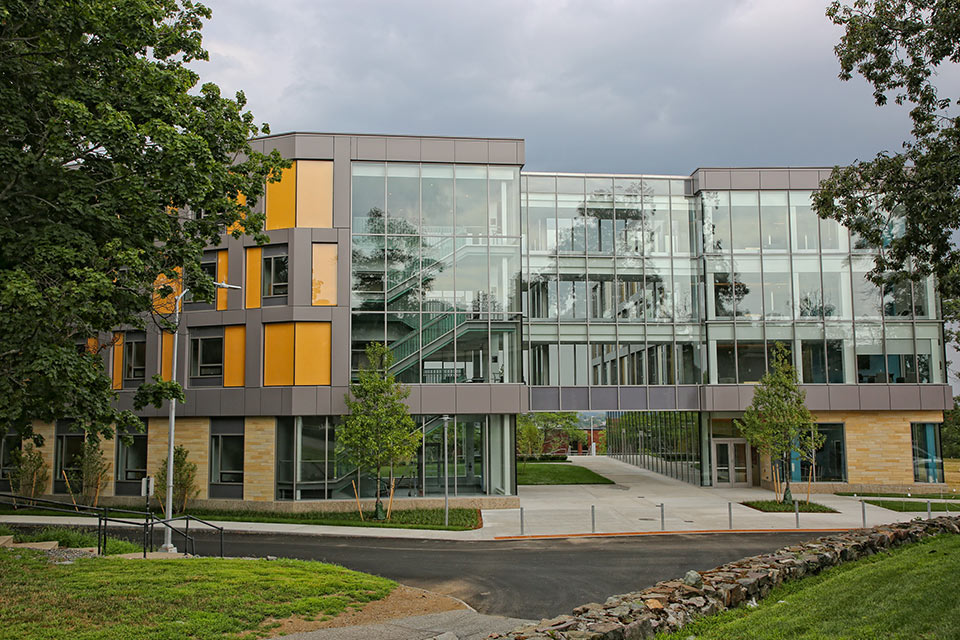 Skyline, Brandeis University's new, state-of-the-art residence hall, opened to students in August 2018.
Skyline gets its name from the panorama of Boston and surrounding communities visible from many of the building's windows. The new building encompasses an impressive array of features meant to accommodate student housing, academic work and social interaction across four fully-accessible floors.
Designed by renowned Boston architects William Rawn Associates, Skyline's array of power sources prioritizes energy efficiency and sustainability. The building's heating and cooling run on a system of 40 geothermal wells. Brandeis also installed solar panels on Skyline's roof, which will account for a portion of the building's power and help with peak campus electricity demand management.
Skyline contains a mix of single and double rooms which will house 164 students. The building features a large campus common space which includes a 100-person capacity function room, storage space, a kitchen area, a multi-purpose studio and A/V acoustic equipment capable of supporting performances and lectures.
The building also has study spaces, including three dedicated study rooms capable of fitting up to 10 students each, plus three individual reading nooks throughout the building. Additional social spaces include common area lounges on each floor and an outdoor courtyard that will be equipped with furniture during warm weather months.
Brandeis broke ground on the $38 million project in spring 2017 and construction ran through this summer.
Skyline's first residents moved in on Aug. 14 and 15, 2018, in time for new student orientation preparation and the fall collegiate sports season. Most students will move in Aug. 28.
"I am truly happy to see Skyline open, not only as a home to 164 students, but also as a new space for cultivating learning and collaboration, which is at the heart of the Brandeis experience," said Brandeis University President Ron Liebowitz. "Skyline also takes sustainability and green energy into account by its very design, making it one of the most energy efficient buildings on our campus and one of the greenest residence halls in the Boston area."
"I also commend Vice President for Campus Operations Jim Gray, his team, and the many architects, project managers and construction workers that brought Skyline to life over the last year, as well as the student life staff who will help make this building a home for our students," Liebowitz added.
The new residence hall sits on land formerly part of Usen Castle. Part of the Skyline construction project also included a full renovation of Cholmondeley's (Chum's) Coffee House, which remains at the base of Usen Castle's A and B towers, in summer 2017.
Skyline will predominantly house sophomores during the 2018-19 academic year.