Leah Naraine '22
Paradis Lab, Department of Biology
Brandeis University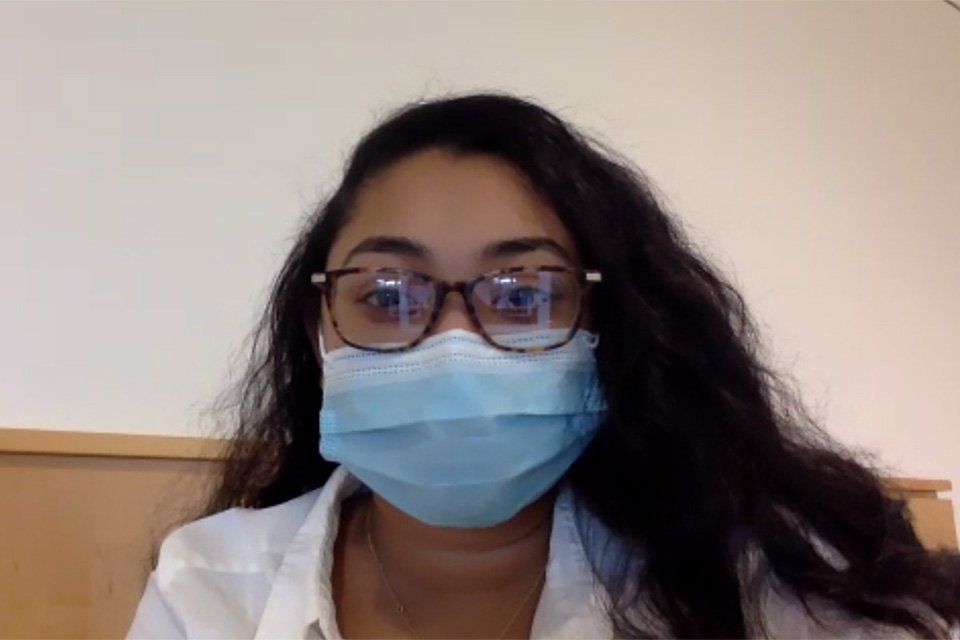 Fellow Reflection: Conducting Research During a Pandemic
COVID-19 has presented everyone with challenges that we never anticipated facing. Being a researcher, and a new one at that, has led to many challenges but also significant growth and improvement in adaptability skills. Firstly, research could not look the same. Many of the skills, procedures and techniques that I have been and would need to utilize as I continue with my research had to be learned from a significant distance, online resources and listening. I am a visual learner who benefits from practicing what I learn repeatedly but with the new changes to the environment, I had to adapt and work to enhance my listening skills to allow me to continue my research. Additionally, in the Paradis lab our model organism is mice but with restrictions to how many and which researchers could be in the animal facility I had to alter my research plans to be productive while safe for not only myself but others in my lab. In the new lab environment I was also able to continue to build a relationship with both my PI and the graduate students and it was comforting to have mentorship and support regardless of the changes. These experiences helped me better understand the expectations of the researchers I work with and added to my positive experience as a researcher.
One of my significant concerns under these new circumstances was that I would not learn much or be actively and productively participating in research. This summer has shown me that simply wasn't the case. I was fortunate that Dr. Paradis was able to provide me the resources and support to hone in on other important skills that might have been otherwise overlooked. Due to a virtual format at the start of the summer, we spent much of that time reviewing articles relevant to my future research. This was an incredibly helpful time for me because the opportunity to focus on an important and particular skill isn't something I often have time for. During that time I was able to prepare journal club presentations, present figures, discuss hypotheses, answer and ask questions and analyze data and conclusions. These were difficult tasks and there will be future research that I will encounter that will also pose a challenge to digest and present but I have a better understanding now of how to approach this challenge.
Giving Back
As a student at Brandeis who is studying science from two perspectives: research and medicine I have personally seen and experienced the different ways that my education was and is impacted by the lack of diversity and difference in resources that I have had compared to my peers. It was through these hardships that I came to find friends on a similar academic path and shared the goal of spreading knowledge to underrepresented students which led to the development of BaselineMed. BaselineMed was started in 2020 by Brandeis University students with the aim to create a support system for students of traditionally underrepresented backgrounds where they can learn about the pre-med and medical experience through the eyes of current pre-med students and medical professionals. Traditionally underrepresented backgrounds often include students from black, brown, indigenious and latinX communities where access to information about the medical field, whether through family or education, is sparse or financially unattainable. In response to this, we cultivated BaselineMed's platform to allow students to explore the medical field through pieces written by pre-med students and doctors that are uploaded to our website weekly. Through these resources we hope that students can better understand the different aspects of pursuing medicine and feel empowered to do so! In the next 3 months BaselineMed will launch a website, establish and maintain a social media presence and partner with a local school or organization in Waltham. As the Community Outreach Chair I will be meeting with possible community partners in the next month and these prospective partners include Waltham High School and/or The Waltham Boys and Girls Club. My executive team and I are excited to see the ideas we have been developing come to fruition with the help of other student writers and physicians we have made connections with.

The opportunity to work with my talented peers and start BaselineMed is a deeply meaningful experience for me. I grew up in Queens, New York as part of a single mother household. I knew I wanted to pursue science, more specifically medicine and research but I did not have the resources or access to explore my goals. As a hardworking student I was able to obtain a prestigious merit based scholarship: The Posse Scholarship, and as I continue my academic journey I hope to give back to students who are like me. Considering my current status as an undergraduate I thought it most fitting to provide students with what I could as soon as possible and for me that means the knowledge that I never had access to. Through BaselineMed I aim to facilitate access to science to underrepresented populations of students to aid in the diversity of science, research and the medical field in the years to come. I want to provide the inspiration and support that I never had because I know that it has the power to change the future of students.