Upcoming Events
April 2, 2019
12:30-2:30pm
Slosberg Recital Hall, Brandeis University
Now Released: Let's Make a Better World: Stories and Songs by Jane Sapp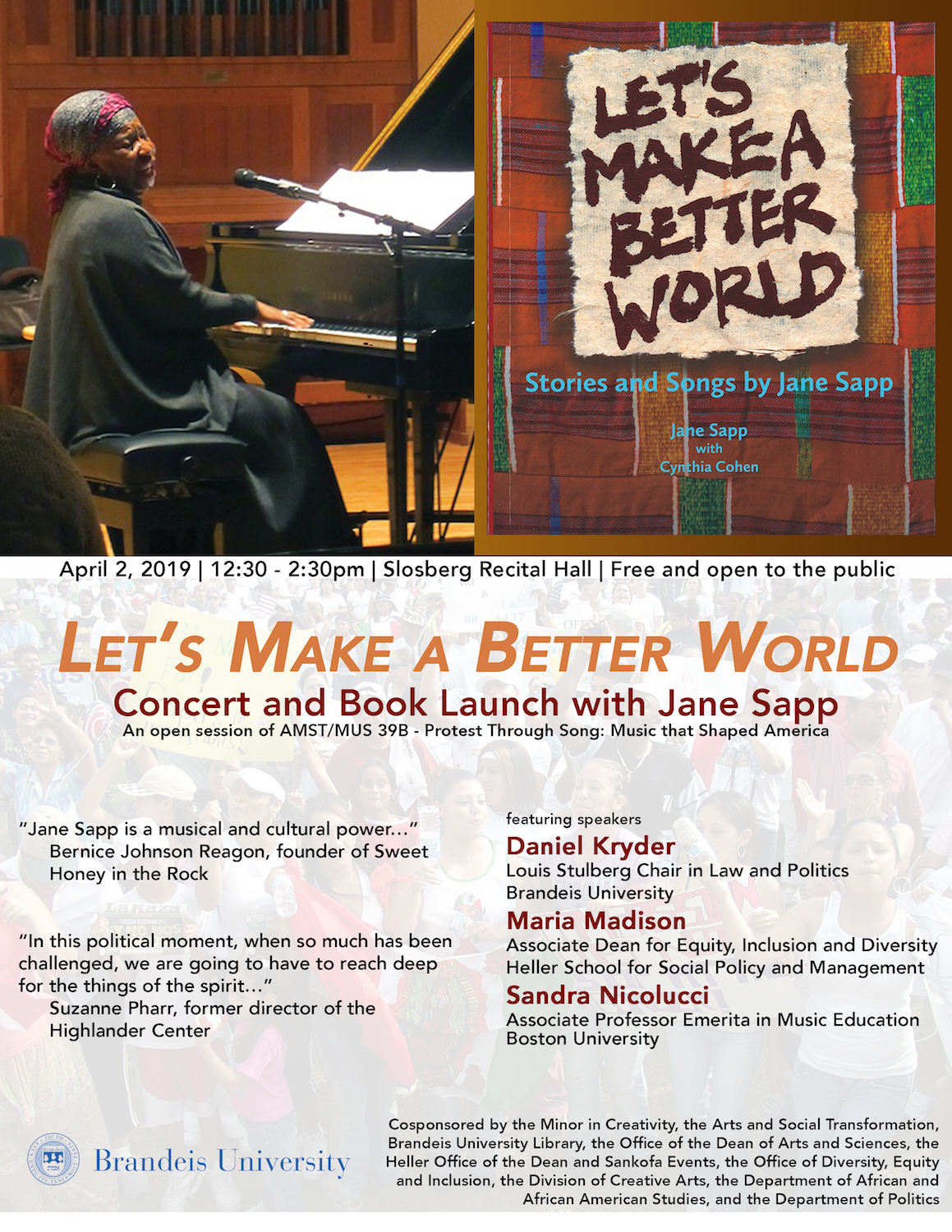 An open session of AMST/MUS 39B - Protest Through Song: Music that Shaped America
Featured speakers:
Daniel Kryder, Louis Stulberg Chair in Law and Politics, Brandeis University
Maria Madison, Associate Dean for Equity, Inclusion and Diversity, Heller School for Social Policy and Management
Sandra Nicolucci, Associate Professor Emerta in Music Education, Boston University
Co-sponsored by the Minor in Creativity, the Arts, and Social Transformat, Brandeis University Library, the Office of the Dean of  Arts and Sciences, the Heller Office of the Dean and Sankofa Events, the Office of Diversity, Equity and Inclusion, the Division of Creative Arts, the Department of Afircan and African American Studies, and the Department of Politics.
Now Released -- Let's Make a Better World: Stories and Songs by Jane Sapp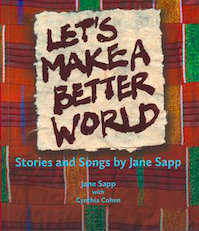 Let's Make a Better World: Stories and Songs by Jane Sapp is a new resource for music educators, chorus leaders, activists and cultural workers,. In it, the nationally admired cultural worker, musician, educator, and activist, Jane Wilburn Sapp, shares her approach to social transformation and its roots in African-American musical traditions. In the book, Jane tells the story of her childhood, nurtured by the Black community while living in the brutal world of the Jim Crow South. She describes her participation in the Black Power movement and introduces us to her mentors. She shares 25 songs she has written with young people and sung with people of all ages, and tells the stories behind each song and offers suggestions or teachers and chorus leaders. The book also includes scores, and all of the songs can be heard on podcasts where Jane's approach to cultural work is illuminated through conversations with activists, cultural workers, and music educators.