Home
We are pleased to announce that Amber Jackson, class of 2011 from Somerville High School has been nominated as a 2018-2019 LifeChanger of the Year. The LifeChanger of the Year program recognizes and rewards K-12 school employees and educators who make a positive impact in the lives of students all across the country. As a nominee, Amber is in the running to receive one of seventeen cash prizes. The Grand Prize, which is $10,000, is split between the winner and their school.
To support a fellow Brandeis alum in their achievements, we encourage you to view Amber's profile, leave a message, and share with your peers.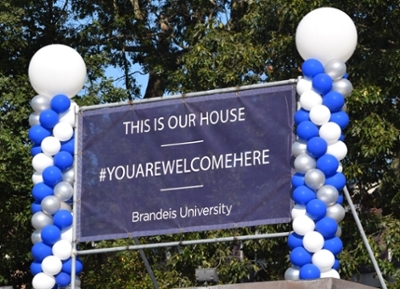 The Dean of Students Office seeks to build a campus community based upon mutual understanding and consideration and that acknowledges that one's actions must take into account the rights of others.
One of the cornerstones of our community is to identify opportunities for students to learn and practice leadership. We support a variety of social, cultural and educational activities initiated and developed by individual students and student organizations, and within the residence halls. These activities extend the educational mission of Brandeis beyond the walls of the classroom and incorporate our core values: citizenship, integrity, respect, civility, lifelong learning and embracing diversity.
We support the development of a student-directed community — a place where the student voice challenges and directs the shape of the institution. We know that to be effective in that role, students must have both opportunity and the skills to make it work.
Students contribute their opinions at hall meetings and community meetings; as representatives of university committees, student government and clubs and organizations; or through interactions with faculty and senior administration. The success of a student-directed community depends on the acquisition of skills and competencies that enable students to identify and articulate their needs and concerns. Our extracurricular program targets areas that help to develop the whole person — intellectually, physically and spiritually — for individuals and for the Brandeis community.