Ulka Anjaria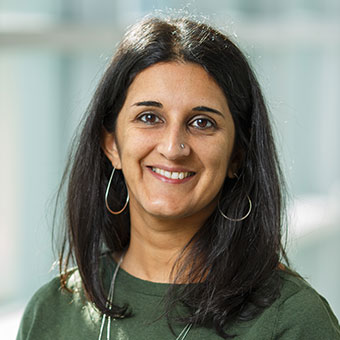 Associate Professor of English
PhD, Stanford University
Research Interests
South Asian literatures and film; postcolonial literature and theory; the global novel; interdisciplinary approaches; literary theory.
Awards
Mandel Faculty Grant in the Humanities, 2018

ACLS/Charles A. Ryskamp Research Fellowship, 2014

Visiting Fellowship, Delhi University, 2014
Selected Publications
Books
A History of the Indian Novel in English. Ed. Ulka Anjaria. Cambridge University Press, 2015.
Realism in the Twentieth-Century Indian Novel: Colonial Difference and Literary Form. Cambridge University Press, 2012.
Articles for a General Readership
"The Goddess of Loss: Indian Literature in English After Arundhati Roy." Boston Review, February 9, 2017.
"Lady Lolita's Lover Shows Us There Can Be No Great Indian Novel Right Now." Scroll, January 30, 2016. 
"English Vinglish." The Daily Star (Bangladesh), August 22, 2015.
"Indian Fiction: Why the English vs. Bhasha Debate No Longer Makes Sense." Scroll, August 15, 2015.
"Amitav Ghosh and Aravind Adiga: Two Ways to Write English in India." Scroll, August 9, 2015.
"Reading Chetan Bhagat in Dhaka." Scroll, July 25, 2015.
"'A True Lahori': Mohsin Hamid and the Problem of Place in Pakistani Fiction." Economic and Political Weekly, 48.25, 2013.
Selected Scholarly Articles
"Twenty-First-Century Realism." Oxford Research Encyclopedia of Literature. July 2017.
"Madhur Bhandarkar and the New Bollywood Social." In "Behind the Scenes: Contemporary Bollywood Directions and Their Cinema." Eds. Aysha Iqbal Viswamohan and Vimal Mohan John. New Delhi: Sage, 2017. 272-287.
"The Realist Impulse and the Future of Postcoloniality." NOVEL: A Forum in Fiction, 49.2(2016): 278-294.
"Introduction: Literary Pasts, Presents, and Futures." In "A History of the Indian Novel in English." Ed. Ulka Anjaria. Cambridge University Press, 2015. 1-30.
"Chetan Bhagat and the New Provincialism." American Book Review, September-October (2015): 6-22.
"Realist Hieroglyphics: Aravind Adiga and the New Social Novel." Modern Fiction Studies, 61.1(Spring 2015): 112-135.
"The Fractured Spaces of Entrepreneurialism in Post-Liberalization India" (co-authored with Jonathan Shapiro Anjaria). In "Enterprise Culture in Neoliberal India: Studies of Youth, Class, Work and Media." Ed. Nandini Gooptu. London: Routledge, 2013. 190-205.
"Slumdog Millionaire and Epistemologies of the City" (co-authored with Jonathan Shapiro Anjaria). In "The Slumdog Phenomenon: A Critical Anthology." Ed. Ajay Gehlawat. London: Anthem, 2013. 53-68.
"'Relationships Which Have No Name:' Family and Sexuality in 1970s Popular Film." Journal of South Asian Popular Culture 12.1(2012): 23-35.
"'Why Don't You Speak?': The Narrative Politics of Silence in Three South Asian Novels." In "Colonialism, Modernity and Literature: A View From India." Ed. Satya P. Mohanty. New York: Palgrave-Macmillan, 2011. 153-170.
"Staging Realism and the Ambivalence of Nationalism in the Colonial Novel." NOVEL: A Forum for Fiction. 44.2(2011): 186-207.''
"Text, Genre, Society: Hindi Youth Films and Postcolonial Desire" (co-authored with Jonathan Shapiro Anjaria). Journal of South Asian Popular Culture, 6.2 (2008): 125-140.
"On Beauty and Being Postcolonial: Aesthetics and form in Zadie Smith." In "Zadie Smith: Critical Essays." Ed., Tracey Lorraine Walters. New York: Peter Lang, 2008.
"Satire, Literary Realism, and the Indian State: Six Acres and a Third and Raag Darbari." Economic and Political Weekly, 41.46(2006): 4795-4800.
Current Projects
"The Unfinished Bridge: Representing the Contemporary in India"
How do writers and artists represent the experience of the contemporary? What aesthetic and formal innovations are required to narrativize the fleeting temporality of the present in literature, art, films and popular culture? "The Unfinished Bridge" is an attempt to answer these questions through a study of a range of literary and cultural productions in India published since 2000. Whereas on one hand, the nationalist rhetoric of the current ruling party celebrates India's glorious march into the future through the idiom of Hindutva and an unfettered capitalism, progressive intellectuals and writers respond to this rhetoric by turning increasingly to the past as a refuge. Thus influential Indian writers from the 1980s and 1990s tended to set their novels in the past: Salman Rushdie, Amitav Ghosh, Anita Desai, and so on. But faced with this narrative of a glorious future on one hand and a nostalgic past on the other, where is there a space for the contemporary, a time marked by its irreducibility to grand narratives of either progress or decline? Through a study of selected Indian novels, television shows, documentary and Bollywood films and nonfictional writing, "The Unfinished Bridge" argues that the contemporary emerges in various ways in representation, often challenging critics' aesthetic sensibilities and political expectations. In doing so, these works clear a new space of representation, burdened by neither progress nor decline, and constitute a new imaginary for India's future.
Selected Courses Taught
Bollywood (ENG 20a)

Filmi Fictions: From Page to Screen in India (ENG 22a)

Totalitarian Fictions (ENG 162a)

Decolonizing Fictions (ENG 167a)