Brandeis Magazine: History, anxiety, science and laughter
Check out the latest faculty, alumni and student accomplishments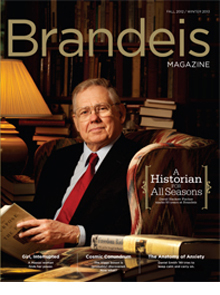 The fall 2012/winter 2013 issue of Brandeis Magazine is on campus and online, full of stories about faculty and their accomplishments, alumni and students, as well as the latest news on Brandeis science, the arts, books, sports and more.
In this issue, you can read what fellow historians and former students have to say about Pulitzer Prize winner David Hackett Fischer, who marks a half century of teaching history at Brandeis this year.
In an excerpt from "Monkey Mind," a LOL — and critically acclaimed — memoir of the anatomy of angst, Daniel Smith '99 conjures his first year at Brandeis, deep in the throes of anxiety.
A feature about Grace Majiakusi, Heller MA'13, describes how she upended centuries of Masaai tradition to get her entire Kenyan village behind educating girls and valuing them as much as boys.
In the wake of the probable discovery of the Higgs boson, a massively important subatomic particle that completes the Standard Model, the road map to matter and the laws that govern it, Brandeis physicists are wondering what's next. "Life After the Higgs" delves into this cosmic conundrum.
In a poignant "Turning Points" essay, Michael M. Appell, MA'79, explores the irony of finally becoming comfortable in his own skin as a gay man — and affirming that in marriage — on the heels of a dire diagnosis of malignant melanoma.
This issue also announces Brandeis Magazine's first-ever short story contest for alumni fiction writers.
Return to the BrandeisNOW homepage