Sara Shostak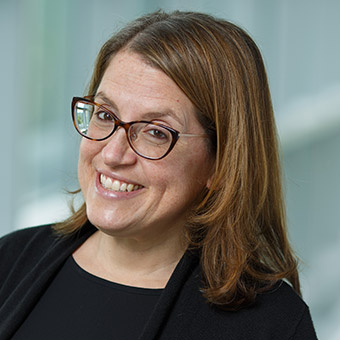 Associate Professor of Sociology
Sara Shostak's research and teaching interests include the sociology of health and illness, science and technology studies, and environmental sociology. Across these domains, she focuses on how to understand - and address - inequalities in health.
Shostak's first book - Exposed Science: Genes, the Environment, and the Politics of Population Health received the Robert K. Merton Book Award from the ASA's Section on Science, Knowledge and Technology and the Eliot Freidson Outstanding Publication Award from the Medical Sociology Section. Drawing on in-depth interviews and ethnographic observation with nearly 100 environmental health scientists, policy makers, and environmental health and justice activists, Exposed Science analyzes the rise of the study of gene-environment interaction in the environmental health sciences and examines its consequences for how we understand – and seek to protect – population health.
Shostak has been at the forefront of efforts to understand the social, ethical, and political dimensions of genetics for myriad users of genetic information. She served as an associate editor of a special issue of the American Journal of Sociology focused on how sociologists can use genetic information as a lever to illuminate dimensions of social organization and complex social processes, thereby advancing sociological theory and research methods. She participated in a decade-long collaboration with genetic epidemiologists at Columbia University to explore the implications of genetic information in the epilepsies. She has an extensive record of publications on whether and how genetic information shapes people's lives and life chances.
Shostak's current research focuses on urban agriculture in New England cities. Using ethnographic and community based participatory research methods, Shostak's next book examines the emergence of agricultural initiatives in different urban contexts, the diverse hopes and aspirations that motivate urban agriculture organizations, the experiences of practitioners, and the profound cultural work being done alongside the cultivation of fruit and vegetables. At the same time, Shostak is working with the MA Food System Collaborative on a project on urban agriculture and public health in Massachusetts. She is the editor of Volume 18 of Advances in Medical Sociology, entitled "Food Systems and Health."
Shostak's research and teaching have been supported by the National Science Foundation, the National Institutes of Health, the Robert Wood Johnson Foundation, the ASA Teaching Enhancement Fund, and the Merck Family Fund, among others.
Education
PhD, Sociology, University of California San Francisco, 2003
MPH, University of California Los Angeles, 1997
BA, Sociology, Reed College, 1992
Selected Publications
2017. Food Systems and Health. Advances in Medical Sociology Series. London: Emerald Group Publishing Ltd. [Editor]
2013. Exposed Science: Genes, the Environment, and the Politics of Population Health. University of California Press
Journal
2008. Genetics and Social Structure. Special issue of the American Journal of Sociology, Volume 114, Number S1. (with Peter Bearman and Molly Martin)
Articles
*2017 "'Grounded in the Neighborhood, Grounded in Community': Social Capital and Health in Community Gardens." Advances in Medical Sociology: Food Systems and Health. London: Emerald Group Publishing Ltd. (with Norris Guscott)
*2017 "The Socio-Exposome: Advancing Environmental Health Science in a Postgenomic Era." Environmental Sociology 2: 107-121. (with Laura Senier, Phil Brown, and Bridget Hanna)
2017. "From Food Access to Food Justice: A Case Study of the Somerville Mobile Farmers' Market." In Feeding Cities: Improving Local Food Access, Security, and Sovereignty. Edited by Christopher Bosso. New York: Routledge. (with Janaki Blum, Chris Mancini, Luisa Oliviera, Lisa Robinson, and Erica Satin-Hernandez).
*2016. "Gene Worlds." Health: An Interdisciplinary Journal for the Social Study of Health, Illness and Medicine 20(1): 33-48. (with Stefan Timmermans)
*2016. "Assessing Learning in a Sociology Department: What Do Students Say That They Learn?" Assessment and Evaluation in Higher Education 1(3): 414-426. (with Julia Bandini, Wendy Cadge, and David Cunningham)
*2015 "Making a Case for Genetics: Interdisciplinary Visions and Practices in the Contemporary Social Sciences." Advances in Medical Sociology: Genetics, Health, and Society. Edited by Brea Perry. London: Emerald Press. (with Jason Beckfield)
2015 "Beyond Geneticization: Regimes of Perceptibility and the Social Determinants of Health." In Reimagining Biomedicalization, Pharmaceuticals, and Genetics: Old Critiques and New Engagements. Edited by Susan Bell and Anne Figert. New York: Routledge. (with Margot Moinester, HSSP '09)
2015 "The Missing Piece of the Puzzle?: Measuring the Environment in the Postgenomic Moment." In Postgenomics: Perspectives on Biology After the Genome. Edited by Sarah Richardson and Hallam Stevens. Durham, N.C.: Duke University Press. (with Margot Moinester, HSSP '09)
*2014 "Genetic Testing Preferences in Families Containing Multiple Individuals with Epilepsy." Epilepsia 55(11): 1705-13. [Lead Article] (with Janet O. Okeke, Virginia. E. Tangel, Shawn T. Sorge, Dale C. Hesdorffe, Melodie R. Winawer, Jeff Goldsmith, Jo C. Phelan, Wendy K. Chung, and Ruth Ottman)
*2014 "Genetic Testing in the Epilepsies: Developments and Dilemmas." Nature Reviews Neurology 10(5): 293–299. (with Annapurna Poduri, Beth Rosen Sheidley, and Ruth Ottman).
*2012. "Forgetting and Remembering Epilepsy: Collective Memory and the Experience of Illness." Sociology of Health and Illness 34(3): 362-378. (with Nicole Fox)
*2011. "What's at Stake? Genetic Information from the Perspective of People with Epilepsy and their Family Members." Social Science and Medicine 73(5): 645-654. (with Dana Zarhin & Ruth Ottman)
2011. "Narration and Neuroscience: Encountering the Social on the 'Last Frontier of Medicine.'" Advances in Medical Sociology: Sociological Reflections on Neuroscience. Edited by Ira van Keulen and Martyn Pickersgill. Emerald Press. (with Miranda Waggoner)
*2010. "Teaching Graduate and Undergraduate Research Methods: A Multi-Pronged Departmental Initiative." Teaching Sociology 38(2): 93-105. (with Jenn Girouard, David Cunningham, and Wendy Cadge).
2010. "Gene Environment Interaction and Medical Sociology." In Handbook of Medical Sociology. Edited by Chloe E. Bird, Peter Conrad, Allen M. Fremont, and Stefan Timmermans. Vanderbilt University Press. (with Jeremy Freese).
2010. "Marking Populations and Persons At Risk." In Biomedicalization: Technoscience, Health, and Medicine in the U.S. Edited by Adele E. Clarke, Laura Mamo, Jennifer Fosket, Jennifer Fishman and Janet Shim. Durham, N.C.: Duke University Press.
2009. "Biomedicalising Health, Diseases and Identities." Handbook of Genetics and Society: Mapping the New Genomic Era. Edited by Paul Atkinson, Peter Glasner, and Margaret Lock. London: Routledge. (with Adele E. Clarke, Janet K. Shim, and Alondra Nelson)
*2009. "Genetics and Social Inquiry." Annual Review of Sociology 35: 107-28. (With Jeremy Freese)
*2009. "The Politics of the Gene: Social Status and Beliefs about Genetics for Individual Outcomes." Social Psychology Quarterly 72(1): 77-93. (With Jeremy Freese, Bruce Link, and Jo Phelan)
Featured on the ASA website and in a 'SPQ Snap'
*2008. "Sequencing and Its Consequences: Path Dependence and the Relationships Between Genetics and Medicalization." American Journal of Sociology 114 (S1): S287-S316. (With Peter Conrad and Allan V. Horwitz)
2007. "Changing the Subject: Science, Subjectivity, and the Structure of 'Ethical Problems." Pp. 323-346 in Advances in Medical Sociology: Sociological Perspectives on Bioethical Issues. Edited by Barbara Katz Rothman, Elizabeth Armstrong, Rebecca Tiger. Oxford: Elsevier/JAI Press. (With Erin Rehel).
*2007. "Translation At Work: Genetically Modified Mouse Models and Molecularization in the Environmental Health Sciences." Science, Technology, and Human Values 32(3): 315-338
*2006. "Ethical, Social, and Policy Dimensions of Epilepsy Genetics." Epilepsia 47(10): 1595-1602. (With Ruth Ottman)
*2006. "Implications of Welfare Reform for the Elderly: A Case Study of Provider, Advocate, and Consumer Perspectives." Journal of Aging and Social Policy 18(1): 41-63. (With Carroll Estes, Sheryl Goldberg, Chris Wellin, Karen Linkins, and Renee Beard)
*2005. "The Emergence of Toxicogenomics: A Case Study of Molecularization." Social Studies of Science 35(3): 367-403.
2005. "Of Mice and Molecules: Research with Genetically Modified Mouse Models at the National Institute of Environmental Health Sciences." Environmental Health Perspectives, Special Issue on The Future of Environmental Health: 90-99.
*2005. "Breast and Cervical Cancer Screening Practices for Low-Income Asian American Women in Ethnic-Specific Clinics." California Journal of Health Promotion 3(3): 180-192. (With Marjorie Kagawa-Singer, Liane Dong, Chantal Rayner, and Rod Lew).
*2004. "Environmental Justice and Genomics: Acting on the Futures of Environmental Health." Science as Culture 13(4): 539-562.
*2003. "Locating Gene-Environment Interaction: At the Intersections of Genetics and Public Health." Social Science and Medicine 56:2327-2342.
(* peer reviewed)