Department Values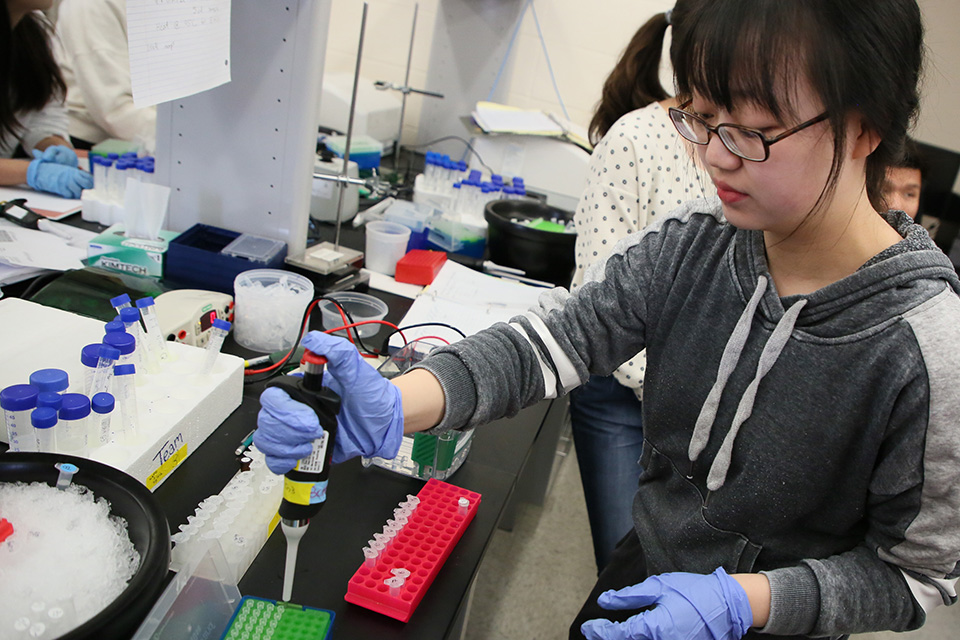 Photo Credit: Mike Lovett
Mission Statement
The Biology Department strives to embody the motto of Brandeis University: Truth unto its innermost parts, by pushing forward the frontiers of knowledge in the Biological Sciences and engaging undergraduate and graduate students in innovative, collaborative ways of learning about and discovering new aspects of the natural world, and applying our knowledge to real-world problems.
Research and Education
We see our research and educational goals as being intertwined, with our undergraduates, graduate students and postdocs learning from and playing an integral role in the success of our internationally recognized research programs. Whether students/postdocs are learning in a classroom or a laboratory, they will acquire the knowledge and skills to independently analyze a problem, create and defend a hypothesis, design and carry out experiments, critically and quantitatively analyze data, and build models to explain biological processes. We actively connect this learning to the development of lifelong skills that enable our students to analyze and act on real-world issues in both science and non-science areas. We value collaborative learning and community over competition and seek to help students/postdocs discover their talents and passions as they move into their chosen careers.
Broader Impacts and Social Justice
We seek to place our science and our science education in the context of society and the world. Our laboratories investigate problems directly related to health and disease, as well as the fundamental properties of the biological world. Each of these scientific approaches can lead to improvements in human health and the human condition. Our faculty and our students/postdocs use their scientific training to assess and understand news and new information, allowing them to combat misinformation, make connections, and bring science to the public. We strive to train students to be compassionate and thoughtful leaders in their fields and to make positive change in the world.
Diversity and Inclusion
The best science requires diversity in our researchers, experiences and perspectives.  We are committed to building and maintaining a diverse, nurturing, and inclusive scientific community that broadens participation and promotes equity and a sense of belonging in science and at Brandeis.