Lisa M. Lynch, P'17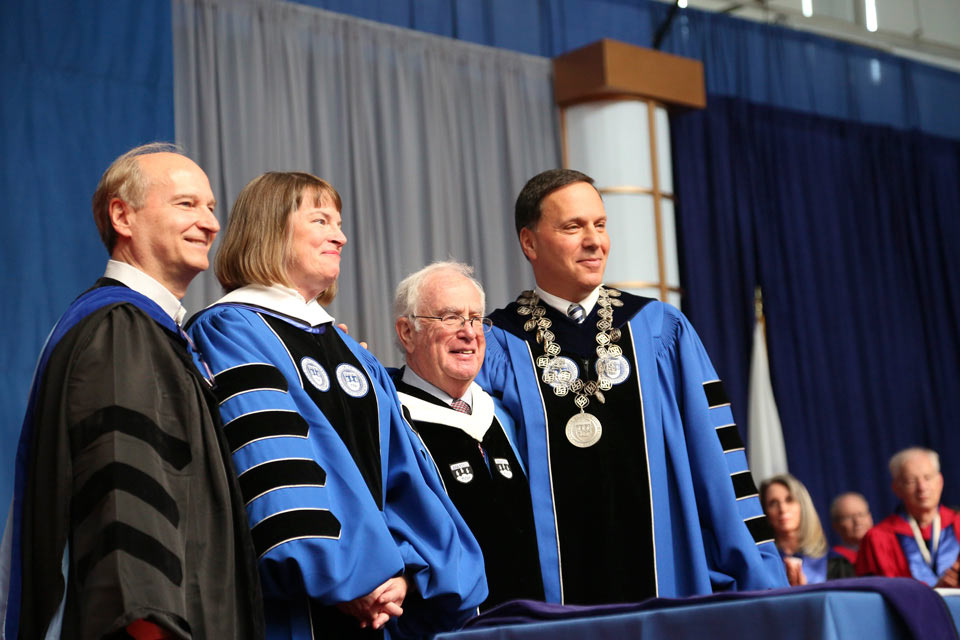 Lisa M. Lynch, P'17, who served as interim president at Brandeis from July 2015 through June 2016, is the university's provost and chief academic officer, and the Maurice B. Hexter Professor of Social and Economic Policy.
Previously, she was dean of Brandeis' Heller School for Social Policy and Management, a post she held from 2008 until her 2014 appointment as provost.
Along with her long, distinguished career in higher education, Lynch is an internationally recognized labor economist, and the author of more than 50 articles and research papers, many on the impact of technological change and organizational innovation, especially training, on productivity and wages.
Lynch has served as chief economist at the U.S. Department of Labor (1995-97), director (2004-09) and chair (2007-09) of the board of directors of the Federal Reserve Bank of Boston, chair of the Conference of Chairmen of the Federal Reserve System (2009), and president of the Labor and Employment Relations Association (2013-14).
In addition, she has served on the Governor's Council of Economic Advisors for the Commonwealth of Massachusetts (2008-15) and the National Academies Committee on National Statistics (2009-15). She is a research associate at the National Bureau of Economic Research and a research fellow at IZA (the Institute for Labor Economics, Germany).
She has also served as a faculty member at Tufts, MIT, the Ohio State University, and the University of Bristol.
During Lynch's term as interim president, her focus was on advancing the university's core principles, including making a renewed commitment to greater diversity and inclusion on campus.
As provost, Lynch oversees the full scope of the university's educational and research activities. In this role, she is aligning the university's resources with its mission, and fostering a strong community devoted to shared learning, reflection and civil engagement.
Honorary Degree Citation
You bring reason and heart to everything you do. From your time as chief economist at the U.S. Department of Labor to your work today as our provost and the Maurice B. Hexter Professor of Social and Economic Policy, you shoulder critical responsibilities with adroitness and care. In your oversight of the university's academic policies, research and curricula, you never lose sight of the people whose lives they impact. When you undertook the role of dean at the Heller School for Social Policy and Management, you directed the school with resolve, re-establishing it as a top-10 graduate school of social policy in national rankings. When you became interim president at Brandeis, you brought the same resolve to your duties, steering the ship with a sure hand. As you seek to advance diversity and inclusion on this campus, you remind us of our university's core values. "You can't be passive about inclusion," you have said. "You have to be actively engaged to have an inclusive community." In presenting you with Brandeis University's highest honor, we recognize your willingness to tackle tough challenges; your compassion and leadership; and everything you do on behalf of Brandeis students, faculty and staff.