Remarks by Larry Kanarek '76, Board of Trustees Chair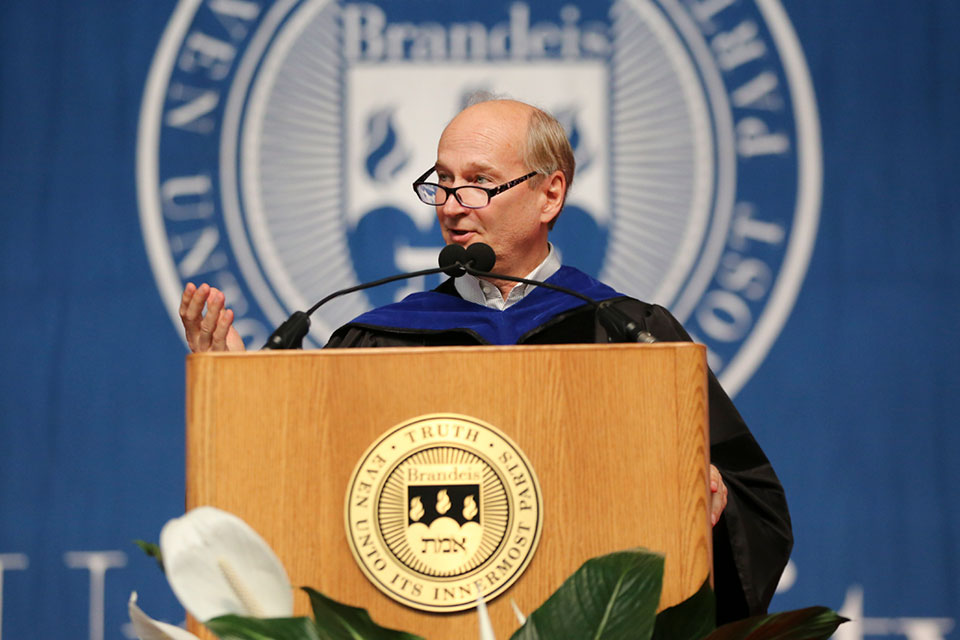 On behalf of the Board of Trustees, it gives me great pleasure to welcome all of you — the Class of 2017, your parents and families; our faculty, staff, alumni, honored guests and friends — to Brandeis University's 66th Commencement Ceremony.
Congratulations to our faculty and students who have been recognized with awards and honors in research, artistic output, teaching and scholarship. To our distinguished honorary degree recipients, it is a great privilege to share the stage with you today. To President Ron Liebowitz, Provost Lisa Lynch, my fellow trustees, faculty and staff — thank you for making this beautiful and memorable occasion possible.
After its founding, just under 70 years ago, Brandeis University quickly built a reputation for academic and research excellence and became a remarkably respected and accomplished institution.  It attracted an exceptional faculty, student body and staff looking for something a different, a University focused on and committed to critical thinking, questioning the status quo, searching for truth, and doing top flight research within an intimate liberal arts college.  That exceptional faculty and student body and that focus and commitment continue today.
In fact, Brandeis University has become such a well known institution that we sometimes lose sight of our namesake – Louis Brandeis – his life, what he stood for, and how his ideals are carried out day-to-day on this campus. I know personally that for the 4 years in the early 1970s as I lived on this beautiful campus and walked by his statue daily, I didn't pause much to ask myself what Louis Brandeis's ideas mean to me and how they might guide me going forward.  I wish I had thought more about it.
And so, I'd like to take a few minutes and to talk about Justice Brandeis. It is, of course, impossible to summarize the life of such a great individual in so little time, but this quote and paragraph captures some of his essence.
Justice William O. Douglas wrote: "Brandeis was a militant crusader for justice whoever his opponent might be. He was dangerous not only because of his brilliance, his arithmetic, his courage. He was dangerous because he was incorruptible... and the fears of the Establishment were greater because Brandeis was the first Jew to be named to the Court." On June 1, 1916 Brandeis was confirmed by the Senate by a vote of 47 to 22, to become one of the most famous and influential figures ever to serve on the high court. His opinions were, according to legal scholars, some of the "greatest defenses" of freedom of speech and the right to privacy ever written by a member of the Supreme Court.
Just these few words remind me of some important truths: that doing what's right, and being incorruptible in its pursuit, is remarkably powerful; that being different, in his case being a Jew, means that accomplishing great things requires an extra measure of strength; and that despite a brilliant mind, Brandeis's independence and differences resulted in 1/3 of the Senate voting against him.
As the paragraph reports, Justice Brandeis was famous for his defense of individual rights, especially freedom of speech and the right to privacy.  But he said many other things that are worth remembering on a personal level here at Commencement.  Here are 4 quotes from him:
"Most of the things worth doing in the world had been declared impossible before they were done."
"There is a spark of idealism within every individual which can be fanned into flame and bring forth extraordinary results."
"If we would guide by the light of reason we must let our minds be bold." 
America has believed that in differentiation, not in uniformity, lies the path of progress.
I hope that during your years at Brandeis, there were times you have followed these 4 pieces of advice from Justice Brandeis and times you have witnessed others following them. That you have participated in research that accomplished the impossible; that you have witnessed the power of idealism in your fellow students and faculty that brought forth extraordinary results; that you have let your minds be bold at times and taken leaps of faith that led you to new personal discoveries; that you have dared to be different and seen how differentiation, rather than conformity, can achieve new things. I'd ask you to reflect on your years at Brandeis and remember times of idealism, boldness and differentiation and how they combined to help you grow as individuals and to accomplish things you never imagined.
As you go forth from here, I hope Louis Brandeis's advice is in your minds and close to your hearts, that you will from time to time consult his words, feel his inspiration, and that your idealism, boldness, and differentiation will allow you to accomplish the impossible. Class of 2017: congratulations to you.