News and Events
Upcoming Events
Virtual Academic Fair Event
August 20, 2020
As the semester approaches, be sure to check out the Academic Fair to learn more about majors, minors, and courses in Comparative Literature and Culture!
Date: Thursday, August 20, 2020
Time: 8:00 a.m. – 12:00 p.m.
Location: via Zoom
Recent News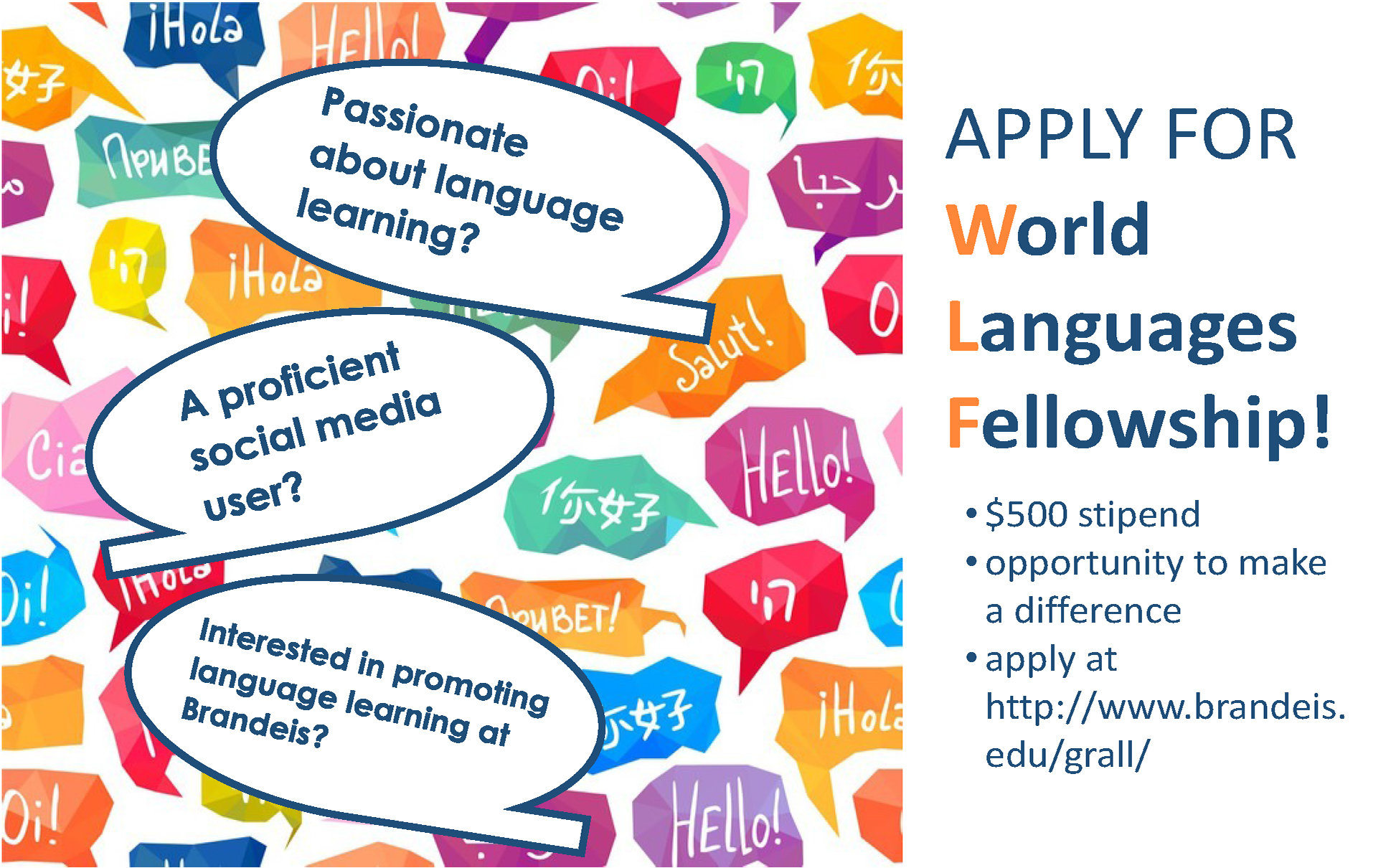 March 31, 2020
Are you passionate about learning language? A proficient social media user? Interested in promoting language learning at Brandeis?
Maddie Herrup named World Languages and Cultures Fellow for 2019-2020
August 28, 2019
A message from Maddie:
I am a sophomore at Brandeis. Born and raised in Pittsburgh, PA, I am a double major in Anthropology and HSSP, while additionally pursuing Judaic Studies. Some of my many passions include Judaism, religion, prayer, writing, openly discussing mental health and illness, and (yes) language learning.
Prior to university, I studied Spanish for 10 years, Hebrew for 7 years, and Mandarin for 4 years. Since starting at Brandeis I have continued my Hebrew studies and began learning Arabic (Modern Standard).
To me, language learning can build connections that transcend borders, and other physical or intangible barriers that exist within our world. Language learning, for me, has allowed me to expand my ways of thinking about the world and the individuals that exist within it.
As the new WLC fellow, I am not only hopefully a resource for students but also for instructors as well. To help in doing this, I would love to have any and all input or fun facts throughout my time as a fellow, from you all as instructors! I hope to create meaningful posts for everyone who chooses to follow the page. And I hope throughout the semester you all will communicate with me on what I can do to boost involvement and interest in the languages you all teach!
For questions or more information, email Maddie Herrup or check out the Brandeis Language Learning Facebook and Instagram pages!
July 8, 2019
The purpose of this guide is to draw your attention to Fall 2019 courses in the small seminar format, courses you might not hear about otherwise. Small seminars in the humanities provide opportunities to:
engage in deep, interactive inquiry through focused discussion;
explore other cultures and others' lives;
get to know faculty members on an individual level;
meet students from a wide range of backgrounds.
Most of the courses listed here, those in the first section, are conducted entirely in English, although the second section includes courses taught in several other languages.
Past Events
Virtual Meet the Majors
April 21, 2020
Featured programs:
European Cultural Studies
East Asian Studies
German Studies
Russian Studies
Comparative Literature and Culture
Intertextuality and the Crisis of Form in the Deathbed Narratives of Masaoka Shiki.
May 3, 2019
This presentation is about intertextuality and literary form in the deathbed narratives of modern Japanese haiku poet Masaoka Shiki (1867-1902). In the narrative entitled Six-foot Sick Bed (1902; Byōshō rokushaku), Shiki constructs a persona of a madman who writes in different registers and genres, and ventriloquizes poets from multiple literary traditions, including British Romantic poet Samuel Taylor Coleridge (1772-1834).  Through an examination of the intertextual relationships between Shiki and Coleridge, this talk offers two claims: in narrating his own death, Shiki brings to life a crisis of form in early nineteenth-century British Romanticism; Shiki's compulsion to safeguard his words in the voices of others is symptomatic of his own anxiety about literary form at the turn of the twentieth century. Shiki's compulsion to safeguard his words in the voices of others is symptomatic of his own anxiety about literary form in Japanese literature at the turn of the twentieth century.

Dr. Mewhinney is a Visiting Assistant Professor of Japanese in the Department of World Languages and Literatures at Boston University. His research focuses on lyric poetry, lyric theory, literati culture, and the relationship between prose and poetry in premodern and modern Japanese literature.
Imperial Literature and Voices of Others: Ideological Visions of the Multiethnic Japanese Empire
April 5, 2019
Dr. Ishida received her Ph.D. in 2016 from the University of California, Los Angeles, with a focus on Japanese literary and cultural studies. She taught as an assistant adjunct professor at UCLA from Fall 2016 to Spring 2018. Currently, she is a postdoctoral fellow at the Reischauer Institute of Japanese studies, Harvard University. Her research explores the entangled relationship among Japanophone literature, linguistic imperialism, mechanisms of colonial violence and power, and the process of racialization in the Japanese empire.
This lecture is sponsored by the Program in East Asian Studies and Comparative Literature and Culture.
The Emperor's New "Stories": Telling "Truth" and Writing History in Early Medieval China
January 17, 2019
Lu Kou is a medievalist and a scholar of pre-modern Chinese literature. His research interests include medieval Chinese literature and culture, historiography, classical tales and their adaptations in vernacular genres and modern media, and comparative studies of Chinese Middle Period and medieval Europe (including Byzantium and Andalusian Spain). For more information, download the event flyer.
This lecture is presented as part of the East Asian Studies Colloquium Series. Co-sponsored by the Program in Comparative Literature and Culture.
Settlers, Colonists and Pioneers in Japanese-Brazilian Immigrant Literature
March 28, 2018
Seth Jacobowitz, Yale University, is the author of the Edogawa Rampo Reader (Kurodahan Press, 2008) and Writing Technology in Meiji Japan: A Media History of Modern Japanese Literature and Visual Culture (Harvard Asia Center, 2015), which won the 2017 International Convention of Asia Scholars Book Prize in the Humanities. He has been Simon Visiting Professor at University of Manchester, Asakawa Fellow at Waseda University in Tokyo, an invited guest lecturer at Yonsei University in Seoul, and frequent Visiting Researcher to the Center of Japanese Studies at the University of São Paulo. His first field of specialization focused on the intersection of media and literature in late nineteenth century Japan. His current research is for a book on the prewar Japanese immigration to Brazil and the literature of Japanese overseas expansion.
This lecture is presented as part of the East Asian Studies Colloquium Series. Cosponsored by the Program in Comparative Literature and Culture.

A Nation Anew: García Márquez's Noticia de un secuestro (1996) as Refoundational Fiction
November 3, 2017
Héctor Hoyos, Associate Professor of Latin American literature and culture, Stanford University
This talk presents a new reading of a relatively understudied work by the Nobel-prize winning author. Focusing on the role of human rights discourse to mend the nation's social fabric, Hoyos tackles the question of whether elite historiography or class struggle predominate in García Márquez's rendering of the deeper causes of narcotrafficking. Consideration is given to the potential role of this sui generis non-fiction work within genre-codified fictions of the drug trade and its aftermath.
The talk will be in English and open to the Brandeis community.
Cosponsored by Latin American and Latino Studies, Comparative Literature and Culture, and Hispanic Studies.
Humanities Career Panel
November 2, 2017
Have your friends or family members ever scrutinized your decision or desire to major in the humanities? Have they resigned you to a future as a barista just because you love the humanities? If so, this is the event for you! The Professors and UDRs of the Comparative Literature and Culture, Creative Writing, Education, and English Departments have organized a panel of Brandeis Alumni who majored in the humanities and have succeeded in a range of different jobs and career paths. Come to this event to hear all the possibilities of what YOU can do with your humanities major, get to ask your questions, and finally get the answer to that big, pressing question: What Can I Do With My Humanities Major?
Meet the Majors: COML & ECS
March 6, 2017
ECS Chocolate Cake Lecture: "Kierkegaard's Response to Hegel's Interpretation of Antigone"
March 30, 2017
Featuring Jon Stewart, Research Fellow at Radcliffe Institute for Advanced Study, Harvard University
Meet the Majors: COML, GRALL, ECS
October 26, 2016
Spect-actors Change the Script towards more Equality and Inclusion: A Forum Theater Event with Doris Sommer and Jennifer Cleary
September 15, 2016
Meet the Majors/Minors: GRALL Programs, COML, ECS & SAS
March 22, 2016
Negotiating Meaning: Translating at a War Crimes Tribunal
February 9, 2016
Featuring Ellen Elias-Bursac, former translator/reviser of the International Criminal Tribunal for the former Yugoslavia
GRALL and COML Open House
September 3, 2015
Visible Rhymes, Inaudible Echoes: Script and Sound in the Sinitic Poetry of Modern Japan
October 6, 2014
Presented by Matthew Fraleigh as part of the East Asian Studies Colloquium