Courses
Below are the Comparative Literature (COML)-designated courses for Spring 2022. For more information, view the full course list on the Registrar's site.
Spring 2022 COML Courses
COML 100A Introduction to Global Literature
T,F 12:30 PM–1:50 PM, Powelstock (in-person)
We will consider these questions from both theoretical and practical perspectives. Students will become acquainted with the basic literary theories and critical tools used in comparative literary studies; gain practical and reflective experience in comparing texts of various genres across time periods, cultures, and languages; and also understand the past, present, and future of Comparative Literature as an intellectual endeavor, especially in view of changing socio-political contexts.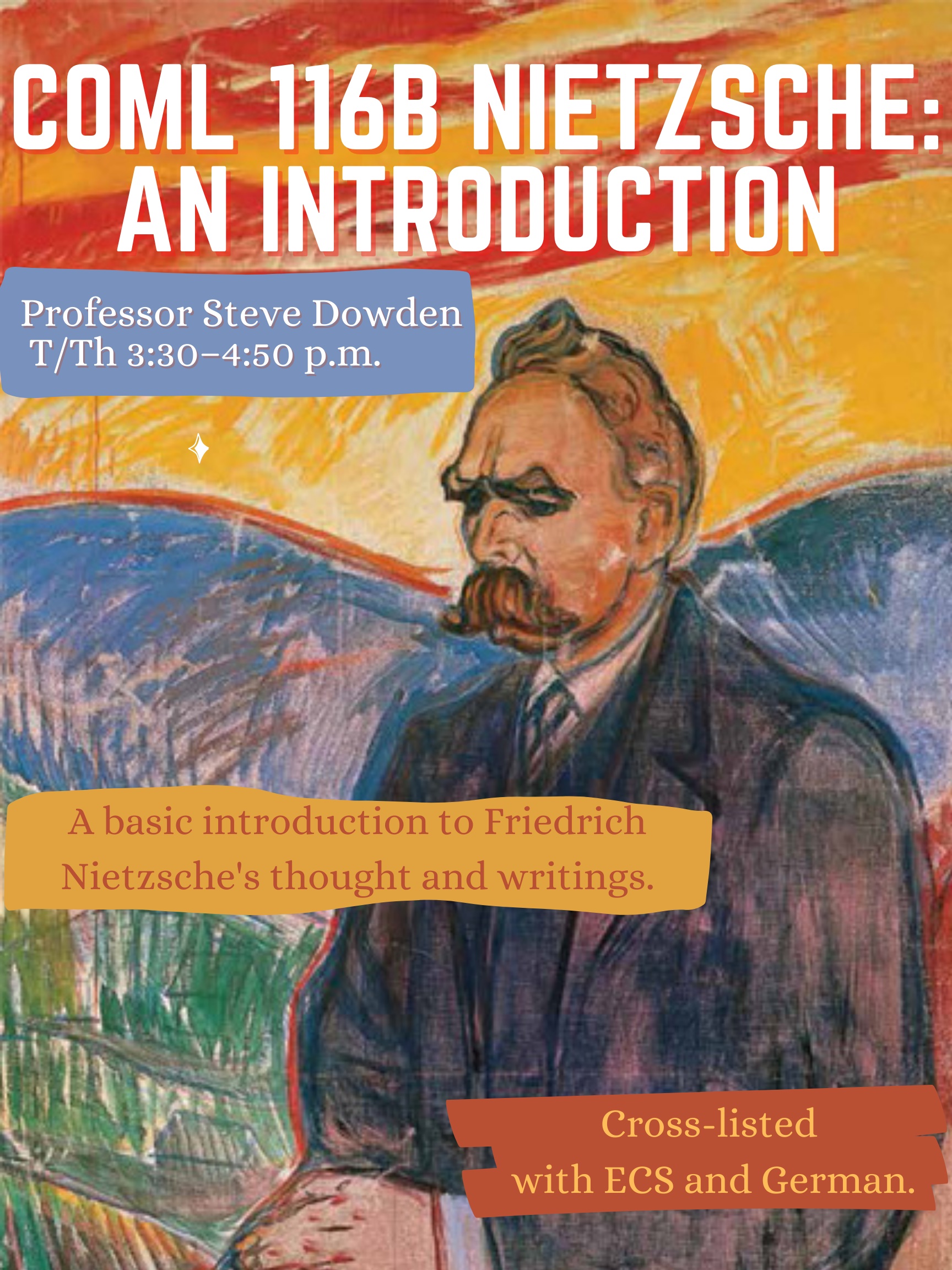 COML 116B Nietzsche: An Introduction
T,R 3:30 PM–4:50 PM, Dowden (in-person)
A basic introduction to Friedrich Nietzsche's thoughts and writings.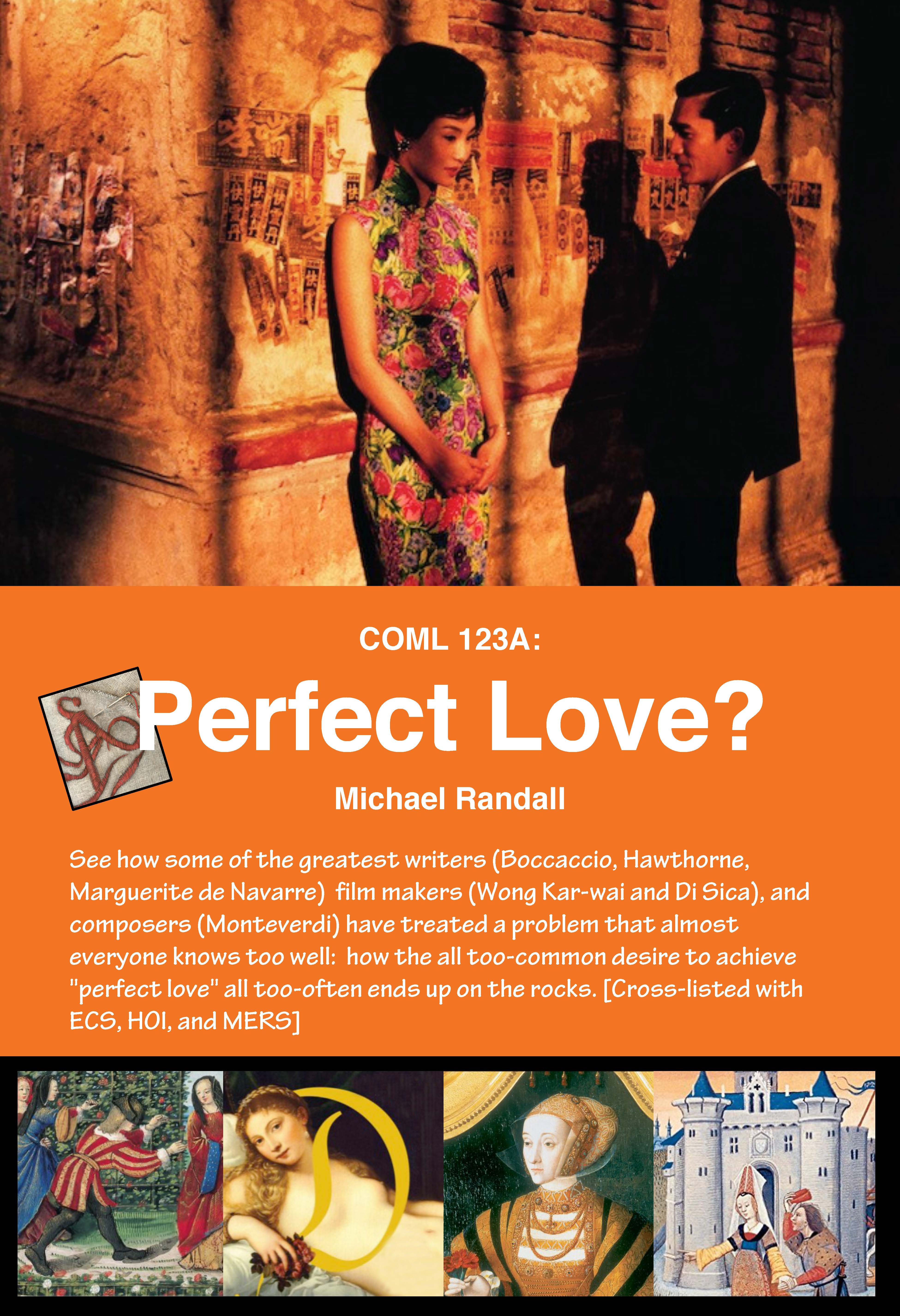 COML 123A Perfect Love?
M,W 3:30 PM–4:50 PM, Randall (in-person)
See how some of the greatest writers (Boccaccio, Hawthorne, Marguerite de Navarre) film makers (Wong Kar-wai and Di Sica), and composers (Monteverdi) have treated a problem that almost everyone knows too well:  how the all too-common desire to achieve "perfect love" all too-often ends up on the rocks.
COML/ENG 16B Puppets, Robots, and Other Automata
M,W,Th 1:00 PM–1:50 PM, Williams (in-person)
Explores literary representations of artificial life. Puppets, dolls, clockwork creatures, golems, robots, supercomputers, and A.I.s radically repose the question of what it means to be alive – and, in the process, apply pressure to commonsense notions of what is exclusively human. We will trace a line of thinking from Pinocchio and Frankenstein's Monster to Battlestar Galactica and Kazuo Ishiguro's Artificial Friends. How does fear of – and longing for – the more-than-human figure of the automaton illuminate our political and social world?
Upper-Level Courses in a Language Other than English
ARBC 103B-1 - Middle Advanced Arabic: Contemporary Arab Media

CHIN 120B-1 - Readings in Contemporary Chinese Literature: Advanced Chinese Language II

FREN 111A-1 - The Republic

HISP 111B-1 - Introduction to Latin American Literature and Culture

RUS 153A-1 - Advanced Russian Language through 19th Century Literature
Courses in Related Fields
CHIN 136B-1 - Chinese Modernism in International Context
CLAS 117B-1 - Unmasking Cleopatra - Gender, Power, and A Legacy
ENG 121A-1 - Sex and Culture
ENG 152A-1 - Indian Love Stories
ENG 66B-1 - Contemporary Global Dystopias
HISP 152B-1 - Monsters, Creatures, and Cyborgs in Latin/x American Cinema, Fiction, and BioArt
HUM 10A-1 - The Western Canon
NEJS 140B-1 - Gender, Ghettos, and the Geographies of Early Modern Jews
NEJS 183B-1 - Global Jewish Literature