Messiah Sing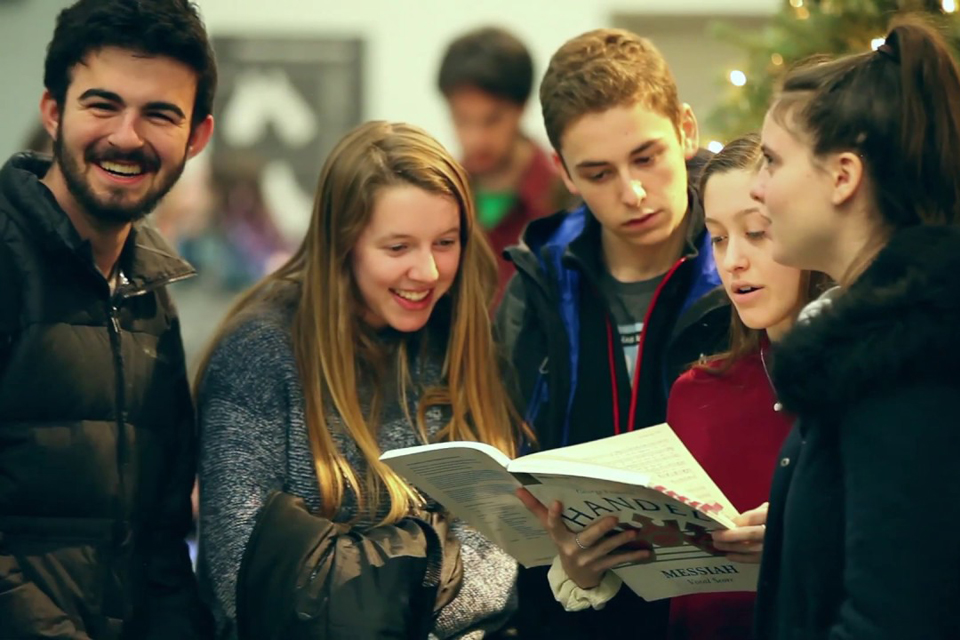 In a beloved annual tradition, the Brandeis community gathers on the eve of finals in the Shapiro Campus Center to sing selections from Handel's Messiah. Scores are provided and all are welcome.
Each year, Robert Duff, Associate Professor of the Practice of Music and Choral Conductor, prepares the Brandeis Chamber Singers and University Chorus to lead the singing. Professor of the Practice of Music and Orchestra Conductor Neal Hampton rehearses with members of the Brandeis-Wellesley Orchestra to play highlights from Handel's masterwork. The two faculty members alternate conducting the sing-along, which also features professional soloists.
After the singing, community members are invited to stay for the annual tree lighting with caroling and seasonal refreshments. In the spirit of the season, community members are encouraged to bring a donation of soccer balls, footballs, Elephant and Piggy books, gardening tools, educational games, and/or craft supplies. Donations will be collected by the Department of Community Service and distributed to the Prospect Hill Community Center in Waltham. 
Presented by the Brandeis University Department of Music, Division of Creative Arts, Department of Student Activities, and Center for Spiritual Life.