Student Involvement Prizes and Awards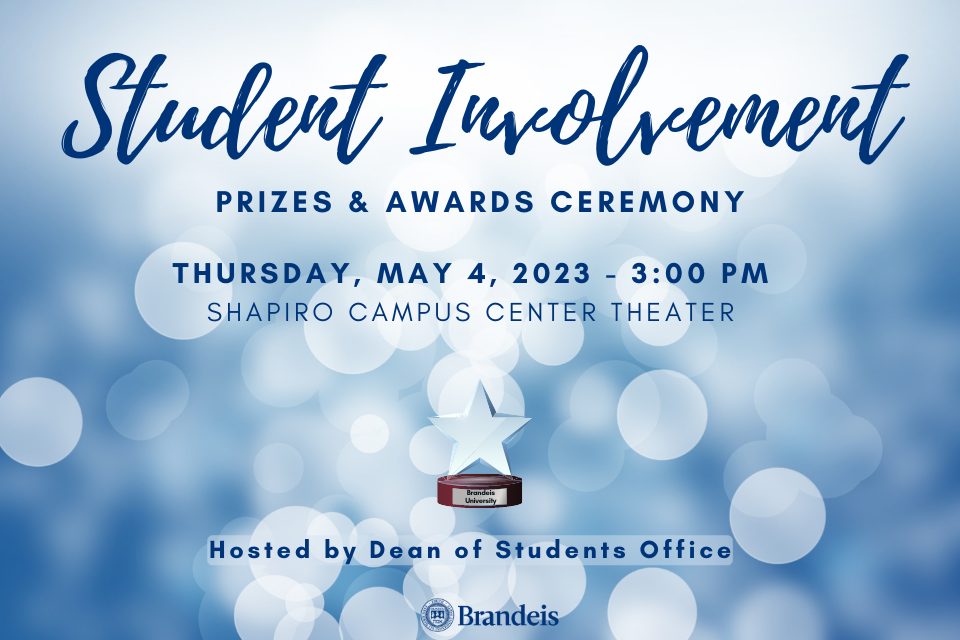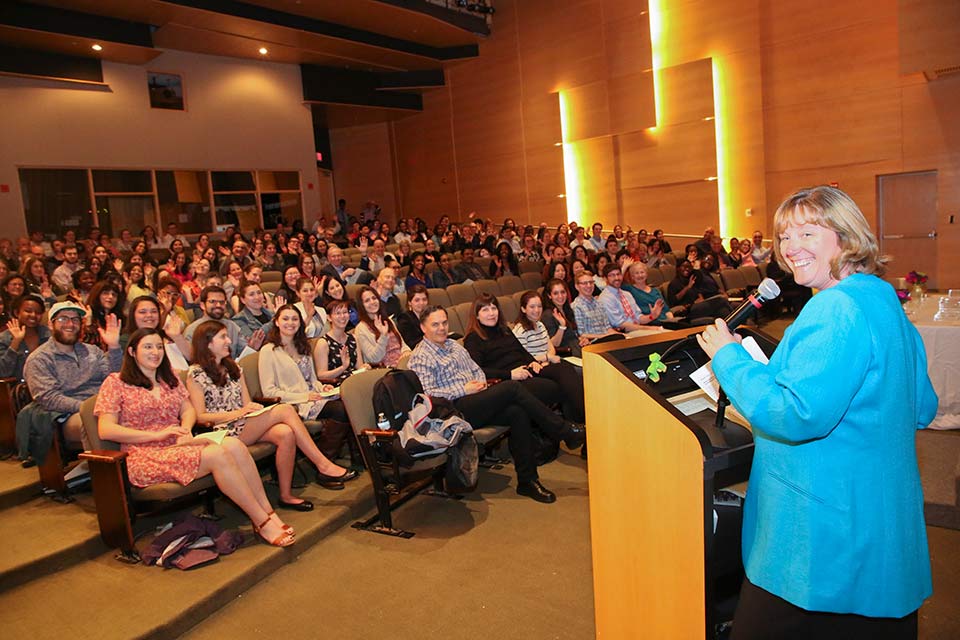 Nomination Form is now live! Please submit your nominations by February 27, 2023.
The Dean of Students Office invites faculty and staff to nominate undergraduate and/or graduate students who have made outstanding contributions to the Brandeis community. We are looking for contributions of leadership, social consciousness and activism, community building, and service.
While we pay special attention to graduating seniors, several prizes will go to students in other class years. Please consider nominating outstanding first-years, sophomores, junior, and graduate students.
Student Involvement Prizes and Awards is one of many student recognition programs at Brandeis. The selected students will be honored at a ceremony on Thursday, May 4, 2023 and will be listed in the Commencement program.

If you have any questions, please contact the Dean of Students Office at deanofstudentsoffice@brandeis.edu.
The Selection Committee is seeking recommendations for students who have shown exemplary participation in the contemporary life of the university, and who have demonstrated scholarship and leadership that reflect the Core Values of the Dean of Students Office:
Community
Integrity
Respect
Civility
Lifelong Learning
Embracing Diversity, Equity, and Inclusion
Some rizes awarded are described below.
| Award Name | Description |
| --- | --- |
| Herman and Bessie Blum Memorial Award | To a junior/s who contribute to the well-being of their fellow students through kindness and consideration. |
| Joseph and Ida Burtman Award | To a student who displays scholarship and general leadership. |
| Katherine A. Chernosky Memorial Award for Conscientious and Creative Living | To an individual whose manner of living embodies mature, conscientious dedication to duty, to family, and to friends. |
| Edwin E. Hokin Memorial Prize | To a student who demonstrates ideals of community service and good citizenship. |
| Kappa Eta Sigma Award | To a sophomore who by thoughtfulness and kindness has contributed to the well-being of their fellow students. |
| Harry S. Levitan Prize | To a student who displays kindliness, sympathetic understanding, and high moral character |
| Bruce R. Mayper Memorial Award | To two students for general activities promoting interracial amity or for individual work in the field of interracial relations. |
| Kukin Moskowitz Prize for Excellence | Given to a graduating senior for academic achievement, character, and leadership with commitment to excellence. |
| Rose Schlow Award | To a student or students who by thoughtfulness and kindness to others has contributed to the well-being of their fellow students |
| Maurice L. Shaer Memorial Prize | To deserving freshmen, sophomores and/or juniors |
| Robert B. Sherman '67 Memorial Prize | Student must have demonstrated a strong commitment to enhancing social diversity and cooperation, to promoting social welfare through political thought and activism, and to helping people achieve their rights. |
| Textile Veterans Association Honor Award | To a graduating senior who has evidenced outstanding extracurricular activities and leadership. |
| Jacob and Bella Thurman Award for Social Citizenship | To student or students who have demonstrated the highest type of social citizenship. |
| Awards selected by students or a different department | Description |
| --- | --- |
| David A. Alexander '79 Memorial Award for Social Consciousness and Activism | Chosen by students — a student who is a leader in social consciousness and activism. |
| Linda Heller Kamm '61 Prize | Chosen by students — a student who has demonstrated leadership in the advocacy of social justice. |
| Brandeis National Committee Presidential Scholarship Award | The Brandeis National Committee selects a junior who demonstrates leadership in campus activities and who through academic achievement, exemplifies the well-rounded student, a library work student, if possible. |
| Michael Kalafatas '65 Admissions Prize | To an outstanding Brandeis senior who has greatly contributed to the admissions process throughout their time at the university. Recipient of the prize should be identified by the Office of Admissions. |
| Outstanding UDR Awards | Selected by the Office of Deans of Arts and Sciences. Given to outstanding Undergraduate Departmental Representatives (UDR). |
| Student Involvement Award | Given to a student or students who has contributed significantly to student life on campus. |
"These are remarkable students, leaders and citizens who choose to give back to others over themselves. I am confident that they will change the world and impact lives even after they leave this campus."
Stephanie Grimes
Assistant Dean