Leaving Campus Early for the semester?
Please notify the Dean of Students Office by completing the Travel Information Form
Coronavirus/COVID-19 Update
Contact information: deanofstudentsoffice@brandeis.edu 

The Dean of Students Office (DOSO) will continue to be available for students, their families, and our community partners. Services will be available via telephone and Zoom. The Care Team will remain active and, in conjunction with campus partners, continue to provide support and resources to students.

Link to learn more about Plans for Fall 2020.
Be Prepared: Pack a Ready Bag
In case you test positive for COVID-19 or are contacted by the Brandeis Contact Tracing Team, you may be asked to relocate to a temporary residence hall room. We recommend that you have a bag ready with enough belongings for 10-14 days.

Suggested Packing List
Clothing for 10 days

Medications that you may need

Glasses/contact lenses and related supplies

Thermometer

Toiletries (e.g., brush/comb, toothbrush, toothpaste, soap, shampoo, conditioner, shaving supplies, deodorant, etc.)

Bedding: Pillow, Sheets & blanket or comforter, Towels

Face masks

Electronics (e.g., computer, phone, chargers, alarm clock, etc.)

Books and coursework materials

Fan

Trash can

Snacks/drinks
Comfort/sentimental items (picture, book, stuffed animal)

For those in quarantine: Laundry supplies (detergent, laundry bag, laundry money)
COVID-19 Policies
Part of Rights & Responsibilities 2020-2021
Personal Health and Quarantine
Self Isolation Protocol
As the Centers for Disease Control (CDC) and Massachusetts state guidelines change, due to the evolving nature of the pandemic, our policies may change as well
Emergency travel: If you have an emergency that requires you to travel away from campus, you must submit a travel information form to obtain approval from the Dean of Students Office prior to departure. This includes traveling out of state and within Massachusetts for a time frame which would prevent you from completing the daily health assessment and the 2 weekly required COVID tests for residential students.
TRAVEL INFORMATION FORM
Deistancing Programs for Fall 2020
Dean of Students Office, Department of Student Activities, Department Community Services, and our campus partners are excited to host virtual programming for Fall 2020.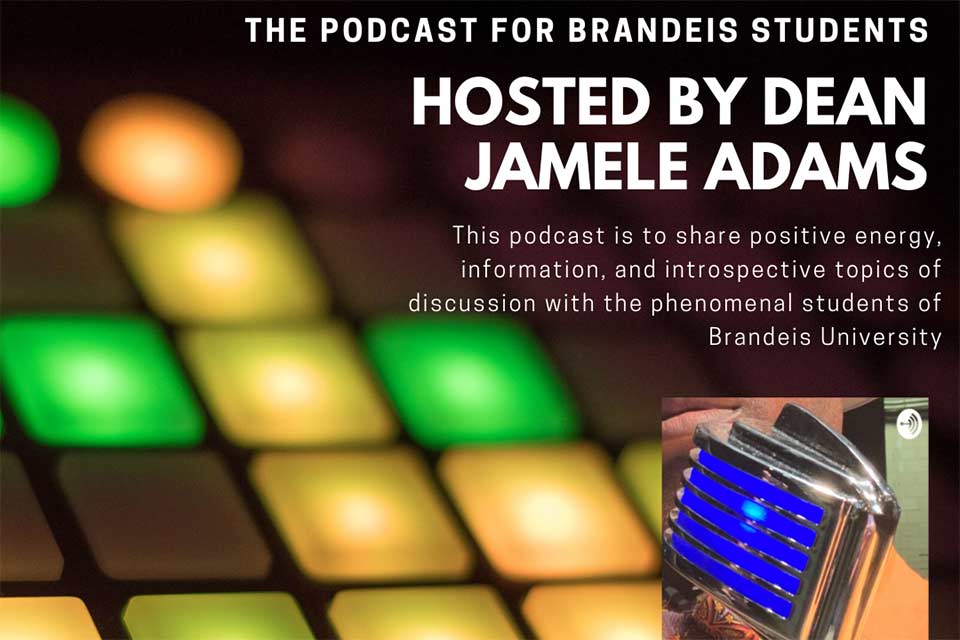 New episodes added weekly. Special guests include Brandeis students, staff, faculty, and alumni sharing positive energy, information, and introspective topics of discussion.