Public Elementary Education Concentration (Grades 1-6)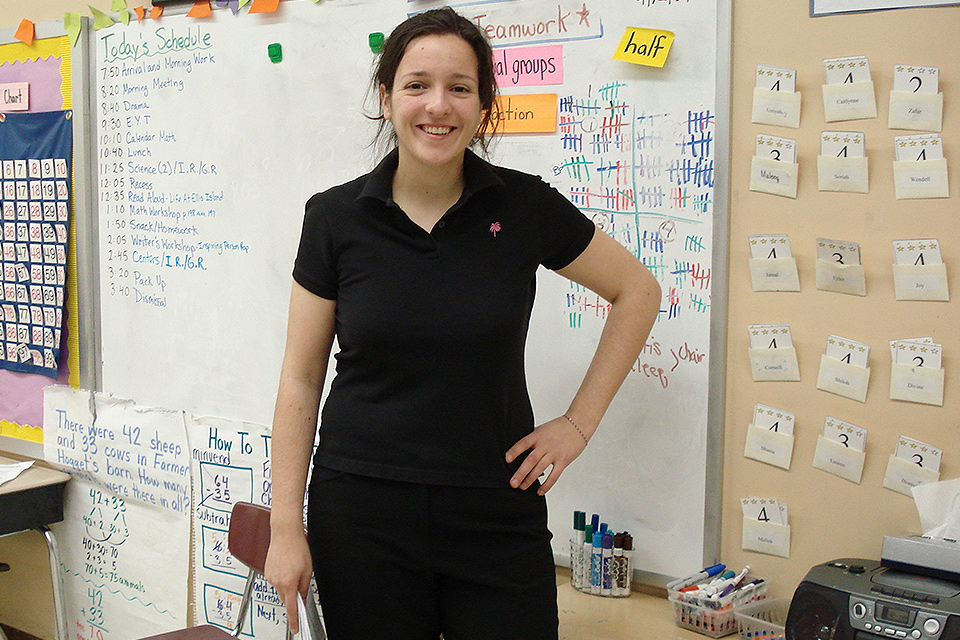 Brandeis elementary teachers are dedicated to learning how children learn, which in turn guides their work in creating inclusive and inspiring classrooms.
In the Brandeis Elementary MAT program (with MA certification in grades 1-6), you will work with outstanding faculty, mentor teachers in dedicated partner schools and belong to a close-knit cohort of fellow students.
Program Features
Elementary school teaching is as much a study of how a given child thinks and behaves as it is a set of decisions meant to guide an entire class. Brandeis students learn to "study children"— to learn from them how to teach with high expectations, girded by strong scaffolds that recognize the individual child in every single lesson.
Loving kids is part of the equation. If you've been involved directly with education/caregiving or have always loved to be creative and connected to young kids in your world, elementary school teaching is the career for you. At Brandeis, you'll learn how to translate this "love" into creating a classroom community emphasizing curiosity, connectedness and creativity in learning.
Brandeis public elementary MAT students learn to differentiate instruction as one part of the work in teaching for social justice. This means leveraging the assets of multilingual students, students with disabilities and all the identities and learning styles of children in the teaching you do each day. As well, Moderate Disabilities or English as a Second Language Licenses will enhance your general education skills and bolster your overall ability to meet needs of your diverse student body.
As a new professional, you will learn how to navigate a school culture and stand for what you believe in. Through a program-long assignment crafting your teaching "stance" and a spring-to-summer teacher research project, Brandeis MATs learn that their teaching is always guided by reflective practice. Elementary MAT research projects stem from daily dilemmas of practice, yet build upon deeply held values about children, teaching and learning.
Brandeis Elementary MAT graduates who pass the program and earn MA licenses go on to teach in Boston-area public and Jewish day schools and around the world, changing the lives of students for the better, improving their schools and helping shape the educational system.
Toggle

Courses
Summer 1
Foundations of Education (ED 264)
Explores philosophical, sociological, historical, and political contexts of schools in the United States, including legal issues and concerns, teaching concerns, and current issues and trends. Emphasizes curriculum theory and the link between the developing child and instruction. Usually offered every summer.
Teaching Reading (ED 107)
Examines theories and methods of teaching reading and language arts to children in elementary and preschools. Emphasizes competencies necessary for developmental reading. Explores strategies for literacy, including the interrelated aspects of writing and spelling. Requires a field experience of 15 hours. Usually offered every year.
Field experience: Practicum Reading (Waltham public schools) (ED 107)
Teaching Mathematics (ED 262)
Focuses on the learning, discovery, and exploration of the skills and strategies needed to teach mathematical concepts and skills in elementary school classrooms. Usually offered every summer.
Fall
Fundamentals of Teaching (ED 267a)
Central seminar taught in conjunction with the Field Internship (ED 265a). Explores and evaluates approaches to instructional planning, formative and summative assessment, classroom culture and management, and emergent issues. Also policy and regulatory issues at national, state, district, and building level as they affect on daily practice. Reflective practice, inquiry, and critical colleagueship are themes. Portfolio requirement.
Field experience: pre-practicum (ED 265a)
Literacy & Social Studies (ED 101)
Focuses on principles and effective procedures for teaching literature and social studies in elementary classrooms. Emphasizes the cognitive, social, and cultural dimensions of literacy learning as well as strategies for reading and writing nonfiction and critical approaches to the teaching of social studies. Usually offered every year.
Psychology of Student Learning (ED 157)
How do children learn? Topics in this survey course include models of learning, cognitive and social development, creativity, intelligence, character education, motivation, complex reasoning, and learning disabilities. Course methods include contemporary research analyses, case studies, group projects, short lectures, and class discussions.
English Language Learners (ED 175)
Examines the intersection of culture and language, including issues such as family involvement and different challenges facing English Language Learners. While this course will be of interest to anyone working with English learners, teachers are now required to be teachers of English in addition to content teachers. (Upon completion, participants will have acquired the Sheltered English Instruction (SEI) Endorsement for core academic teachers.)
Advisory
Spring
Fundamentals of Teaching (ED 267b)
A continuation of ED 267a, the central seminar taught in conjunction with the Field Internship (ED 265b).
Field experience: Internship (ED 265b) - 2 days/week - 4 days/week - 5 days/week - 21/2 days/week. Lead Teaching "Mini placement."
Students gradually build proficiency in teaching, adding responsibilities and skills over time. Students have guided opportunities to observe, plan, and teach core subjects, to manage classrooms, get to know students and families, and  participate fully in the life of the school. Interns receive regular mentoring from school and university personnel.
Reflective Teaching (ED 263)
A weekly seminar closely coordinated with the Field Internship (ED 265b). Students explore and evaluate approaches to classroom organization and management, instructional planning, and assessment. They form habits of critical colleagueship and develop skills to study their teaching and their students' learning. Students also assemble a teaching portfolio that documents their learning in relation to program standards.
Inquiry-based Science Teaching & Learning (ED 261)
Focuses on the learning and exploration of scientific concepts and strategies needed to teach inquiry-based science in elementary classrooms.
Classroom-based research project
Project: Teaching Portfolios
Summer 2
Teaching Diverse Learners (ED 260)
Examines specific learner characteristics of students with disabilities as well as modifications (program, instructional, environmental) and strategies that facilitate a more successful learning experience for these students. Usually offered every summer.
Class: Teacher Research (ED 266)
Students design and carry out a systematic investigation addressing a question or problem arising in their practice. Students explore principles and methods of classroom-based research and review examples of published teacher research. Students present their inquiry projects to fellow students, mentor teachers, and faculty in a teacher research colloquium at the conclusion of their second summer session.
Classroom-based research project - Research Presentations
Graduation!

Post-Graduation
Induction Program (Individual and group advising and support)