Broadsided Press: Putting Literature and Art on the Streets Since 2005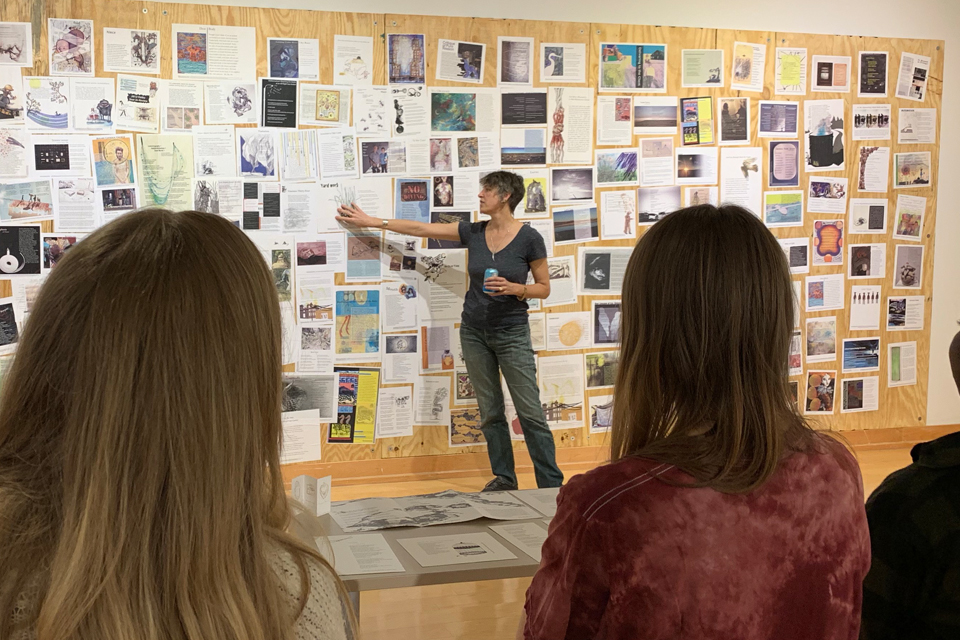 Every month, Elizabeth Bradfield sends a love note to the world: a free broadside for people to print and share in their communities.  She wants to encourage people to transform public spaces.  She wants to entice people to stop, mull, and take a little time to consider how writing and art work together to create a greater whole.  This is the ethos of Broadsided Press, which she founded and still runs.
Since 2005, Broadsided has published over 200 original literary/art collaborations that have been posted on utility poles, office doors, and bathroom stalls from Alaska to Ghana, from Svalbard to Tasmania – and, of course, more populated places such as New York, Boston, San Francisco, Miami.
Established and emerging writers such as Jane Hirshfield, Jericho Brown, Jill Osier, Danez Smith, and Joan Kane have had work published by Broadsided.  Many writers who submit work are curious to discover what visual artist might "see" in their words.  Once a writer has a piece accepted, though, they have no control over what happens next. 
Broadsided has a pool of artists who work with the press, and when the editors have chosen work, Bradfield sends the artists the piece, a deadline, and an invitation to "dibs" it.  For Bradfield, seeing what artist leaps up, inspired, to say they want to create work in response to something is always exciting.  "You never know who is going to leap in," she says.  "I love that. It's always a surprise."
The first time artist and writer see their integrated broadside is when they are sent a proof – and a list of questions.  "We started the Q&A," says Bradfield, "because we were curious to know what the writers and artists thought about the experience.  We also wanted to give them room to be critical, if they wished."  So far, no one has complained in print.
Readers can get a sense of some of that "in the world" posting through Broadsided's Instagram (@broadsidedpress), Twitter (@broadsidedpress) and Facebook accounts.  As for the monthly broadsides?  Just go to the website.
"We only publish one a month," Bradfield says, "so it's not overwhelming.  One beautiful, priceless, free collaboration.  The world moves so quickly and keeps offering so much more information, we like to stay focused for a while and let the world move around our publications." 
Bradfield brings her experience with this innovative publishing project to students in her Publishing Workshop.  There, in addition to looking at the larger world of literary publishing, they get a behind-the-scenes and hands-on look at Broadsided Press.
See some images of Broadsided publications in a 2019 exhibit at Georgia Southern University: https://broadsidedpress.org/broadsided-exhibit-at-georgia-southern-universitys-gallery/
Visit Broadsided Press – and make sure you subscribe to the newsletter!  www.broadsidedpress.org