2022 News From the Field
Current Theme
Women and Creativity in the Face of War, and on the Frontlines of Protest and Aid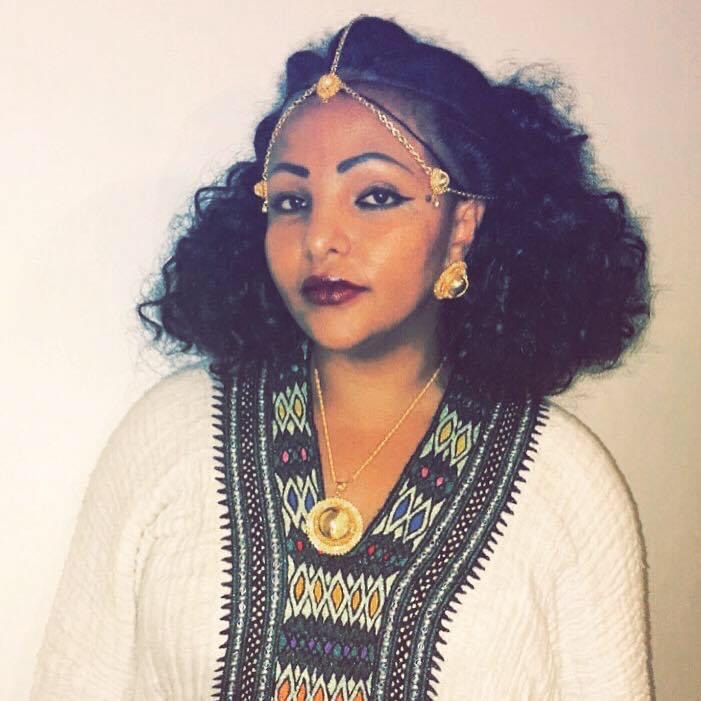 Rahel Yifter/Fiyorina, photo courtesy of the artist
Rahel Yifter/Fiyorina /ላኣኽኒ New Tigray Music 2022 (official Music Video)
Rahel Yifter/Fiyorina's newest song (Give Me a Purpose) shares a longing that she and other Tigrayans have to serve their people. "I'll be honored to do whatever it takes," the lyrics proclaim. Tigray has been the site of horrific violence since 2020, with the Ethiopian military and allies fighting against the Tigray People's Liberation Front, the party ruling Ethiopia's northern region. Just last month, The Guardian reported that "Eithiopia's Northern Tigray region is enduring probably the most brutal and deadly war being waged in the world today." A human rights defender, Rahel nurtures the honoring of Tigrayan cultural heritage through Deamat Heritage, an organization focused on promoting historical and cultural events. Among other activities that are important to her, Rahel says, "I am happiest when organizing the annual Ashenda Festival in Washington, D.C., which is about celebrating beauty/sisterhood for women and girls. When living in the diaspora, far away from home, celebrating culture keeps us alive." Rahel sings of the possibility for joy that people find in both traditions and community. They do this in the context of displacement and, for those in Tigray, ongoing danger. Mother/ዓደይ/ኣደይ is mentioned in the song: The word "mother" in Tigrinya refers to both a parent/mom and one's homeland. (On November 2, mediators for Ethiopia's federal government and rebels from the country's northern Tigray region signed a permanent cessation of hostilities. However, according to National Public Radio, "one major player in the conflict — the neighboring nation of Eritrea — wasn't involved in the negotiations, which raises questions about the lasting power of the truce.")

Artists Raise $85K for Relief in Flood-Stricken Pakistan
Hyperallergic, Rhea Nayyar
"Works by over 70 artists of the pan-South Asian diaspora were up for auction to help Pakistan's most vulnerable communities in a women- and queer-led initiative."
This is why an Italian protest folk song is going viral as Iranian women lead protests
SBS News
"An Italian protest folk song which gained prominence during World War II as an anthem of resistance against the Nazi regime and fascism is being revived. This time it is being used to convey resistance against authorities in Iran over the treatment of women."
Inspiring Myanmar: Chuu Wai – An Artist With Baggage
Burmese artist Chuu Wai presented a talk about her work and her life as an artist as part of the INSPIRE Seminar Series of the Peace Research Institute of Oslo (Norway) in September, 2022.
"Following the 2021 Coup in Myanmar, Chuu was instantly and creatively involved in the pro-democracy demonstrations against the coup through her 'Write for Rights' initiative. Her political artistic activism eventually forced her to flee from Myanmar to seek refuge in France. Before she fled, she managed to smuggle out her artwork and send it to Ukraine, where she planned to settle down and start anew. Political events again interfered in her life as her art got stuck in Ukraine due to the war. Chuu is now based in Paris, where she continues to develop her artistic practice to support the revolution against the military in Myanmar." Watch the recording of her presentation.
Women at War: 12 Ukrainian Artists (exhibition)
Eastern Connecticut Art Gallery, USA
"Women at War: 12 Ukrainian Artists, an exhibition by contemporary Ukrainian women artists, open[ed] at Eastern Art Gallery [in the U.S. state of Connecticut] at a time of extraordinary destruction and disruption in their country. Two of the exhibiting artists remain in Ukraine, others have only recently left the country. These artists proclaim their right to exist as Ukrainians under the shadow of the untold violence, destruction, and death Russia has inflicted. They echo the struggles of persecuted minorities around the globe whether Dalits in India, Uyghurs in China, or African Americans. While in the West decolonization is a long-time subject of extensive theorizing, Ukrainian artists decolonize in full view of a global audience. We are yet to witness more provocative decolonial art-making by the victims of war." See individual pieces in the exhibition here.
Past Themes
A Selection of Upcoming Human Rights Film Festivals
Festival de Cine MÁS (Nicaragua)
1 August – 30 September
Festival de Cine MÁS was founded as a response to the non-existence of a human rights discourse in schools, colleges, universities and public spaces in the country, and focuses on the strengthening of critical thinking among young people.
Red Carpet Human Rights Film Festival (Palestine)
11 – 17 August
A festival of feature films, documentaries and shorts which focus on human rights issues in Palestine.
Festival Internacional de Cine de los Derechos Humanos "El séptimo ojo es tuyo" (Bolivia)
29 August – 4 September
The selected films highlight issues of memory and hope.
Moorehouse College Human Rights Film Festival (USA)
20 – 24 September
Promoting understanding and appreciation for world cultures, artistic and creative expression, and a commitment to global issues and social justice, this event takes place on the campus of what is known as an HBCU in the United States – an Historically Black College or University.
Taiwan International Queer Film Festival 
26 September – 12 October
Celebrating waves of democratic movements in both the political and cultural arenas, including the fight for gay rights, the Taiwan International Queer Film Festival gathers the strengths of diverse LGBT groups in Taiwan to enhance bonds with the government, the broader population, and the world. 
Human Rights Film Festival Berlin (Germany)
13 – 23 October
This year's Festival will be looking at the people who are going beyond red lines and risking so much to bring about change.
Verzio International Human Rights Documentary Film Festival (Hungary)
8 – 16 November
The Festival aims to promote open society, democratic values, rule-of-law, freedom of expression, political and cultural pluralism, and to expose abuse and global human rights violations through creative, quality documentaries.  
Karama Human Rights Film Festival (Jordan)
3 – 13 December (submission deadline: 13 August)
Karama Human Rights Film Festival focuses on promoting dialogue and debate, building capacity, and launching high-impact programs to address topics concerning human rights issues in the Middle East, the North African region, and beyond, through films, visual arts, music, seminars, forums, and art exhibitions.
Cine Tour Anw Be Taa/Cinema Tour Rights for All (Mali)
15 December – 15 January
The first edition of this Malian human rights film festival will take place in refugee camps in Bamako, and in public spaces in the cities of Mopti and Timbuktu. It will screen the works of fifteen filmmakers from Mali and neighboring countries – all of them under 40, and 50 per cent of whom are women.
War in Ukraine