2023 News From the Field
Expand All
Diasporic Tremors Exhibition
31 May-14 June,  The Gallatin Galleries, New York
"An exhibition of video and performance art, curated by Ellada Evangelou and Keith Miller, begins with … the impossibility of being in two places and times at once and with this idea of the origin of trauma as embedded in diasporas. The artists participating in the exhibition are suspended between these two realities, which they have deconstructed through their work."
Book Launch: Art and Human Rights A Multicultural Approach to Contemporary Issues
9 June, 4-6 pm CET, virtually
Creating Rights 
"The Book brings together experts in the fields of art, cultural heritage, social justice, human rights, international law, and transitional justice, and builds bridges between the notions of art and aesthetics, human rights, universality, and dignity. It explores a world in which art and justice enter a discussion to answer questions such as: can art translate the human experience? How does humanity link individuality and community building? How do human beings define and look for their identity?
How do artistic and cultural productions and rights contribute to answering these questions?"
See details here | Register here. 
The Gaaga
2-18 June  US Premiere | 8-18 June Live worldwide streaming
"A site specific phantasmagoria from celebrated Ukrainian documentary playwright and director Sasha Denisova. Developed through first-person interviews with refugees and officials, and inspired by world events, The Gaaga is a darkly funny, haunting and fantastical trip through the consequences of war. Set in a bomb shelter, a Ukrainian girl dreams Vladimir Putin and his cronies into a trial for crimes of war."
Buy tickets for in-person and virtual performances. 
Arts and Human Rights Festival
20-24 June, Belgrade, Serbia
DAH Theatre
"This 3rd edition of the festival is inspired by Martin Niemoller's poem "First they came …" hoping to encourage and empower citizens to react against injustice, to take an active role inciting positive change in their communities, as well as to connect artists and human rights activists with each other, and with the wider community. A subtopic is Standing up for Another, emphasizing empathy and compassion, bringing humanity back to the forefront before personal (selfish) needs, glorified in our times of radical individuality. The program includes theater productions, workshops, installations, concerts, talks, films, as well as the creation of an original mural. Artists and activists are coming from Argentina, Armenia, Australia, Brazil, Denmark, Germany, Holland, Kosovo, Norway, Italy, Serbia, and the USA."
Fire / Flood (Exhibition) 
Now through May
Soho Photography Quarter, part of The Photographers' Gallery, London
"Communities hit by Nigeria's worst recorded floods are at the centre of an exhibition by photographer Gideon Mendel. He took portraits of people standing amid their drowned homes in the southern state of Bayelsa."
Melbourne Women in Film Festival
February 23-27
One of the Festival's many partnerships this year is "with Femme Frontera, a Latinx-led film organization made up of, and founded by women and non-binary filmmakers from the U.S.-Mexico border regions of Texas and Mexico."
Barents Spektakel 2023: Trust
February 24-March1
"Pikene på Broen will stage the 19th edition of Barents Spektakel in Kirkenes, Norway — an international festival consisting of contemporary art, theatre, music, debates, film, performances and a bar concept. Through these different elements the festival will again become a meeting place for everyone with an interest in the cultures and contemporary issues related to the High North.
In 2022 the festival theme formed a question: Where do we go from here? For Barents Spektakel 2023 we aim to discover some answers through the exploration of one deceptively simple concept: TRUST. What does it mean to trust a friend, a family member, a stranger, a politician, a government, or different types of information and media? How do we express this trust? What happens when trust is broken, and how can it be repaired or remade? Finally, what role does trust play in the contemporary moment, as our societies attempt to deal with the rising costs of food and energy, as they navigate the climate crisis, and as they approach the planet's continuing geo-political uncertainty?"
IPRA Conference: Rooted Futures: Visions of Peace and Justice
May 17-21
"The conference aims, as does IPRA and the field of peace studies itself, to promote dialogue across disciplines. Diverse formats and activities are encouraged, and ongoing relationships will be nurtured. In so doing, [IPRA 2023] promises to be a site of critical dialogue, reflection, and action—a truly unique and urgently needed opportunity to advance progressive justice and peacebuilding strategies."
OPEN CALL Summer School
Divided Societies Exploring the Dialogical Potential of Art
28 August-9 September
Deadline: 21 May
artasfoundation
"In late August 2023, artasfoundation will invite artists, activists and cultural practitioners working within the field of socially engaged arts to explore the chances and limitations of artistic interventions in contexts of deep differences in worldview. Taking diverging views within Eastern European societies and within different social groups in Switzerland as starting points, artasfoundation dives into a week full of inputs, exchange of experience, shared learning, inspiration, and networking. The 7-day summer school brings together artists located in Zurich and artists from Eastern Europe and beyond, who, despite their respective social and cultural contexts, share similar basic concerns. The programme itself will be partly developed jointly with the participants. The summer school will be held in English."
View details of the open call.
First Joint Annual Engaged Artivist Award on Atrocity Prevention and Human Rights: Call for Applications
Deadline: 23 May
"The Global Campus of Human Rights and the Auschwitz Institute for the Prevention of Genocide and Mass Atrocities, in collaboration with the Institute for Genocide and Mass Atrocity Prevention at Binghamton University (USA), announce a call for applications for the first edition of their Joint Annual Engaged Artivist Award on Atrocity Prevention and Human Rights. The purpose of the Joint Annual Engaged Artivist Award is to recognize the work of Artivists (artist-activists), highlighting the original ways in which they respond creatively to large-scale identity-based violence and mass atrocity in varying conflict contexts and geographic regions across the globe. The concept of "Art as Atrocity Prevention" is related to the role of the arts in mitigating risk factors associated with genocide, other mass atrocities, and identity-based violence, as well as the use of the arts as a powerful tool to contribute to the transformation of post-atrocity societies."
Build Peace Conference 
1-3 December, Nairobi, Kenya
Deadline: 15 June 
"Every year, the Build Peace conference explores emergent challenges to peace in a digital era, and peacebuilding innovations to address these challenges. It holds an interdisciplinary space to address the most pressing topics and transformative practices in peace, conflict, and innovation.
This year, the conference will focus on 'How technology and the arts influence identities relevant to peace & conflict.' Whether it is your tenth time attending, or your first, we warmly invite you to bring your questions, ideas, and experiences as we chart the future together."
More information on applying as a contributor and registration.  
Call For Applications
Mentorship Building Beyond
Prince Claus Fund & the Creative Industries Fund NL
"Building Beyond brings together 12 experienced designers, creatives, and artists over the course of a year to foster conversation, collaboration, and exchange within the cohort; to support each participant in their own individual practice; and to facilitate exchanges between the cohort and relevant external practitioners. We support practices that engage with challenges related to your city's public space and communities to propose alternative ideas and methods that align the physical city with the realities and imaginations of the lived city. We seek to foster locally-rooted, critical design practices, and cultural productions that challenge our ideas of space and citizenship, reaffirm agency, and restate ownership. Building Beyond is an alternative educational structure where you come together with your peers to reflect on your practice, activate your practice within your local context, and gather ideas and universalities from different urban contexts - aimed at reimagining the future of your contexts and continent." 
The Role of Arts in an Interdependent World – a recorded conversation with jazz artist Arturo O'Farill
In honor of International Jazz Day, Jamie Metzl of OneShared.World had a conversation  with the jazz artist Arturo O'Farill, which was recorded as part of the OneShared.World Interdependence Summit. Arturo is a ground-breaking pianist, composer, and educator, and director of the Afro Latin Jazz Orchestra. He is also a Global Arts Ambassador for OneShared.World.
Watch the video.
Artists at Risk Connection and PEN International issue a joint statement at 52nd session of the UN Human Rights Council
"Artists at Risk Connection and PEN International issued a joint statement at the 52nd session of the UN Human Rights Council on behalf of 186 artists and cultural rights organizations. It called for the immediate protection of migrant artists and cultural professionals on the international level. The ARC network and PEN America also expressed ongoing global solidarity with Ukraine, more than a year into Russia's full-scale invasion. In the wake of a new anti-LGBTQI+ rights law passed in Uganda, ARC and the Amani: Africa Creative Defence Network issued a joint statement condemning the government's attack on freedom of expression."
Art Prospect Network Residencies
Deadline: February 20
CEC Artslink
"Residencies for artists and curators at the Art Prospect Network partner organizations in Armenia, Azerbaijan, Belarus/Germany, Bulgaria, Georgia, Kazakhstan, Kyrgyzstan, Moldova, Tajikistan, Ukraine/Poland, and Uzbekistan."
Prince Claus Seed Awards 2023
Deadline: February 23 
"Each year, we grant Seed Awards to 100 emerging artists working in contexts where cultural expression is under pressure to support their personal and artistic development, amplify their talent, and ultimately spark a new wave of changemakers. Each Seed Award recipient will receive an award of €5000 to invest into the development of their artistic and cultural practice on their own terms - be it through experimentation, fostering new perspectives and connections, or pursuing a dream project." 
Open Call: Mentorships for Audacious Minds
Deadline: February 26
"Forecast offers artists and creative thinkers from anywhere in the world the chance to work with accomplished mentors toward bringing their projects to fruition. As an international mentorship program with annual editions, Forecast transcends neatly defined disciplines and genres to provide insight into creative production processes, and carve out space for the questions on the minds of the next generation of trailblazers. The mentors in Forecast's eighth edition engage with practices that highlight the autonomy of creative endeavors and emphasize the significance of independent art-making in today's deeply politicized climate of cultural production and its reception."
IPRA Peace Research Grants
Deadline: February 28
"Ever since the Peace Research Grants Fund was created in 2002, the IPRA Foundation has awarded grants to help fund peace research projects in places as diverse as Argentina, Bosnia, inner city communities in the United States, the Middle East, the Philippines, the Punjab, and Uganda." 
BlackStar Film Festival
Deadline: March 1/April 1
"The BlackStar Film Festival is an annual celebration of the visual and storytelling traditions of the African diaspora and of global Indigenous communities, showcasing films by Black, Brown, and Indigenous artists from around the world."
Call for Expert Evaluators - EIT Culture Creativity
Deadline: March 31
"EIT Culture & Creativity, an initiative of the European Institute of Innovation and Technology (EIT) invites applications for expert evaluators… [The program is] designed to strengthen and transform Europe's Cultural and Creative and Industries (CCSI) by connecting creatives and organisations to Europe's largest innovation."
Training: Arts And International Cooperation Collaborating in Fragile Contexts and Processes of Peacebuilding
Deadline: April 21
Zurich University of the Arts
"The 1-year extra-occupational training brings together an international group of participants: professionals in arts practices, peace building activists, project managers from internationally operating organizations and visionary people, all from the Global North and the Global South." 
Ocean Awareness Contest
Deadline: June 13
Bow Seat Ocean Awareness Programs
"The 12th annual Ocean Awareness Contest is a platform for young people to learn about environmental issues through art-making and creative communication, explore their relationship to a changing world, and become advocates for positive change. Students ages 11-18 from around the world are invited to participate."
More Opportunities from Hyperallergic
Explore residencies, fellowships, and workshops, grants, open calls, and commissions, our monthly list of opportunities for artists, writers, and art workers.
Current Theme
Past Themes
Expand All
Books and articles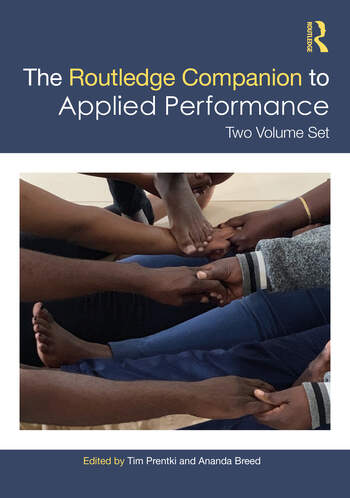 The Routledge Companion to Applied Performance (Volumes One and Two)
Tim Prentki and Ananda Breed, editors
"These volumes offer insights from within and beyond the sphere of English-speaking scholarship, curated by regional experts in applied performance. The reader will gain an understanding of some of the dominant preoccupations of performance in specified regions, enhanced by contextual framing. From the dis(h)arming of the human body through dance in Colombia to clowning with dementia in Australia, via challenges to violent nationalism in the Balkans, transgender performance in Pakistan and resistance rap in Kashmir, the essays, interviews and scripts are eloquent testimony to the courage and hope of people who believe in the power of art to renew the human spirit."
L'empreinte. Une archive d'artiste soustraite au terrorisme d'État
[The footprint. Artist Archive Safeguarded From State Terrorism]
Marisa Cornejo
Chile, 1973 — Geneva, 2023. This is an intimate story of a daughter (visual artist Marisa Cornejo) dedicated to the memory of her father. In it, a discovery of photographs leads to a revelation about the repercussions of Augusto Pinochet's military coup (in Chile) on a family of artists and teachers on the roads of exile. 
Afghanistan Dispossessed: Women, Culture and the Taliban
Razia Sultanova
"How does normal social, cultural, religious life survive in constant turmoil? How can the people flourish? These basic questions are examined and answered by Razia Sultanova's academic analysis and deep fieldwork, with extensive eye-witness and personal contacts and conversations with a wide variety of Afghan men and women. She looks at basic questions of gender, identity, nation, tradition, history, popular culture and especially the role of music - classical, popular, modern and contemporary - as a vital element for survival."
Music, Dance and the Archive
Amanda Harris, Linda Barwick and Jakelin Troy, Editors
Part of the Indigenous Music, Language and Performing Arts series  from Sydney University Press, "Music, Dance and the Archive interrogates historical practices of access to archives by showing how Indigenous performing artists and community members and academic researchers (Indigenous and non-Indigenous) are collaborating to bring life to objects that have been stored in archives. It not only examines colonial archiving practices but also creative and provocative efforts to redefine the role of archives and to bring them into dialogue with contemporary creative work… Music, Dance and the Archive highlights the necessity of relationships, Country and creativity in practising song and dance, and in revitalising practices that have gone out of use. As contemporary Australia reckons with its past, this volume is both timely and urgent. We readers are challenged to critically reflect on how history lives on in the present – with implications not only for creativity, heritage, and the arts, but also for prosperous and equitable societies and thriving cultures, now and into the future."
Art in a Democracy: The Plays of Roadside Theater 
"This 2-volume work tells the story of a rural Appalachian theater company's 45-year search for a form of artistic expression that advances the project of American democracy… [It] includes 9 award-winning original play scripts, a critical recounting of the theater's history from 1975 through 2020, and 10 essays by authors from different disciplines and generations exploring the plays' social, economic, and political circumstances."
How to Stand Up to a Dictator
Maria Ressa
In this recorded interview, Filipino journalist, Nobel Peace Prize winner, and UNESCO World Press Freedom Prize awardee Maria Ressa speaks about her new book, How to Stand Up to a Dictator, and why she thinks the world is facing a sort of doomsday related to information and democracy. "Live on stage at The Conduit and livestreamed, Maria joins co-founder of The Conduit, Paul van Zyl, to tell the story of how democracy dies by a thousand cuts, and how an invisible atom bomb has exploded online that is killing our freedoms."
All We Can Save: Truth, Courage, and Solutions for the Climate Crisis
Ayana Elizabeth Johnson and Katharine K Wilkinson, editors
"All We Can Save is an anthology of writings by 60 women at the forefront of the climate movement who are harnessing truth, courage, and solutions to lead humanity forward.There is a renaissance blooming in the climate movement: leadership that is more characteristically feminine and more faithfully feminist, rooted in compassion, connection, creativity, and collaboration. While it's clear that women and girls are vital voices and agents of change for this planet, they are too often missing from the proverbial 'table.' More than a problem of bias, it's a dynamic that sets us up for failure. To change everything, we need everyone. Intermixing essays with poetry and art, this book is both a balm and a guide for knowing and holding what has been done to the world, while bolstering our resolve never to give up on each other or our collective future. We must summon truth, courage, and solutions, to turn away from the brink and toward life-giving possibility. Curated by two climate leaders, this book is a collection and celebration of visionaries who are leading us on a path toward all we can save." This anthology is part of the All We Can Save Project.
Care Aesthetics: For Artful Care and Careful Art
James Thompson
"What if the work of a nurse, physio, or homecare worker was designated an art, so that the qualities of the experiences they create became understood as aesthetic qualities? What if the interactions created by artists, directors, dancers, or workshop facilitators were understood as works of care? Care Aesthetics is the first full-length book to explore these questions and examine the work of carer artists and artist carers to make the case for the importance of valuing and supporting aesthetically caring relations across multiple aspects of our lives.Theoretically and practically, the book outlines the implications of care aesthetics for the socially engaged arts field and health and social care, and for acts of aesthetic care in the everyday. Part 1 of the book outlines the approaches to aesthetics and to care theory that are necessary to make and defend the concept of care aesthetics. Part 2 then tests this through practice, examining socially engaged arts and health and social care through its lens. It makes the case for careful art exploring the implications of care aesthetics for participatory or applied arts. Then it argues for artful care and how an aesthetic orientation to care practices might challenge some of the inadequacies of contemporary care. This is a vital, paradigm-shifting book for anyone engaged with socially engaged arts or social and health care practices on an academic or professional level."
The Language of Languages (The Africa List)
Ngũgĩ' Wa Thiong'O
"This volume brings together for the first time Ngũgĩ's essays and lectures about translation, written and delivered over the past two decades. Here we find Ngũgĩ discussing translation as a conversation between cultures; proposing that dialogue among African languages is the way to unify African peoples; reflecting on the complexities of auto-translation or translating one's own work; exploring the essential task translation performed in the history of the propagation of thought; and pleading for the hierarchy of languages to be torn down. He also shares his many experiences of writing across languages, including his story The Upright Revolution, which has been translated into more than a hundred languages around the globe and is the most widely translated text written by an African author. At a time when dialogues between cultures and peoples are more essential than ever, The Language of Languages makes an outspoken case for the value of literature without borders."
Visualizing Genocide: Indigenous Interventions in Art, Archives, and Museums 
Yve Chavez and Nancy Marie Mithlo, editors
"The 'G' word is often omitted in mainstream conversations about Native American and Indigenous art. Yet, how Native artists grapple with this tragic legacy is one of the important and foundational aspects of contemporary art in the United States and elsewhere. The art of Native American and Indigenous artists challenges, among other things, the way history is taught and understood. From myths of extinction to contemporary difficulties to Native sovereignty, contemporary artists are addressing all these issues in fascinating ways. This book charts some of the recent projects that continue to supplement (or change, when they are allowed the opportunity) our contemporary art history in new and interesting ways." 
Images of Class: Operaismo, Autonomia, and the Visual Arts (1962–1988) 
Jacopo Galimberti
"Italy is quickly sliding into fascism once again, emboldening far-right groups to plot attacks and threaten any critics voicing opposition. Jacopo Galimberti's Images of Class therefore feels essential to this moment. Hundreds of rare photos and artworks from the midcentury operaismo and autonomia movements reveal that Socialism with Italian characteristics was alive and well in the postwar era. Looking beyond Gramscian notions of 'cultural hegemony,' collectives like Archizoom and Gruppo Femminista Immagine produced rhetorical designs that blurred distinctions between image and text. Much of the agitprop presented here was widely disseminated across cities and provinces, so much so that the Italian state cracked down on anyone making art against the grain. Galimberti dutifully weaves a tapestry visualizing the two movements, from their early political cartoons to blueprints for social housing, while also critiquing the limits of their Eurocentrism. Through it all, this title illuminates how artists adeptly connected science and technology with class consciousness, drawing a through line to art workers' organizing efforts today."
Lastgaspism: Art and Survival in the Age of Pandemic
Anthony Romero, Daniel Tucker, and Dan S. Wang, editors
"Collecting interviews, critical essays and artist portfolios, Lastgaspism considers matters of life and death in relation to breath, both allegorical and literal. Bringing into mutual proximity the ecological, political, public health and spiritual crises of our time, this book considers the compounding nature of these events and their impact upon one another, illuminating how the act of gasping for breath is starkly exposing the either/or that stands before us: either we breathe or we die. Through aesthetic and socially engaged strategies of all kinds, cultural workers are responding to the most urgent issues in contemporary life. Lastgaspism offers a framework to help us make sense of the interlocked crises of the unfolding present and asks with critical optimism what can happen in this time of transition."
Documenting Displacement
Katarzyna Grabska and Christina Clark-Kazak, editors
"Innovative in its use of arts-based methods, Documenting Displacement invites researchers to explore new avenues guided not only by the procedural ethics imposed by academic institutions, but also by a relational ethics that more fully considers the position of the researcher and the interests of those who have been displaced."
Women in Wildfire Crises: Exploring Lived Experiences of Conflict through Forum Theatre 
Lorenza B. Fontana, Angelo Miramonti and Caleb Johnston
A publication that emerged from the Playing with Wildfire  "action-research project situated at the interface between theatre-based artistic practice and social science research. [Playing with Wildfire] uses a popular community theatre method called Forum Theatre to conduct social research and generate community-based responses to multi-layered conflicts (cultural, political, distributive, environmental) in communities most affected by recent extensive wildfires in Bolivia."
Rohingyatographer Magazine
Issue #2, 2023
"In this issue, we delve into the Rohingya community's relationship with nature and their resilience in the face of harsh living conditions in the refugee camps. Forced to flee their homeland due to persecution and violence, the Rohingya had to quickly adapt to life in the camps, facing challenges with limited resources."
Iran's Cinema of Resistance
Hanna Kosravi
In this article in the Winter 2023 issue of Dissent, Kosravi traces ways in which Iranian cinema "captures the pulse of civilian life under the traumatic duress of dictatorship, and… reveals how close the people always are to revolution."
Time is a Mother (poems)
Ocean Vuong
"In this highly anticipated second poetry collection, Ocean Vuong ruminates on time. It becomes a character of its own, both an obstacle and motherly, something that can nurture and hold. Written in the aftermath of his mother's death, Vuong's poems are raw with grief and darkness, but there are radical moments of joy and resilience even through that. Through these poems, Vuong sings loud and clear of everything worth living for and discovering—just as vividly as he did in his critically acclaimed titles On Earth We're Briefly Gorgeous and Night Sky With Exit Wounds." Review by Jeevika Verma, National Public Radio, "Books We Love." Also, listen to an interview with poet Ocean Vuong on the radio program, "Fresh Air."
Brotherless Night (novel)
V.V. Ganeshananthan
"Jaffna, [Sri Lanka], 1981. Sixteen year old Sachi wants to become a doctor. But over the next decade, a vicious civil war tears through her home, and her dream spins off course as she sees her four beloved brothers and their friend K swept up in the mounting violence. Desperate to act, Sashi accepts K's invitation to work at a field hospital, for the militant Tamil Tigers who, following years of state discrimination and violence, are fighting for a separate homeland for Sri Lanka's Tamil minority. But after the Tigers murder one of her teachers and Indian peacekeepers arrive only to commit further atrocities, Sashi begins to question where she stands. When one of her medical school professors, a Tamil feminist and dissident, invites her to join a secret project documenting human rights violations, she embarks on a dangerous path that will change her forever. Set during the early years of Sri Lanka's three-decade civil war, Brotherless Night is a heartrending portrait of one woman's moral journey and a testament to both the enduring impact of war and the bonds of home."
The Seven Moons of Maali Almeida (novel)
Shehan Karunatilaka
"Colombo, [Sri Lanka], 1990. Maali Almeida – war photographer, gambler, and closet queen – has woken up dead in what seems like a celestial visa office. His dismembered body is sinking in the serene Beira Lake and he has no idea who killed him. In a country where scores are settled by death squads, suicide bombers, and hired goons, the list of suspects is depressingly long, as the ghouls and ghosts with grudges can attest. But even in the afterlife, time is running out for Maali. He has seven moons to contact the man and woman he loves most and lead them to the photos that will rock Sri Lanka."  
At the Hour Between Dog and Wolf (novel)
Tara Ison
"A story of a twelve-year-old Parisian Jewish girl in World War II France, living 'in hiding' as a Catholic orphan with a family in a small village. When Danielle Marton's father is killed in the early days of the German Occupation, her mother sends her to live in a quiet farming town near Limoges in Vichy France. Now called Marie-Jeanne Chantier, Danielle struggles to balance the truth of what's happened to her family and her country with the lies she must tell to keep herself safe. At first, she's bitter about being left  by her mother, and horrified at having to milk the cow and memorize Catholic prayers for church. But as the years pass and the Occupation worsens, Danielle finds it easier to suppress her former life entirely, and Marie-Jeanne becomes less and less of an act. By the time she's fifteen and there is talk amongst the now divided town of an Allied invasion, not only has Danielle lost the memories of her father's face and the smell of her mother's perfume, but her very self, transforming into a devout Catholic—and an anti-Semitic, fervent disciple of fascism. A hauntingly beautiful novel about identity, At the Hour Between Dog and Wolf shows how a vulnerable mind can be tragically reshaped under the influence of extremist ideologies."
Reports
Buffer Fringe Festival 2020: An Artist-Based Conflict Transformation Festival on the Fringes (January 2023)
Lee Perlman, PhD, and Meropi Moiseos
Although on the fringes of Cyprus' political and arts scenes, the Buffer Fringe Performing Arts Festival attempts to culturally dismantle the walls and barriers between the island's north and south. This study examines how the 2020 festival provided artists and live and online (global) audiences a platform to question sensitive historical grievances during the challenging first year of the global pandemic. The study questions how contentious the festival might or could be in its quest to transform the Cyprus conflict.
Art in Turmoil: Artistic Freedom and Human Rights in Latin America and the Caribbean (December 2022)
Artists at Risk Connection
"Art in Turmoil shares personal insights from key stakeholders in the field of artistic freedom on the main challenges artists and human rights defenders in the region face today, from repressive state and non-state actors to COVID-19. The report also provides tools and recommendations intended to help artists – and the organizations that support them – continue to create and defend artistic freedom, even in the face of growing adversity." 
We Have Always Had to Fight: African Artists on Human Rights and Artistic Freedom (November 2022)
Artists at Risk Connection
"African artists and human rights defenders face a troubling rise in restrictions on artistic freedom, exacerbated by recent military coups, political crises, flawed elections, and the lingering effects of the COVID-19 pandemic. Those artists who push back, critique the status quo, or explore themes deemed social taboos are regularly targeted — forcing some to make the impossible choice between continuing their work in forced exile or remaining silent within their own communities."
Imagining Better Futures for American Democracy (2022)
Suzette Brooks Masters and Ruby Hernandez
"Building a robust, high functioning pluralist democracy in the U.S. capable of ushering in better futures for Americans requires us to think boldly and move away from reaction, apathy, and surrender. The extraordinary times we live in, full of rapid change, uncertainty and possibility, call upon us to identify and lift up positive disruptors who dare to dream and imagine what could be."
Communities Richer in Diversity 
"The African Council of Religious Leaders-Religions for Peace, in joint partnership with the Council of Anglican Provinces of Africa (CAPA) and Faith to Action (F2A) is implementing an EU funded program dubbed Communities Richer in Diversity (CRID). The objective of CRID is to promote cultural diversity and respect for equal dignity of all people. The project is being implemented in six countries i.e. Burundi, Egypt, Kenya, South Sudan, Tanzania and Uganda. Its specific objective is to enhance understanding, tolerance and respect for cultural and religious diversity among 24,400 youth and women at risk of radicalisation. ACRL is documenting and cataloguing religious, cultural and educational and artistic experiences, methodologies, materials and tools with the aim of identifying available practices for scale-up and experience sharing.  The end products are information and knowledge products packaged for dissemination in print and electronic channels including the Multi-Media Toolkit. The objective is to catalogue both the documented and un-documented practices." See documentation of the work  done by the Kenya Muslim Youth Alliance, as part of CRID, in promoting intergenerational and interfaith tolerance and understanding in Rabai, Kilifi County, Kenya.