What's Happening
IMPACT: IMAGINING TOGETHER
Platform for Arts, Culture and Conflict Transformation
Designing a university-based infrastructure for the field
Listen: Think Tank Discussion on the Emerging ACCT Field with IMPACT Leaders
Hosted by the International Teaching Artist Conference (ITAC)


New Report-
"Imagine IMPACT: An emerging strategy to strengthen the arts, culture, and conflict transformation ecosystem"

2018-2019 Annual Report: Creativity, the Arts and Social Transformation (CAST)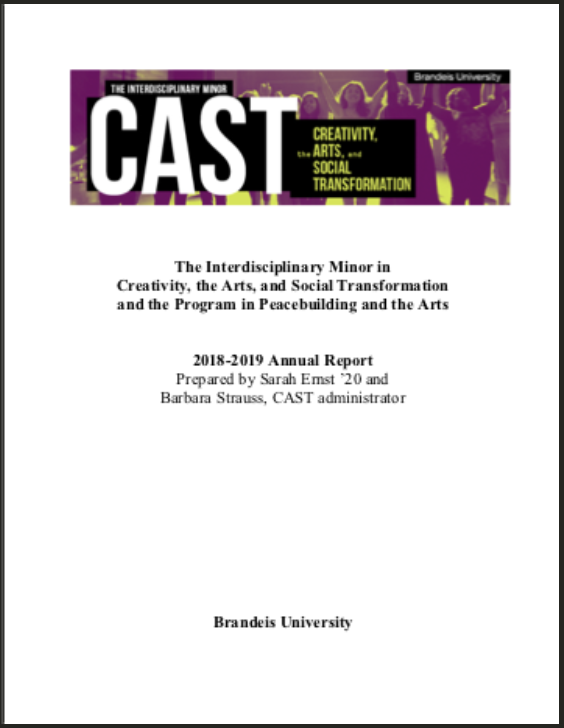 Newsletter

Read the latest issue of our newsletter, Peacebuilding and the Arts Now.

Sign up to receive updates about the Peacebuilding and the Arts program and the Acting Together project.
Highlights
Inaugural Women Building Peace Award
Deadline: February 14


Film: Dancing With the Cannibal Giant 


Featured News from the Field Theme: "Artistic and cultural dimensions of protest movements around the globe"

Youth Opportunity: Peace Summit of Emerging Leaders
Organized by Humanitarian Affairs Asia
February 5 to 7, 2020
Bankok, Thailand


Article: Let's make a better world: policy implications of the cultural work practice of Jane Wilburn Sapp
Journal of Arts Education Policy Review
October 26, 2019
Dr. Cynthia Cohen


Video: Fate, Family and the Floundering of a Friendship


Naila and the Uprising
PBS Special


Past News from the Field Theme: "The Impact of Authoritarian Regimes on Artistic Freedom and Expression"

Songbook: Let's Make a Better World: Stories and Songs by Jane Sapp
*Purchase Now!*


And listen to the related podcast series.

Sarah Terrazano wins Academy of American Poets Prize

A Reflection on Ebony Axis
By Sarah Nzisabira


Past News from the Field Theme: "Artists Respond to Climate Change"
Past News from the Field Theme: "Creative Reflections on Human Migration"

JPSFiction
Creative Ecofiction

Professor Cynthia Cohen Solves the World's Problems with Creativity
The Brandeis Hoot


"Arts and Building Peace: The Basics and Envisioning the Future"
Essay by Cynthia Cohen
Peace in Progress Magazine


Interview with Lee Perlman about the
book "But Abu Ibrahim, We're Family!"

Read more News from the Field.
Acting Together Documentary
About Us
The program in Peacebuilding and the Arts is directed by Dr. Cynthia Cohen, continuing work previously undertaken within the framework of 'Creative Approaches to Coexistence and Reconciliation.' Our program focuses on the distinctive contributions of culture and the arts to the transformation of conflict. We collaborate with several departments and programs at Brandeis University, including MusicUnitesUS, PAX (Peace, Conflict and Coexistence Studies), the School of Creative Arts, and the Office of the Arts.

One current major initiative is "IMPACT: Imagining Together," which is designing a university-based infrastructure for the field, a platform for arts, culture, and conflict transformation, supported in large part by the Andrew W. Mellon Foundation. Another current major initiative is "A Way Out of No Way," a multi-media project that is documenting the forty-year practice of cultural work of the extraordinary musician, educator, activist and cultural worker, Jane Wilburn Sapp. 
The "Acting Together" Project is undertaken in partnership with Theatre Without Borders and ReCAST, Inc.

Peacebuilding and the Arts is part of Brandeis University's International Center for Ethics, Justice and Public Life. The Ethics Center also houses a program in international justice and sponsors an array of programs on the Brandeis campus.