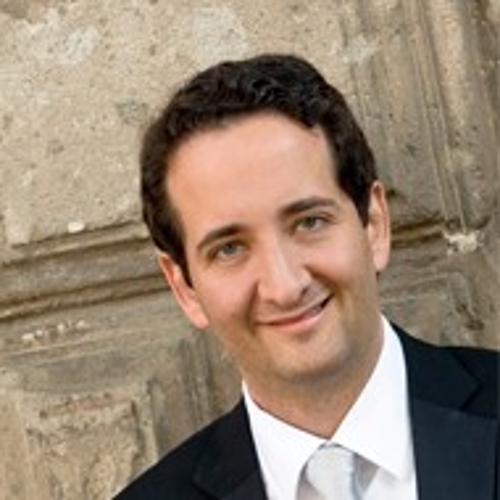 On a recent weekday, Mauricio Gojman '00, MA'01 answers the phone in his Upper East Side apartment in New York City. Can he get back to the caller later? It's 2:30 p.m., and he and his wife are just sitting down to lunch–a steak marinated in Mexican spices Gojman prepared and a salad his wife made. Strawberry Jell-O is for dessert.
"In Mexico, you eat between 2 and 4 p.m.," Gojman later explains. "You stop at the middle of the day, take a moment to pause, enjoy family and a good meal." It's not unlike his Brandeis days when he and fellow students, many of whom were also from Latin America, sat for hours in the cafeteria, catching up in the middle of the day. "It's too important for me to give up."
Gojman is not one to give up or slow down. By summer's end, he plans to formally launch his new investment/private equity company off the ground. It's the latest venture for the 33-year-old Brandeis alum.
In short, everything the young Mexico City native has done up to this point, including his schooling at Brandeis and Harvard, has prepared him for this moment.
"It's just been building blocks from my days at Brandeis," says Gojman. "The different things I've tried and created over the last 10 years has put me on the right path and made me who I am today."
Gojman was most recently vice president of Blue Equity, a private investment firm where he led its efforts in Latin America and the Caribbean. His new venture, yet to be named, is similar to Blue Equity, so he's careful about what to disclose. But it's also different. He wants to focus on adding value beyond just capital in the middle market in Latin America and the Caribbean, an area he feels is underserved and has a lot of potential for growth.
And it fits perfectly with his entrepreneurial spirit, which he credits Professor Charles Reed's entrepreneurial classes for igniting.
"I love starting things," says Gojman. "I love creating and I rebel from the traditional corporate box—something I'm allergic to."
Gojman's early jobs pointed to his entrepreneurial spirit. In 2000 he helped a startup develop a Mapquest model in Latin America. But he says his job as an investment-banking analyst for JP Morgan Chase the following year was "just too bureaucratic." It was midway through his studies at Harvard Business School, where he would later graduate at the top five percent of his class, that he took on the task of leading Blue Equity's operations in the Latin American region.
While Gojman initially envisioned himself as an international diplomat of sorts, Brandeis pointed him towards more practical applications in international economics and finance, and Gojman soon started focusing on the business side of things.
Gojman was introduced to—and fell in love with—Brandeis during his senior year of high school at The American School Foundation in Mexico City. Former Brandeis president Jehuda Reinharz was in Mexico, visiting the school with a delegation. "I loved what I heard," says Gojman. There was a sense of belonging, the same way he felt as part of a close-knit Jewish community in Mexico City. Brandeis also gave Gojman his best friends, including a business partner and a groomsman at his wedding.
Gojman looks forward to family life and wants to get his company off the ground. Then there's taking time for friends, breaking bread, drinking good wine – and, always, time for an espresso. "I have too many things going on at the same time to ever fully retire to do nothing," says Gojman. "That's not in the DNA."