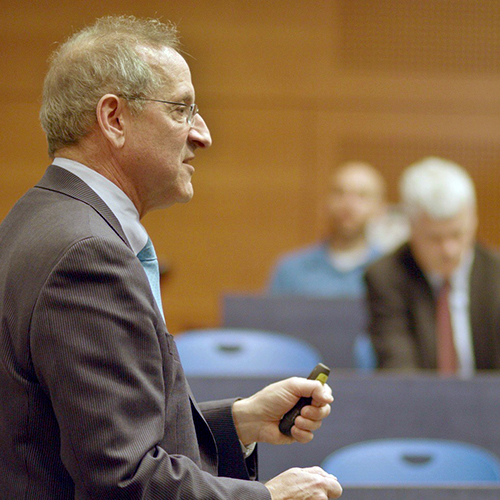 In his inaugural lecture marking his appointment to the prestigious Rosen Family Chair in International Finance, Professor Stephen Cecchetti pointed to India's success in improving access to the financial system through the introduction of free bank accounts as an example of how to make the global financial system more accessible.
Citing data showing over 300 million new bank accounts since 2014, Cecchetti predicted that "in three years, hundreds of millions of people will have been given financial access by the combination of technology and government. But you need them both."
In introducing Cecchetti's lecture, Senior Associate Dean Katy Graddy said, "He is ranked in the top 1 percent of all economists, and his research record is a tour de force."
Cecchetti's research ranges over many aspects of macroeconomics and monetary economics. He previously taught at Brandeis from 2003–08 and has been a research associate of the National Bureau of Economic Research since 1989, as well as a research fellow of the Centre for Economic Policy Research since 2008. He is co-author (with New York University Professor Kermit L. Schoenholtz) of the influential Money and Banking blog.
Before returning to Brandeis International Business School in 2014, Cecchetti completed a five-year term as Economic Adviser and Head of the Monetary and Economic Department at the Bank for International Settlements in Basel, Switzerland. He has also served as Executive Vice President and Director of Research of the Federal Reserve Bank of New York. In 2016, he received an honorary doctorate in economics from the University of Basel. He earned M.A. and Ph.D. degrees from the University of California, Berkeley and a bachelor's degree from MIT.

The Rosen Family Chair in International Finance carries special meaning at the International Business School—it was last held by Professor Rachel McCulloch from 1989 until she passed away in 2016. "I'm particularly grateful to hold this appointment...it's a real honor to sit in her chair," Cecchetti said.