Digitized Audio Recording Reveals Kurt Vonnegut Broadcast on Abbie Hoffman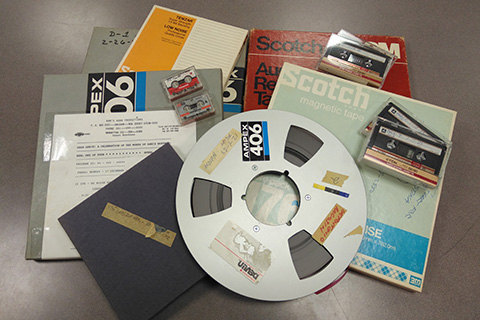 Professional digitization is allowing the Brandeis University Archives to discover the contents of a series of recently-acquired audio recordings on Abbie Hoffman '59. 
The Archives last year received a series of audio recordings created by producer Stuart Hutchison on the subject of Abbie Hoffman. Hutchison was interested in the counterculture of the '60s, and his materials were donated to the Archives, honoring Hoffman's wish to give his papers to Brandeis University.
These recordings are now being digitized, preserved, and described as they make their way toward availability for research. One set of recordings is of a production called "Dear Abbie," created and broadcast in 1989 after Hoffman's death. One excerpt from this production features American writer Kurt Vonnegut on writing, honesty, humor and opposing the Vietnam War.
The media collection also contains 11 audio cassettes which are a series of interviews from 1989 with Hoffman. The contents of other audio recordings on cassette and reel-to-reel  are not yet entirely known, but they feature labels with names such as Philip Agee and Allen Ginsberg.
For questions, please contact University Archivist Maggie McNeely at mmcneely@brandeis.edu.