Brandeis University Archives & Special Collections acquires six original Roman Vishniac photographs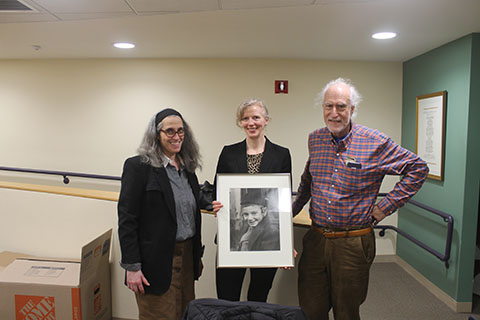 A few months back, Peter Rothstein '66 approached the library with an offer of six historic prints by Roman Vishniac, the iconic photographer of pre-World War II Jewish life in eastern Europe. An intriguing story arrived alongside: "I met Roman Vishniac in the early '80s in New York," Rothstein wrote, "I had called the Witkin Gallery to see if they had any of his prints. They didn't't, but said 'Call him. He's in the phone book' I wound up spending a number of afternoons in his apartment, crammed from floor to ceiling with artifacts, prints and negatives." In early December, Dr Rothstein personally delivered the photographs and two handwritten Vishniac letters about them to Sarah Shoemaker in the Archives and Special Collections. The photos' subjects include: a "Bar Mitzvah boy" cheerfully smiling at the camera; an older man making his lonely way in the snow; an old man turning a corner into the storm; a group of young men crowding a storefront in driving snow; and a group of young men learning in a beit midrash (study hall)." Judaica and Archives and Special Collections will work together to ensure that Brandeis students, faculty and staff have opportunities to view these treasures.
During his time at Brandeis, Rothstein was also active in SNCC (Student Non-violent Coordinating Committee) He also brought a surprise box from that chapter of his life; stay tuned for more on this wonderful donation!