Class of 1973
Class Correspondent
George Kahn
11300 Rudman Drive

Culver City

, 

CA

 

90230
40th Reunion
June 7-9, 2013
Hope to see you all at our 40th Reunion, June 7-9, 2013! I continue to save the economy, one loan at a time, at Mortgage Capital Partners in Los Angeles. In my spare time, 
I am working on my eighth jazz album with a new project featuring the Jazz & Blues Revue.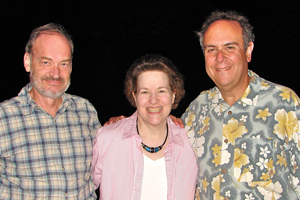 Ken Schorr '73 (left), Sharon Hammer Rubin '74 (center) and Rick Kaskawits '73 enjoyed a 1970s mini-reunion in New York over the sum
Joseph Muise writes, "I became a full-time employee and worked at Fannie Mae in Dallas for over two years while my wife, Cheryl, lived in Newton, Mass., and worked in Boston. In mid-2011, she was informed that Fidelity Investments was moving her entire department from Boston to the Dallas office in Westlake, Texas. We sold our Newton house of 24 years, she moved down to Texas at the end of 2011, and in May we moved into our new house in Trophy Club, about 35 miles northwest of Dallas. Her office is five minutes away. My commute is between 35 and 90 minutes, depending on traffic. The house is great, the cost of living is about a third of what it is in Massachusetts, and we are enjoying the sunshine, the warm weather and the new neighbors, who are from all over the place." Over the summer, Peter Wortsman and his wife, Claudie Bernard, celebrated their 25th wedding anniversary by retracing the steps of their honeymoon in Croatia and Bosnia, which in 1987 were still regions in the former Yugoslavia. Peter has three books due out in 2013: a memoir/travelogue, "Ghost Dance in Berlin: A Rhapsody in Gray"; an anthology he compiled, edited and translated, "Tales of the German Imagination: From the Brothers Grimm to Ingeborg Bachmann"; and a translation, "Selected Tales of the Brothers Grimm." In addition, his play "Burning Words," which tells the story of German humanist Johannes Reuchlin's efforts to prevent the burning of the Talmud, will have its German premiere in Pforzheim in 2014. Anne Smith continues to live in Basel, Switzerland, where she teaches recorder and traverso at the Schola Cantorum Basiliensis (Musik Akademie Basel). She writes, "I feel very privileged to have had such a good employer over so many years, to have been in the center of early-music practice with the concomitant challenges and opportunities that offers. In the meantime, I have also trained as an Alexander Technique teacher and also paint quite a bit." Janet Besso Becker writes, "After returning from the Caribbean, where we owned and operated a restaurant, my husband, Neil, and I moved to West Harrison, N.Y., and I joined Synergos, an international development nonprofit whose mission is to find sustainable changes to the root causes of poverty, as director of operations. I left Synergos after 11 years and, after consulting to nonprofits for a while, joined the American Jewish Committee in New York as the director of strategic implementation. I am responsible for developing and implementing systems that align with strategic priorities and new technologies. On July 1, I was also named director of human resources and am spending my time juggling the two roles. Neil retired from the food business and is now a tribal arts dealer specializing in pre-Columbian and ancient Eskimo artifacts. Life is good!" Caren Kimenker lives in Andover, Conn., with her domestic partner, Rick Osborne. She recently started a personal-photo organization business, CSK Photo Solutions, and became a member of the Association of Personal Photo Organizers. She helps people get their photos out of boxes, envelopes, and bins; off their computers; and back into their lives with solutions for photo management, including display, storage, backup and photo books. Alison, Caren's daughter (with Jim Kimenker), married Edward Moseley in 2011 and works for Kaplan University. Alison and Edward recently moved to Melbourne, Australia.
Submit a Class Note