Class of 2008
Class Correspondent
Elyssa L. Cohen
545 West 111th Street

New York

, 

NY

 

10025
Alexia Sadun is engaged to Josh Levine '06. She worked in investment banking after graduation and is now a second-year student at Columbia Business School. Alexia did a summer internship in brand management at Unilever. She writes, "I run into David Magid all the time and am looking forward to welcoming a bunch of other Brandeisians who started here in the fall." Scott Moerdler graduated from Mount Sinai School of Medicine and was featured in a New York magazine article on new doctors. He plans to pursue a career in pediatrics. At Brandeis, he majored in studio art, with a theater minor. Asked by the magazine about working on his first cadaver, he responded, "Everybody has a different thing that freaks them out. For some people, it was the eyes, others the fingers. I really didn't like the fat or hair. Cleaning the hair grossed me out." Boston-based actress Kara Manson had the chance to return to her hometown of Brattleboro, Vt., when she co-starred in Julie Jensen's play "Two-Headed" at the New England Youth Theatre. The play was also performed in Greenfield, Mass., before a 10-day run in Boston. Sara Aharon was named to The Jewish Week's "36 under 36," the newspaper's fifth annual list of young educators, thinkers, social justice activists, philanthropists and artists who are reinventing Jewish life around the world. One of about 1,000 Afghani Jews living in the United States today, she wrote "From Kabul to Queens: The Jews of Afghanistan and Their Move to the United States." The book grew out of her college thesis and was published last year. Sara is currently working toward a PhD in Jewish history at New York University. John Saucier works for Boston's WEEI, providing sports updates at the popular sports radio station. Sarah Fishman married Seth Marion on July 1 at The Garrison, a country club in Garrison, N.Y. Sarah is a second-year rabbinical student at the Hebrew Union College-Jewish Institute of Religion in New York. Seth is a freelance theatrical technical director and scenic carpenter. He had been the assistant technical director for the Signature Theatre Company's productions at the Pershing Square Signature Center in New York. Sam Vaghar, director of the Millennium Campus Network, was selected as one of the top 99 most influential foreign policy leaders under the age of 33 by the Diplomatic Courier and Young Professionals in Foreign Policy. The list includes entrepreneurs, technologists, journalists, bankers, activists, scientists, diplomats and other government officials who are using creativity, determination and passion to tackle and solve the world's critical global challenges. Samuel Ackerman finished a four-year stint as a research assistant at the Federal Reserve Board in Washington, D.C. During that time, he also earned an 
MS in statistics from George Washington University. In August, he started a PhD program in statistics at Temple University in Philadelphia. Avital Okrent began a one-year rotating internship in Israel. She has spent the past four years at the Medical School for International Health, a North American-style medical school that incorporates global health course work into the medical school curriculum, and is a collaboration between Ben-Gurion University of the Negev and Columbia University Medical Center. Graduates are expected to make significant contributions to global health through clinical work, policy development, research and medical education.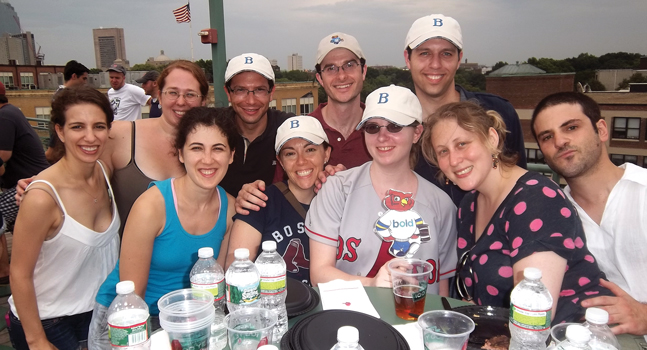 FENWAY FAITHFUL. The Alumni Club of Greater Boston hosted a get-together at Fenway Park for a Red Sox-Yankees game. From left, front row: Kimberlee Bachman '08, event chair Jenn Klein Seadia '02, Trish Piekarski '03, Caroline Litwack Jalfin '03 and Asaf Jalfin. Back row: Ilana Rosen, Jean Slavkovsky, Alan Tannenwald '05, Josh Seadia and Jonathan Sclarsic '03.
Submit a Class Note