Class of 2000
Class Correspondent
Sharon Meiri Fox
c/o Brandeis University, MS 124
P.O. Box 549110

Waltham

, 

MA

 

02454-9110
It's been great to hear from class members near and far. Ari Fox '99 and I were married in 2004 and now live in New York City. Ari is a child and adolescent psychotherapist on Manhattan's Upper West Side. I work as director of development for a Jewish nonprofit. We have two boys, Nathan (Nate), 4, and Elijah (Elie), 
7 months. They are both named after my dad, who passed away suddenly in 2006. Thank you again to those of you who were there to support my family and me in the aftermath of our personal tragedy. You know who you are. I have a few very fond memories of my father visiting the Brandeis campus with me during my junior year of high school. We sat in on a physics class, and he corrected the professor. He also asked our tour guide if there was a lot of dating on campus. Her reply was what sealed the deal for my father. She said, "We don't date around here; we marry." To this day, I am thankful that my father was able to walk me down the aisle when I married Ari.

Rachelle (Blumberg) and Charles Jagolinzer welcomed their second son, Sam Henry Jagolinzer. Their older son, Max, is really enjoying being a big brother. Cori (Bloom) Weintraub has lived with her husband, Brian, in Sydney, Australia, for the past five years. They have a 3-year-old boy, Hayden, and a 1-year-old girl, Sloane. Cori runs the human resources function for Bose Australia. Elissa Abrams completed her pediatric allergy and clinical immunology fellowship, and just had twins, Claudia and Benjamin. U.S. Secretary of State Hillary Clinton presented Eitan Plasse, an officer in the Foreign Service, with a Human Rights and Democracy Achievement Award. The award recognizes outstanding research and reporting on human rights and democratic developments and advancing strategies and institutions that will deepen respect for human rights and democracy. Eitan has served at the U.S. consulate in Chengdu, China, since 2010, and is scheduled to be assigned to the U.S. embassy in Addis Ababa, Ethiopia, in the future. Rebekah Scallet is the producing artistic director of the Arkansas Shakespeare Theatre and directed "Twelfth Night" over the summer. She is also a lecturer at the University of Central Arkansas in Conway. Rebekah spent the past 10 years in Chicago as a teacher, director and dramaturge (a researcher of plays). Tim Morehouse reached the quarterfinals in the individual sabre fencing competition at the Olympic Games in London, pulling off a pair of upsets and finishing in eighth place after entering the tournament as the 27th seed. In the team competition, Tim and his fellow Americans lost to Russia in the quarterfinals, failing to duplicate their silver medal-winning performance at the 2008 Games in Beijing. After returning from the Olympics, he was one of 12 AmeriCorps alumni honored as a Champion of Change during a daylong program at the White House. The honorees were recognized for leveraging their national service experience to become influential in their careers and leaders in their communities. Tim taught seventh grade for Teach for America from 2000-03, and then trained and mentored teachers from 2004-08. Joel Fleekop is the new rabbi at Temple Beth-El in Pensacola, Fla., the state's oldest Jewish congregation. His wife, Andrea Kamenetsky, is a religious educator and teaches at the temple. "I want to make sure Temple Beth-El is a welcoming place for Jewish families with young children," Joel told the Pensacola News Journal. "I want it to be a welcoming place for interfaith families and couples." Joel and Andrea have two girls, Yael, 4, and Maya, 1. Freyda Gottesman Mechlowicz and husband Brian welcomed a baby girl, Basia Zoe Mechlowicz, on April 19.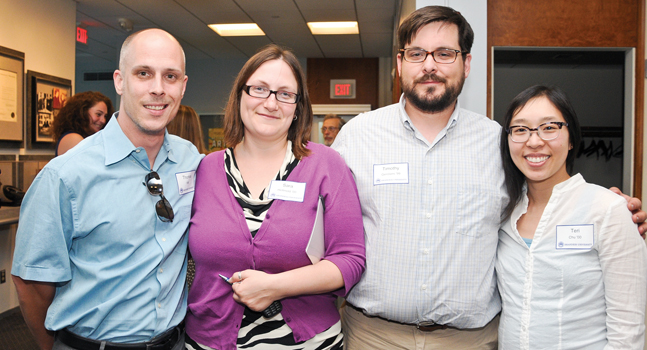 Thom Witt, Sara Hellmold '00, Timothy Gerolami '99 and Teri Chu '00 joined alumni and friends at a desserts demo and tasting at Brandeis. Matt Thompson, the director of operations at Brandeis Dining Services, shared desserts paired with a cocktail. Jessica Hose '00 chaired the event.
Submit a Class Note