Class of 2005
I hope you all had a wonderful summer and fall! As always, it was great hearing everyone's exciting news.

Elana (Blumenthal) Kahn, MA'06, finished her first year of nursing school and became a certified birth doula with DONA International. She lives in Brighton, Mass., with her husband and three children. Sharona Toobian stayed in Los Angeles after graduating from UCLA Law in 2010. She works in Akin Gump Strauss Hauer & Feld's renewable energy project finance group. Rachel Schneider married Joshua Erich on Nov. 13, 2011, in Long Branch, N.J. Anna Dukess served as a chuppah bearer for the couple. Rachel and Josh met on JDate in late 2009, and it was love at first type. They live in Queens, N.Y. Rachel is completing her master's degree in mental health counseling at the Ferkauf Graduate School of Psychology at Yeshiva University. Josh is the managing director of a graphic design firm. Tovah Honor Aronin and her husband, Noah Aronin, welcomed their first child, Yaakov Simchah Aronin, in June. Caitlin Fisher-Reid successfully defended her PhD dissertation in ecology and evolution at Stony Brook University. She also secured a three-year visiting lecturer position in the Department of Biology at the University of Richmond. Natalya (Natasha) Buckler completed her two-year clerkship with Chief Justice Paul A. Suttell of the Rhode Island Supreme Court and joined Partridge Snow & Hahn as a litigation associate in the firm's office in Providence. She lives with her husband, Jeff, and their golden retriever, Layla. Robin Tyrangiel, IBS MA'05, lives in Shanghai, where he works in finance and also heads up the Brandeis alumni group in China. Anybody passing through Shanghai or interested in joining the club should reach out to him. Aviva (Androphy) Marlin received her doctorate in clinical psychology from Ferkauf Graduate School of Psychology at Yeshiva University. She recently completed her clinical internship at the VA Medical Center in Dayton, Ohio, and is beginning a fellowship in rehabilitation psychology at the Ohio State University Wexner Medical Center. Between co-producing a Web series pilot, editing a music video, producing a feature and working occasional production management gigs, Arnon Shorr is keeping pretty busy. Follow the madness on Twitter: @shorr. Rachel Nobel Fields and her husband, Phil, welcomed their first son, Eli Robert Fields. His birthday, 8/16/12, adds up to double chai! Jason Cohen married Alissa Stollwerk on June 10 at Shelter Rock Jewish Center in Roslyn, N.Y. Jason is a neurology resident at Montefiore Medical Center in the Bronx. He received a medical degree from the Mount Sinai School of Medicine. Alissa is pursuing a doctorate in political science at Columbia. According to The New York Times, they were introduced by mutual friends at a party she gave in her Manhattan apartment on March 14, 2009, to celebrate various March holidays: St. Patrick's Day, the Ides of March, Mardi Gras and Purim. She had not noted, however, that the date coincided with Pi Day, which is celebrated by math enthusiasts (Pi = 3.14, for short). Jason did know, and marked it by bringing a pie, which so impressed Alissa that at the end of the night she decided to provide him with her own (phone) digits so that he might call her for a date. Hannah Taytslin received her master's degree in nonprofit and arts management from Carnegie Mellon University and has joined the Cambridge School of Weston as director of alumni relations. She writes, "Now that I'm back in Massachusetts, I'm looking forward to connecting with local alumni." Ari Teman was profiled in an article in Lifestyles Magazine titled "Philanthropy Next" on the next generation of innovators, entrepreneurs and philanthropists. Ari is a social entrepreneur and co-founded NextGen, the charity health-care organization that serves the needs of physical practices, hospitals, health centers and other health-care providers. He also established JCorps International, a volunteer network operating in the United States, Canada and Israel that beautifies parks and beaches, provides more than 20,000 meals a year, and arranges visits to thousands of seniors and sick children. He is also a popular comedian. Rabbi Michelle Greenfield was named director of the shul school at Synagogue Kehilat Hanahar in New Hope, Pa. A graduate of the Reconstructionist Rabbinical College in Wyncote, she also works at Philadelphia's Mishkan Shalom, where she teaches in the Celebrations Family Program for families with special-needs children. Erica Lemansky Phillips and Donnie Phillips '06, IBS MA'06, welcomed Caroline Sophie Phillips to the world on Aug. 15. Erica writes, "We appreciate her punctuality in being born on her due date and can't wait for her to meet all of our family and friends." Vanessa Anik and Ari Averbach were married on Dec. 29, 2011, by Rabbi Edward Feinstein and Rabbi Stuart Vogel at the Sephardic Temple Tifereth Israel in Westwood, Calif. Attendees included Julie Chakrin '06, Ariel Plotkin '06, Rachel 
Mitnick and Joshua Vaughan '04.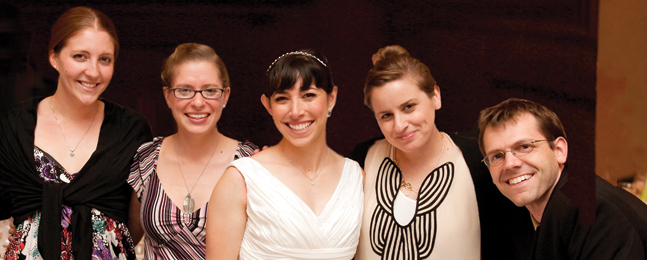 LEFT COAST CELEBRATION. Vanessa Anik '05 married Ari Averbach on Dec. 29, 2011, in Westwood, Calif. Brandeis alumni in attendance included (from left) Julie Chakrin '06, Ariel Plotkin '06, Anik, Rachel Mitnick '05 and Joshua Vaughan '04.
Submit a Class Note