Class of 1988
Class Correspondent
Beth Fleischman Zweibel
69 Northgate

Avon

, 

CT

 

06001
Jeffrey Kurtz-Lendner
gave the invocation at an event in Fort Lauderdale, Fla., featuring First Lady Michelle Obama. Jeffrey is the senior rabbi at Temple Solel in Hollywood, Fla.
Jay Ruderman
, president of the Ruderman Family Foundation, recently announced the 10 winners of the inaugural Ruderman Prize in Disability, awarded to organizations that foster full inclusion of people with disabilities in Jewish communities around the globe. The winning groups were from the United States, Russia, Mexico, the United Kingdom and Israel.
Ileen (Epstein) Hattem
celebrated the bat mitzvah of her daughter Sophia on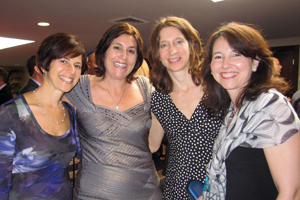 Ileen (Epstein) Hattem '88 celebrated the bat mitzvah
of herdaughter Sophia with some of her former "Gucci"
housemates,all from the Class of 1988. From left: Eva
(Pollin) Cowen, Hattem, Mara (Posner) Metzger and
Belinda (Krifcher) Lehman.
May 12 with several "Gucci" housemates:
Eva (Pollin) Cowen
,
Mara (Posner) Metzger and Belinda (Krifcher) Lehman
.
Steven Lauridsen
writes, "After 17 years of teaching in a public school in Elgin, Ill., my midlife crisis took me to the Affiliated High School of South China Normal University in Guangzhou, where I now help high-performing Chinese students further their rise to world dominance by teaching AP economics and U.S. history. My new wife, Xiao Li, and I will be relocating back to Illinois in summer 2013."
David Silverman
is president of American Atheists. Since 1996, he has worked with the organization in a variety of roles, including New Jersey state director, communications director and vice president. He also co-hosts the "Atheist Viewpoint" television program and writes for the No God blog.
Submit a Class Note