Class of 2004
Class Correspondent
Rebecca Incledon
5530 South Shore Drive #8-C

Chicago

, 

IL

 

60637
Paul Staniland and I were married on July 22 in Reading, Pa. Brandeisians in attendance included Jay Bergman '70, Cari Brown '05, Matt Mauro, Susan Peterson, Andy Stefano and Lauren Stefano. I recently started working at the AIDS Foundation of Chicago, and Paul teaches political science at the University of Chicago.

Talk about your devotion to Brandeis! Amy (Schneider) and David Stromes '05 gave their son, born on May 10, the middle name Emmett in part because the Hebrew word emet is part of the Brandeis seal. Amy explains, "Daniel Emmett was named after Dave's grandmother, whose name was Dorothy Vera. The Daniel came from Dorothy, but instead of picking a 'V' name, we went with meaning. We knew that 'Vera' was related to the Latin for truth and that the Hebrew word for truth is on the Brandeis seal. Dave and I dated for most of our time at Brandeis and met most of our closest friends there, so Brandeis has a very special place in our hearts." Benjamin Shiller married Laurie Gray on June 9 at the Clouds Hill Victorian House Museum in Warwick, R.I. Benjamin recently became an assistant professor of economics at Brandeis after serving as a postdoctoral fellow at the National Bureau of Economic Research in Cambridge, Mass. He received a PhD in economics from Penn. Laurie is a child- and adolescent-psychiatry fellow at the Cambridge Health Alliance, a group of Cambridge hospitals and clinics. Intellectual property specialist Nathan Speed joined the litigation group at Wolf, Greenfield & Sacks in Boston. He had been with Wilmer Cutler Pickering Hale and Dorr. Nathan served as a judicial clerk to Judge Arthur J. Gajarsa of the U.S. Court of Appeals for the Federal Circuit, the Washington-based court that hears appeals of patent cases. He earned his law degree from Boston University. Julie (Sarke) Manus and Jeremy Manus had a son, Andrew Riley, born on June 20 in Washington, D.C. Mom, dad and baby are doing well. Laura Magid married Yekutiel Aloni on Aug. 6 on a beautiful hilltop outside of Jerusalem, where the newlyweds reside. Laura recently accepted a new position in the clinical trial division of a small pharmaceutical startup. Yekutiel, a native Israeli, is an electrical engineer working in verification engineering. In July, Geryl (Rich) Baer traveled to Berlin for a German educational program, Germany Close Up — American Jews Meet Modern Germany, with four other Brandeis alumni: Amy Kohen '03, Mindy Lipson '08, Hannah Chalew '09 and Mark Trilling '12. The program provides Jewish American students and young professionals in their 20s and early 30s with an opportunity to experience modern Germany up close and personally. Participants are able to gain their own perspective on Germany through individual experience. Academic lectures and distinguished guest speakers encourage discussion about the Shoah and Germany's Nazi terror, and Germany's continuing efforts to come to terms with this terrible past. Germany is home to the third-fastest-growing Jewish community worldwide. Lauren Lichtenfeld Abel writes, "I had a baby girl in March! Her name is Charlotte, and she is a happy, healthy baby." Shaw Lupton, IBS MA'05, and Liz Burg were married in July in Cleveland. They live in Boston with their cat, Pacha. Debbi Finkelstein became co-president of Gazebo Players of Medfield, Mass., and directed the group's production of "Antony and Cleopatra" over the summer. Amy Klesert '09 served as producer, and Shelby Bleiweis was featured in several roles. The stage managers were Hannah Roth '14 and Iyvon Edebiri '13. In August, Lynne Gauthier began a position as assistant professor of physical medicine and rehabilitation at the Ohio State University. She has been awarded nearly 
$1 million in research funding from the Patient-Centered Outcomes Research Institute and the American Heart Association to conduct research on stroke rehabilitation. She and her husband are expecting their first child in February. Cameron Gordon produced and acted in a short film, "Guess Whom," which was accepted into LA Shorts Fest. Mira Schainker married Marc Kline on July 5 in Brookeville, Md. In August, Mira moved to Frankfurt, Germany, where she and Marc will live for the next few years because of Marc's work with the U.S. State Department.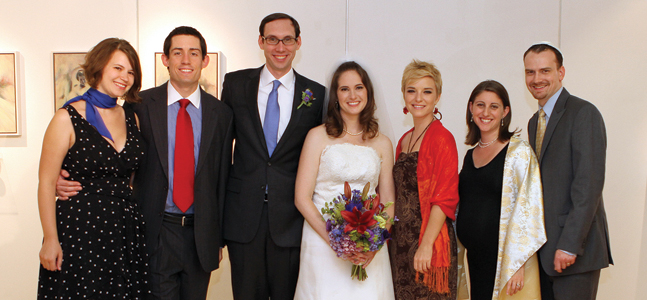 READING VOWS. Several alumni celebrated the wedding of Rebecca Incledon '04 and Paul Staniland on July 22 in Reading, Pa. From left: Cari Brown '05, Matt Mauro '04, Jay Bergman '70, Incledon, Susan Peterson '04, Lauren Stefano '04 and Andy Stefano '04.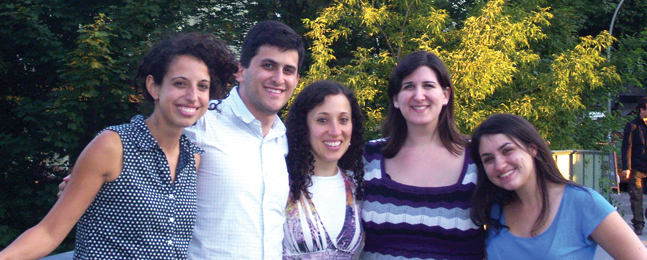 LEARNING ADVENTURE. In July, Geryl (Rich) Baer '04 went to Berlin with four other Brandeis alumni for an educational program called Germany Close Up — American Jews Meet Modern Germany. From left: Hannah Chalew '09, Mark Trilling '12, Amy Kohen '03, Baer and Mindy Lipson '08.
Submit a Class Note